We've all heard about how crucial content marketing is in our sharing economy. Through thought leadership, excellent content creation, guest posts and sharing information on the social media platform of the moment, businesses gain an audience that can be converted into sales (although that connection is less direct than some people might think).
What is less commonly discussed is how the lessons learned in creating a fantastic content creation and marketing program can help a businesses become more productive overall.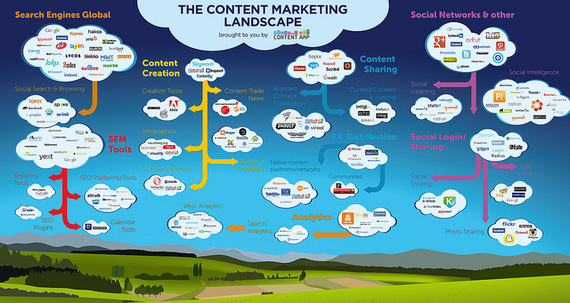 Content Marketing Landscape | Flickr, Creative Commons, Olivier Carré-Delisle
There are two main ways that business productivity is increased through content management. The first is by creating the best practices that can be applied throughout a company, and the second is by encouraging divisions to interact through thoughtful leadership.
Develop the best practices.
At first, it seems like creating content should be a cinch. You write a blog about your industry, put it on a website and share it to Facebook, right? Well, on the surface, yes. But there's a lot more happening behind the scenes that you need to pay attention to, if you want your posts to do what they need to increase your business and drive your sales.
There are many different ways to drive a successful content program. Some companies choose to outsource their content marketing; others hire freelancers and manage the process internally; others create a content team within their marketing division.
However a business approaches the problem, they quickly find that they need certain tools to manage the creation process. They might create an editorial calendar, for example, or they might create a process by which ideas are brain stormed, then drafted, then edited, then published, and are clearly marked at each step in the pipeline.
These sorts of lessons, though we're talking about them in terms of content marketing, can be applied to handling customer service responses, sales, paperwork and human resources problems. Any item that needs to proceed through several stages before completion can follow a similar path, which can be informed by the lessons learned from successful content marketing.
Thought leadership between divisions.
Much is made about the benefit of thought leadership between a business and its customers, or a B2B company and its clients. Less often do we discuss that thought leadership can create important relationships between divisions.
Many companies find that they are too busy to approach decisions or company policies from a holistic point of view, and so decisions are necessarily fragmented for efficiency. While this often helps companies to make good, effective decisions, it can make it harder for different divisions to feel like they understand the entirety of the company's purpose. This can erode company loyalty, and cause different departments to waste effort creating redundant processes.
By creating internal content, divisions can keep other departments informed of their top level projects, facilitate communication between areas of a business, and increase cross-pollination of ideas. Someone from accounting may be able to brainstorm a way to fix a problem based in sales, or sales may find a better way to communicate to accounting a figure that they need, for example.
These internal thought leadership solutions can also be further edited by the content team to create additional customer facing content, which can provide an insider view to customers, letting them feel like part of the action.
Brainstorm solutions
When you're unsure how to move forward with your content, MyBlogU may help as it lets you crowd-source content. You can propose an idea to the community, and get feedback on it, as well as perspectives and comments that you can use in your post. With the collaboration available, you can create in depth articles more efficiently than if you're trying to do the research all on your own.
By developing your content marketing solution, you can drive your business forward, and create thought leadership that sets your business apart from the competition. This is all part of your business's story, which is a crucial piece of making sure that you receive the attention and commitment that you deserve.