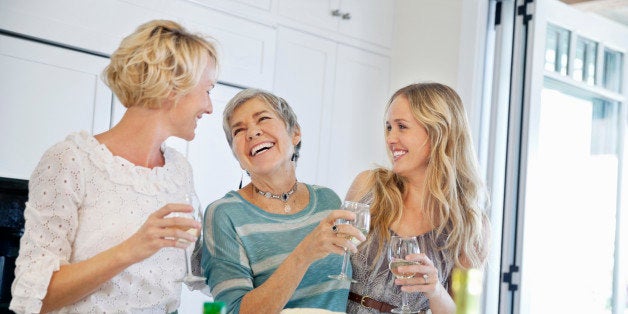 May 25 is National Wine Day, and while we appreciate the delicious, versatile beverage all year long, this celebration is a perfect opportunity to consider what wine can do for your home cooking. Having a glass of wine with a meal is a natural, harmonious pairing, and the same goes for using wine in cooking.
Cooking with wine is an easy way to bring a subtle flavor update and a new level of complexity to any dish. I use white wines in marinades and red wines in savory dishes like Ragu Bolognese. For slow-cooked dishes, I love using a rich cabernet sauvignon that has oaky undertones and brings an earthy depth of flavor to the dish.
Whether you're completely new to cooking with wine or you've been doing it for decades, there are many flavor combinations to experiment with. Here are a few tips to keep in mind as you explore the limitless opportunities:
Do:
• Follow the same general guidelines that you would for pairing a glass of wine with a food item. White wines are usually used to bring light, fruity flavors to dishes that incorporate chicken or fish, while reds wines bring rich, deep flavors to heartier meat dishes.
• Consider using a little bit of wine as a high-flavor, low-fat alternative to flavoring dishes with oil or butter.
• Make sure to burn the alcohol off! This means that at some point during the cooking process the alcohol should be boiling or at very high heat. You can heat the wine by itself to thicken it up and increase sweetness and depth of flavor or add it into a sauce and bring that to a rolling boil. That brings me to my next point.
• Be safe! Have the heat on low when adding the wine and slowly bring it up to high once the wine is in the pan. Remember to keep your body away from any open cooking spaces in case the wine creates a spark.
• Drink the rest of the bottle! However, I recommend doing this after your meal is prepared.
Don't:
• Use an expensive bottle of wine. When used for cooking, the wine's most subtle flavors won't be noticeable and therefore you won't get any extra benefits if using a pricey bottle. I do suggest, however, that you use a wine you or those you're cooking for enjoy drinking, as you're sure to have some left over.
• Add wine as an afterthought. To incorporate the flavor of wine into a dish, the wine needs to be cooked (and the alcohol content burned off) - whether added into a sauce during simmering or cooked off in a marinade. Avoid pouring wine over a dish right out of the bottle.
• Use wine that's been open for longer than one week. Once open, wine starts to oxidize and after a few days gets a vinegar-like flavor that is undesirable for most cooking - or drinking - purposes.
• Use too much. A little wine goes a long way.
SHRIMP SCAMPI ZUCCHINI FETTUCCINE
Makes 2 entree-sized portions
INGREDIENTS
1 Tbl Olive Oil
8 oz Shrimp, Butterflied
2 Tbl Minced Raw Garlic
5 fl oz Chablis (or other favorite dry white wine)
2 Tbl Fresh Lemon Juice
2 Tbl Butter
1 lb Zucchini Ribbons (see recipe)
½ tsp Kosher Salt
½ tsp Fresh Cracked Black Pepper
4 oz Fettuccine, Pre-cooked
1 Tbl Chopped Italian Parsley
¼ cup Parmesan, Grated

GARNISH
1 Tbl Additional Parmesan, Grated
ZUCCHINI RIBBONS PREPARATION
1. Slice zucchini into long, thin ribbons 1/8-inch thick using a mandoline slicer or a vegetable peeler.
FETTUCCINE PREPARATION
1. Pre-cook fettuccine and set aside until room temperature.
SAUTÉE PROCEDURE
1. Heat olive oil over medium high heat in a 10" to 12" non-stick sauté pan.
2. Add shrimp and garlic and sauté for approximately 1 ½ minutes or until garlic is light brown.
3. Add wine and fresh lemon juice and cook for 30 seconds.
4. Add butter, zucchini, salt and pepper. Cook for 3 minutes, stirring approximately every 30 seconds.
5. Remove from heat.
6. Add room temperature pasta, parsley, and Parmesan. Toss and mix thoroughly.
7. Transfer zucchini and pasta to serving bowls and artfully arrange the shrimp on top of the pasta.
8. Sprinkle additional Parmesan over the top of the pasta.