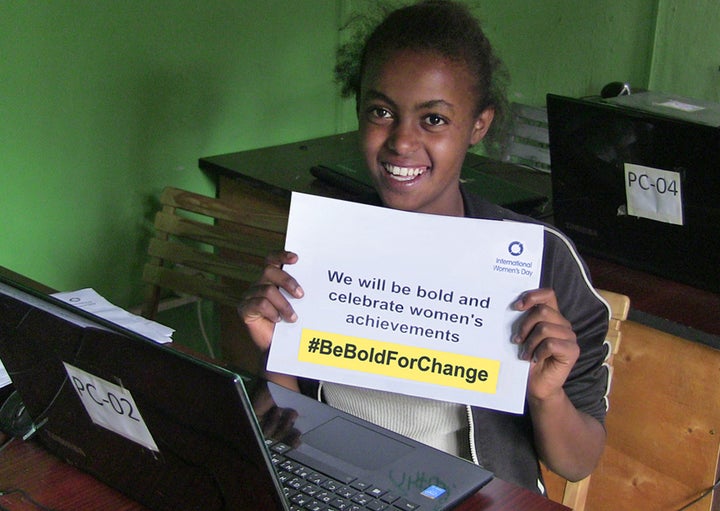 "We women have all been these girls, it's the luck of our draw in family, community and support which has determined our possibilities and probabilities of success," says Hope Cooper, Managing Director, UBS, and Board Secretary of Studio Samuel. "Studio Samuel represents what good-minded people will do when their hearts and minds come together with the goal of positively impacting the world."
Girls in Ethiopia face life-threatening challenges
Girls in Ethiopia face child marriage, trafficking, child labor, and the lack of access to education. "Ethiopia is a source…for men, women, and children subjected to forced labor and sex trafficking. Girls from Ethiopia's impoverished rural areas are exploited in domestic servitude and prostitution within the country… Addis Ababa's central market is the site of numerous brothels, where girls as young as 8 years old are exploited in prostitution. Ethiopian girls are exploited in domestic servitude and prostitution in neighboring African countries—particularly Sudan—and the Middle East." U.S. Department of State
"For me, the time is now to get involved on a deeper level and support a mission aligned with lifting girls and women. I've seen the impact in girls' lives through Studio Samuel's work and now as Chair, I'm excited to help lead this organization even further," says Lynn Hazan, Executive Vice President, GM, and CFO of EPIC Records. Under the leadership of a powerful board of directors and Tamara Horton, SSF is well positioned to expand its reach in Ethiopia and additional countries through NGO and corporate partnerships.
SSF provides a solution, improving lives and advancing the SDGs
Studio Samuel Foundation (SSF), an NGO that has received funding from Google, the GO Campaign, and The White Feather Foundation (Julian Lennon), creates pathways and empowers at-risk girls to become self-reliant. SSF's two-year program, Training for Tomorrow, provides healthcare, life skills training, and computer programming to prepare girls for gainful employment and careers. This is transformational, since women are key drivers of economic growth.
The curriculum for SSF's Training for Tomorrow is based on the 10 Core Life Skills as noted by the World Health Organization (WHO) and UNICEF. At the core of SSF's program is counseling, group and individual, to address past trauma. The results are significant: 94% of participating girls saw academic and behavioral improvements within 6 months.
"What drew me to Studio Samuel is the 'teach a man to fish' approach, which in a developing country I find both challenging and rewarding. By starting at the core needs, through self-esteem and life skills, the girls have the base of tools to know they can stand on their own. That's sustainability," says Helen Stefan-Moreau. Stefan-Moreau, President and Owner of The Midtown Group in Washington, D.C., serves as Vice Chair of SSF.
In addition to training girls for 21st century jobs in coding, SSF's computer lab also brings a plethora of information previously not accessible to the students. From prepping for their national exams to researching how to increase production in their family's crops, vital information helps bridge the digital divide in Africa. "I am honored to have the opportunity to drive and support the mission and goals of this organization, empowering young Ethiopian women by providing them tools, experience and exposure to ideas and opportunity they otherwise may not encounter," says Hope Cooper.
Last summer, 85 SSF girls entered Africa Code Week, where they were versed in SCRATCH, the program created at MIT. Following ACW, SSF continued on training the girls in gaming, app creations, and beginner JavaScript.
"SSF's100th girl just enrolled in our now established and thriving life-skills program, Training for Tomorrow," says Founder and Executive Director Tamara Horton. "200 more girls are eager to participate.""We are achieving our mission to create pathways and empower at-risk girls to become self-reliant. And we are helping to advance 7 of the 17 Sustainable Development Goals (SDGs): No Poverty (1), Good Health (3), Quality Education (4), Gender Equality (5), Good Jobs and Economic Growth (8), Reduced Inequalities (10), and Partnerships for the Goals (17)."
Two of SSF's graduates, who would normally have left school to support their families, have received four-year college scholarships as a result of the personal development and training provided by SSF. "I've always felt alone because since I was a little girl, I had no family after my parents died from AIDS. Studio Samuel became my family and taught me what I need to grow and live on my own. I was very shy before. I feel stronger now because I know I am important," said one of the girls who will attend college. The second girl also lost both parents to AIDS at a young age and now lives with her older sister in extreme poverty, averaging less than $2/day.
"When a young girl facing years of child labor receives a college scholarship and attributes it to Studio Samuel's program, you begin to redefine your definition of success," says Lynn Hazan.
Girls who succeed improve their families and their communities
Girls in Training for Tomorrow gain the skills and confidence to improve their lives and the lives of their families. This is transformational, since women are key drivers of economic growth. In order to eradicate extreme poverty and build vibrant economies, women must gain access to education, jobs, and leadership opportunities, according to the United Nations. "The profitability of education, according to estimates of private rate of return, is indisputable, universal, and global." (The World Bank)
"I've been impressed and energized by Studio Samuel's sustainable model and approach for women's empowerment in Ethiopia. The organization stands to make an impact with women, not just for women – and most importantly, with the local communities, not over them," says Julian Lennon, whose foundation has been a major funder of SSF. Support from both women and men is important.
Related
Popular in the Community