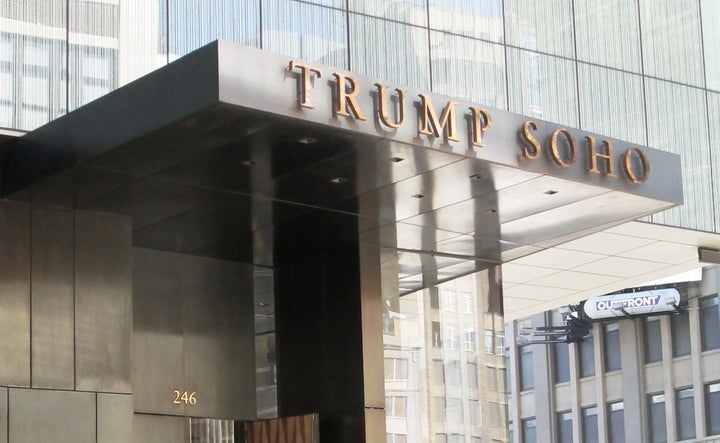 We need to break the power of corrupt NY real estate- then expose Trump money laundering, stop obscenely low luxury property taxes & end GOP control of NY Senate.
The U.S. Senate is investigating whether foreign interests laundered payoffs to Trump campaign officials through real estate deals in New York City. (http://cnn.it/2qZgbjK) Reporters have focused on Trump campaign chair Paul Manafort buying real estate with cash over the years, likely to launder money for Russian-allied oligarchs, including money flowing through Trump properties in New York City. (http://bit.ly/2o6zLN1)
This is part of a wide open stream of foreign wealth using shell companies to launder money through Manhattan real estate, often foreign government officials robbing their home nations and hiding assets. About $8 billion is spent each year for New York City residences that cost more than $5 million each- half of those sales in 2014 were to shell companies.(http://nyti.ms/2q2rnhj)
One reason Manhattan luxury real estate is so attractive to foreign business interests and oligarchs is that the property taxes here are obscenely low. Due to special interest state legislation, luxury condos often pay one one-hundredth the property tax rate in the rest of the country. A $90 million condo will pay just $59,000 in property taxes- with many other properties paying even less as a percentage of their sale price.(http://huff.to/2pyLyjZ and http://bit.ly/2hQEpH5) Since there are so low transaction and yearly property taxes, NYC real estate is a perfect vehicle to park ill-gotten foreign wealth.
WHAT DRIVES CORRUPTION IN NY REAL ESTATE
Who drives this corrupt system of low Manhattan property taxes facilitating offshore tax shelters and money laundering by foreign oligarchs? The New York state real estate lobby, largely in the form of the Real Estate Board of NY (REBNY) and various allied Manhattan developers. Their strength has flowed from coziness with a wide range of politicians but the key to their power has been almost uninterrupted control of the New York State Senate by the Republican Party EVERY YEAR SINCE 1939- except for a handful of years where they quickly regained control.
Essentially Manhattan real estate owners pours millions of dollars into obscure upstate state senate races to elect Republicans there and keep their special interest property tax legislation in place. Because of New York campaign finance law - itself largely designed by those property tax interests - a single real estate company can donate unlimited money to these state senate seats. (http://bit.ly/2hQEpH5)
To hedge their bets, though, the real estate industry has bought a faction of Democrats, called the "Independent Democratic Conference" who now caucus with the Republicans in the NY State Senate. As the New York Times detailed today, those eight IDC Democrats are rewarded with $15,000 to $34,000 payments each for "chairmanships" and "leadership" positions that often involve no work but keep them in line with the GOP leadership, (http://nyti.ms/2pwx2IL) In fact, as ProPublica noted in a recent article, the head of the IDC, Jeff Klein is the "biggest beneficiary" of big developer contributions in New York state elections. (http://bit.ly/2hQEpH5)
This corrupt dealmaking is also protected by Governor Andrew Cuomo, who is backed by New York real estate interests and has supported the IDC.(http://nydn.us/28PLCrb) Cuomo openly admits he doesn't want regular Democrats in the state to regain control of the NY State Senate. (http://nydn.us/2r1MajA)
HOW NEW YORK STATE POLICY CAN EXPOSE TRUMP CORRUPTION
For all the debate on how or how can we get access to Trump tax records, the reality is the American people could have access to most of the information tomorrow, if the NY State Senate approved legislation to reveal Trump's New York state income tax returns- a bill that has been introduced in that body but will likely be blocked by Trump-allied Republicans controlling the chamber. (http://cnnmon.ie/2qT4Uo5)
But such legislation would not change the deeper corruption in New York real estate that hides money laundering by Manafort and Trump properties. New York state needs to open up the books of LLCs hiding ownership of property and allows unlimited contributions by those firms to protect their corruption and secrecy. Legislation to limit LLC campaign contributions was killed in the NY State Senate last year (http://bit.ly/2pwf21m) and Cuomo made noises about it but abandoned reform in the final budget he approved.(http://nyti.ms/2pwz8s6)
Now, the US Treasury Dept. last year under Obama announced that it is requiring all title insurance companies, involved in virtually all sales, to discover the actual owners behind LLC real estate transactions in places like Manhattan.(http://nyti.ms/2qZFdhN) But the US Treasury is now of course run now by Trump stooge Steven Mnuchin, who will never reveal corrupt deals by Trump and allied business partners laundering money through Manhattan properties.
This is all the more reason New York State should be stepping up to do the same thing-- requiring that every real estate transaction record every ownership interest involved in every real estate transaction -- and publish that information. New York City to its credit under De Blasio has imposed new disclosure requirements on shell companies buying or selling properties in the City, but the rules are somewhat limited and the information won't be public-- so it will only be used narrowly to catch NYC tax cheats.(http://nyti.ms/2qSLYFM) There needs to be far more comprehensive legislation to expose publicly the details of LLC real estate deals and engage the full resources of the New York Attorney General to enforce the law.
To achieve this, the corrupt deals keeping the New York State Senate in GOP-IDC hands need to be broken. Especially in the time of Trump and with GOP control of Congress, progressives need to look to using state government policy to investigate and fight rightwing corporate power. And with a broad progressive voter base already in place, the New York State Senate is the lowest of low-hanging fruit to seize control of the state where Trump committed most of his dirty financial deeds-- and where stronger state policy could expose both Trump and many of the corporate interests supporting him and benefitting from his policies.
Oh yeah-- and for us New Yorkers, forcing the wealthy and real estate industry to pay their fair share of taxes would pump billions for dollars into education, health and social services. Estimate are that properties in NYC worth $5 million or more alone add up to $65.2 billion in property value (http://bit.ly/2pyXQJv)- so higher transaction taxes and real properties taxes would go a significant way to both help the working class of New York City while stopping use of the City's real estate as a cheap money laundering operation.
Support HuffPost
The Stakes Have Never Been Higher
Related
Popular in the Community