In opening The Economist's summit on The Global Crisis of Depression in 2014, Kofi Annan, former UN secretary-general, said: "Depression must become a global priority because it not only affects health and well-being but also diminishes labor productivity and economic growth. Calling the challenge of depression a global crisis is no exaggeration at all." The urgency to address this growing societal crisis has not diminished since then. The fact that this year's World Health Day focuses on depression once again underlines the need for a stronger focus on mental health in global health policy. However, recent research from The Economist Intelligence Unit highlights major deficits in policies to integrate the mentally ill into society.
Few diseases are more poorly understood and more subject to stigma and prejudice than mental illness, and few impose the same magnitude of burdens on both the afflicted and society at large. Indeed, mental disease (including substance use disorders) is among the leading disease areas in terms of the global burden of disease, ahead of diabetes, HIV/AIDS and tuberculosis, for example (see chart 1 below). This has negative economic repercussions: in Europe, for example, the direct and indirect costs of mental illness on GDP are estimated annually at 3% to 4%.
Chart 1: Share of global disease burden, 2015 (disability-adjusted life years, DALYs)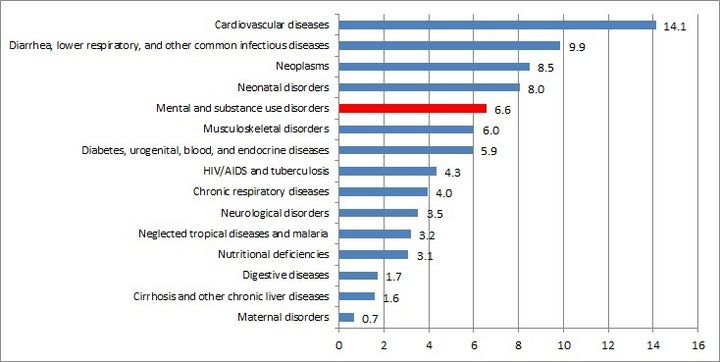 Europe faces large "treatment gap" in mental health
While a consensus has emerged among caregivers, policymakers and patient advocates on the benefits of integrating the affected individuals into society and employment rather than sequestering them in institutions, few countries have come close to realizing this ideal. In 2014 research by The Economist Intelligence Unit, commissioned by Janssen, assessed the degree of commitment in 30 European countries—the EU28 plus Switzerland and Norway—to integrating those with mental illness into their communities.
Our study found that only one-quarter of Europeans affected by mental illness get any treatment at all, while just 10% of affected individuals receive "notionally adequate" care. Across Europe, initiatives to integrate affected individuals into society and jobs are weak and uneven. Germany, the UK and Denmark stand out among the best-performing countries. However, understanding of the challenges and solutions is hampered by a dearth of data.
At the heart of the research is a benchmarking index comparing the level of effort in each of the 30 countries on indicators associated with integrating affected individuals into society. The 18 indicators were grouped into four categories:
The environment for those with mental illness in leading a full life;
Access of sufferers from mental illnesses to medical help and services;
Opportunities, specifically job-related, available to those with mental illnesses; and
Governance of the system, including human rights and efforts to combat stigma.
The analysis shows that Germany leads Europe in terms of mental health integration, on the strength of its good healthcare system and generous social welfare provision. Not far behind are the UK and several Nordic states. The weakest countries are largely in Europe's south-east (see chart 2 below).
Chart 2: Mental Health Integration Index results for Europe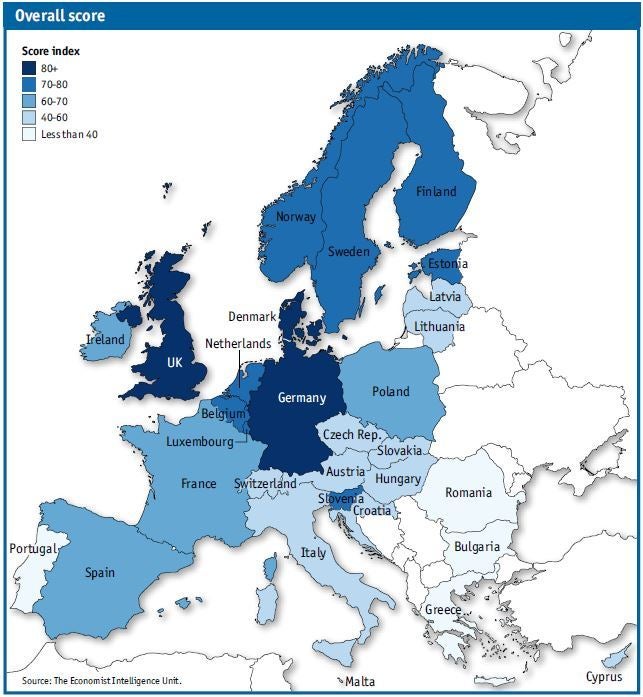 The study found that real investment sets apart countries seriously addressing integration from those creating "Potemkin policies" which are more façade than substance. Overall country scores show a strong correlation with the proportion of GDP spent on mental health.
Moreover, the research cast a spotlight on the limitations—both in terms of availability and comparability—of European data on mental health integration. The Economist Intelligence Unit developed qualitative data on integration efforts in large part because of the absence of quantitative data comparable across the 30 countries under review.
Finally, the research concluded that Europe is only at the start of the journey from institution-based to community-centered care. It found that even deinstitutionalization is in early stages; in 16 of the 30 countries more individuals continue to receive care in long-stay hospitals or institutions than in the community. In addition, data show that medical services for those with mental illnesses are poorly integrated, and that government-wide policy to coordinate medical, social and employment services is a rarity.
Asia-Pacific countries also struggle to integrate mentally ill into society
Chart 3: Mental Health Integration Index results for Asia-Pacific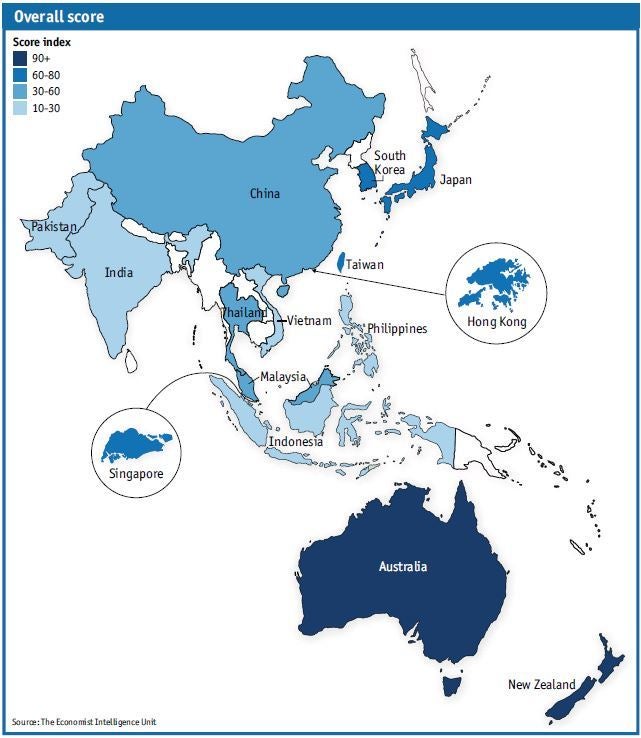 The indices for Europe and Asia-Pacific are, by design, identical in their categories and indicators. Unfortunately, though, technical differences in scoring make direct comparisons between individual Asia-Pacific and European country results invalid. It is, however, possible to look at similarities and differences in the wider lessons from both pieces of work and, in doing so, shed light on the global challenges of integrating those living with mental illness into the community.
The latest study found that countries across Asia-Pacific are giving more attention to mental illness but much remains to be done to achieve the ideal of community-based care and integration. In high–income Asian countries (Hong Kong, Japan, Singapore, South Korea and Taiwan) services for the mentally ill are relatively under-developed and under-staffed. A rural-urban divide in care hampers care even in rich countries. And, similar to the findings for Europe, a lack of data undermines policymaking and standardization of treatment.
New Zealand and Australia perform well because of their long history of consistent efforts to implement community-based care. This has resulted in not only the necessary infrastructure, practice and personnel but also a marked reduction in stigma against those living with mental illness. However, both countries are still working on weaknesses, such as access to care for socially-marginalized groups and rural dwellers.
High-income countries (Hong Kong, Japan, Singapore, South Korea and Taiwan) have been trying to implement community-based provision for those living with mental disease. However, such services are still relatively under-developed and under-staffed. For example, Japan and South Korea still have high levels of institutionalization.
There is a distinct rural-urban divide in terms of service provision for those suffering from mental illness, even in wealthier countries. In Australia, for example, the number of psychiatrists per capita outside cities is only one-third of the figure for major urban areas, while per capita mental-health spending in the most remote areas is just 11% of that in major cities, even though the prevalence of mental illness is the same.
As we found for Europe, a lack of consistent data on mental illness discourages policymakers from taking action and also prevents standardization of treatment. Across much of Southeast Asia, for example, surveys measuring prevalence of depression and anxiety cover only around 15% of the population, and in South Asia only around 5%.
Our studies show that some countries in Europe and Asia-Pacific have seen marked progress in integrating those with mental illness into their communities. However, as the world celebrates World Health Day, much remains to be done for depression and mental health to really become "a global priority", as Mr Annan has demanded.
Related
Popular in the Community