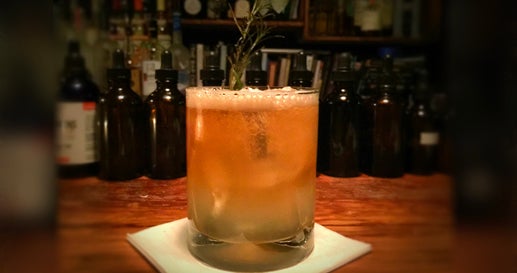 Maybe you've had plenty of IPAs, Brown Ales, Porters and Stouts and itching for something new or you've run the gamut of drinking the same cocktail time and time again. Well, it's time to up your craft drinking game with craft beer cocktails! One of the top cocktail bars on the border of Queens and Long Island gives us some insight. Enter 1st place winner of the NY Cocktail Expo for "Best Cocktail," Cork & Kerry's Doug Brickel. With two locations, one in Floral Park and the other in Rockville Centre, the seasoned bartender and cocktail program manager invited me and Sophia Del Gigante of NY Foodgasm and Beer & Yoga, to try some of these bubbly and adventurous drinks.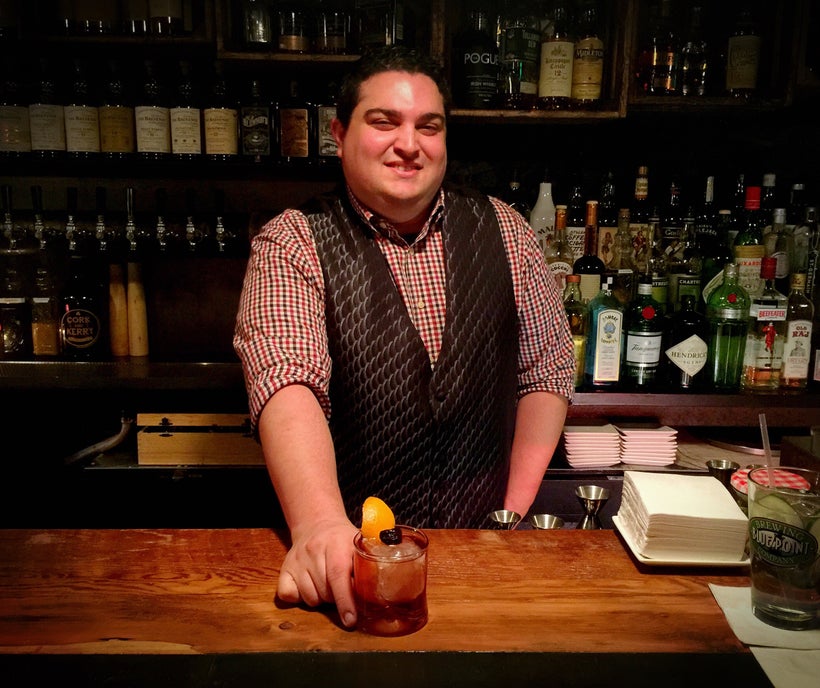 One awesome factor adding to this delicious journey is that craft beer taps are always changing which means that craft beer cocktails have endless possibilities! Just by ordering a "bespoke" cocktail you can tell the bartenders at Cork and Kerry that you want a craft beer cocktail and they will mix up something amazing for you on the spot to your liking. Take a look at some of the crafted beer cocktails below as Brickel regales us with his inspiration for bringing these craft beers and craft spirits together in one glass.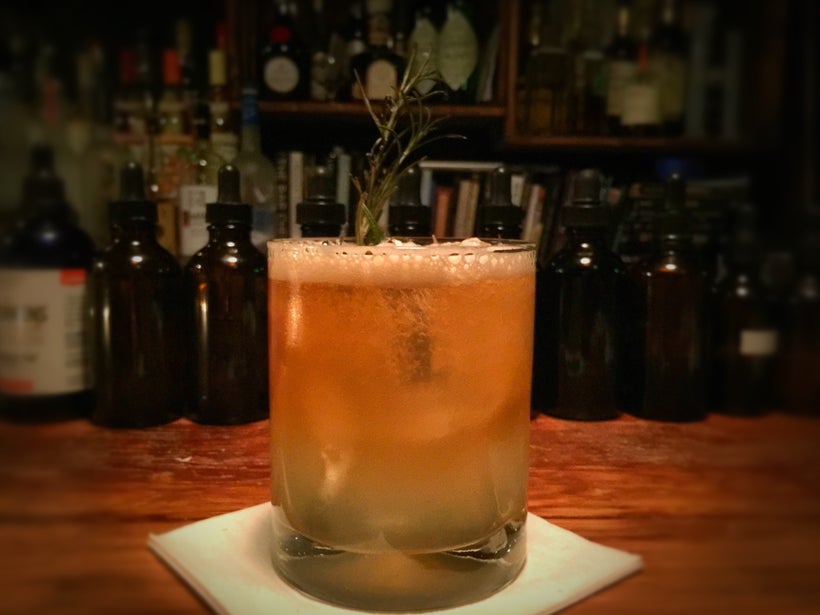 "This citrusy herb infused IPA cocktail has lemon, simple syrup (sugar syrup), gin and rosemary topped with Long Ireland Beer Co. Balor IPA. We recently got a keg of the Balor IPA by Long Ireland," says Brickel.  "I really liked the bright citrusy grapefruit notes on it, and it reminded me of a rosemary-grapefruit lemonade I'd made previously. In researching the mythology behind Balor, we learned that uncloaking the eye in the middle of his forehead would lead to the trees and the land around him smoking and catching fire.  The burnt rosemary garnish and the flavorful beer make this drink."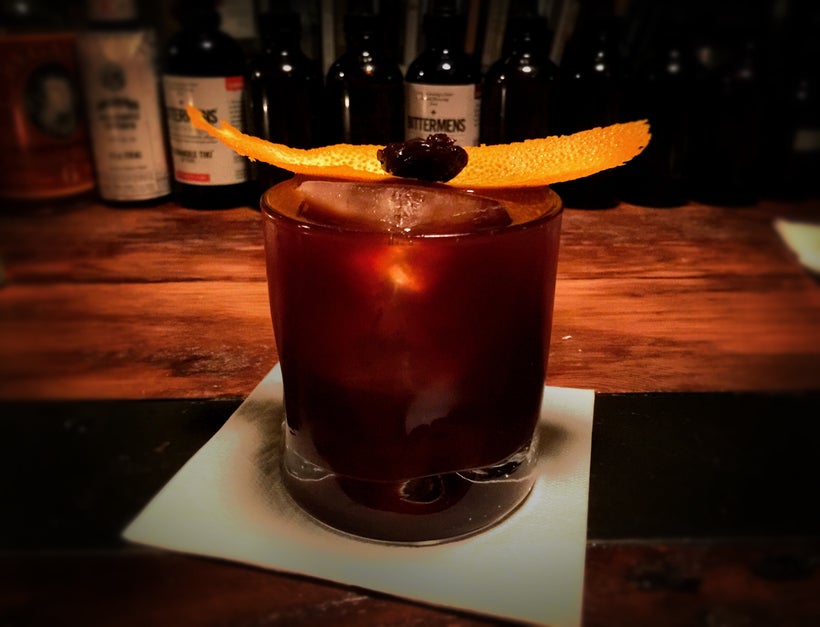 "Cork & Kerry is a speakeasy style bar, hidden behind The Roast Caffeination Station coffee shop in Floral Park.  Whenever possible, we like to work coffees and teas into our cocktails as a natural tie-in.  The deep coffee and cocoa notes of the Porter worked in gorgeously with some of our homemade Cold Brew, and we added depth of flavor with Port wine.  We all love our beer, wine and coffee, but it's a rare occasion when we can drink them all at once.  Homemade bitters help to round out the flavors with fruit and nut aromas, and a pinch of salt is the secret to balancing this umami-rich sip."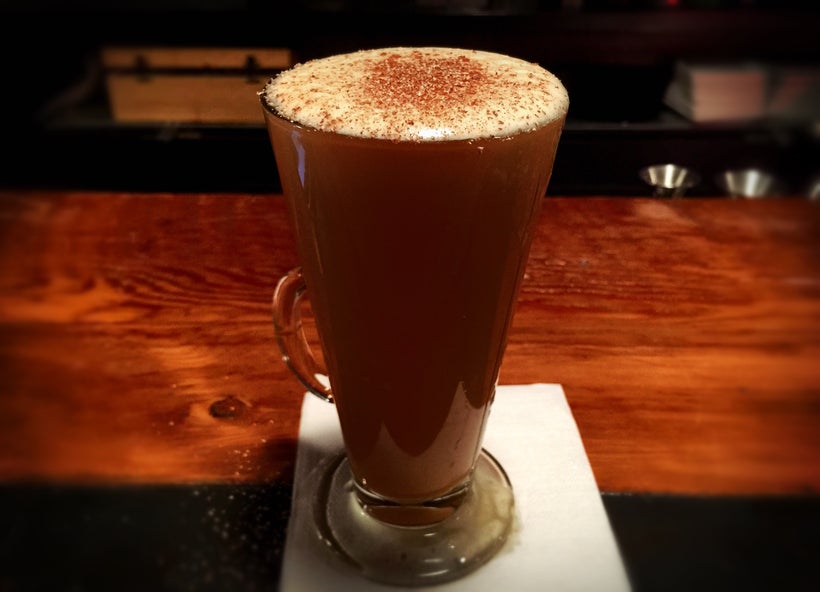 "'Flips' are a family of classic cocktails shaken with egg.  Egg white cocktails have surged back in popularity. Blue Point Brewing Company's Armchair Stout is poured on Nitro, so that the fine bubbles amplify the beer's creamy mouthfeel.  It drinks on the dry side, but can be amped up with more demerara syrup to meet the drinker's tastes.  The real key here is the aromatic component from the fresh nutmeg and the cinnamon."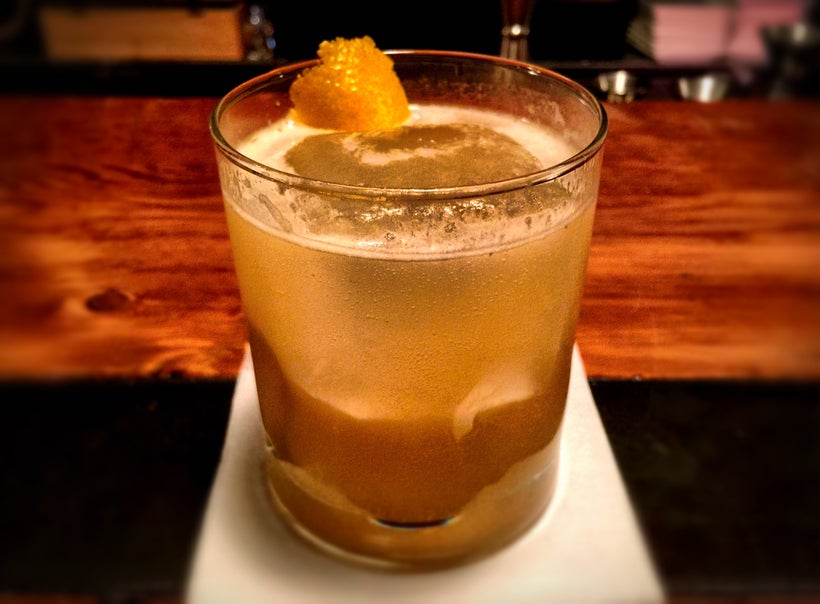 While not precisely a craft beer cocktail, the Penicillin is a staple and also a personal favorite. Honey, lemon, whiskey, Islay Single Malt Scotch and ginger make up this flavorful and punchy drink. While most versions stick to the classic recipe with some variations, Brickel takes it to the next level by topping it with Gosling's Ginger Beer. This accentuates the flavor of ginger and gives a fizzy mouthfeel for an extra satisfactory sipping experience.
Calling all HuffPost superfans!
Sign up for membership to become a founding member and help shape HuffPost's next chapter
This post was published on the now-closed HuffPost Contributor platform. Contributors control their own work and posted freely to our site. If you need to flag this entry as abusive,
send us an email
.