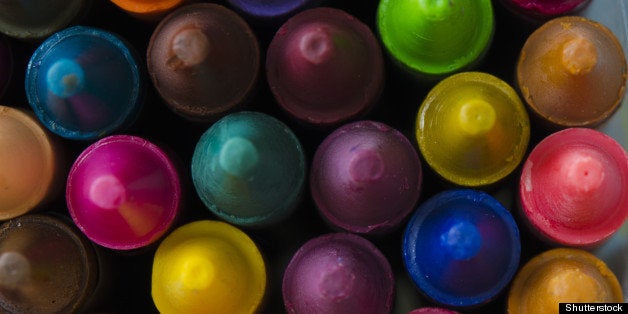 Many of you have had a huge outpouring of support on my piece on adult coloring, and how it helps in more ways than we know, as well as supported my book inspired by it. I have been reached out to by associations, libraries, events, and groups about the article, and it inspired many people to express their creativity. With Earth Day approaching on April 22, 2016, I wanted to write about one group that really stood out to me, as they have had events to inspire adults, but their purpose is truly to help children and our planet. They are called the Crayon Collection, and they are trying to save the earth one recycled crayon at a time.
Sheila Michail Morovati stated that she came up with the idea by, "Using the relatable crayon to initiate a mindset of conservation in our youth- THE generation that can save our planet." The group is based out of Los Angeles, but is spreading the word across the nation to ask parents and their children to participate in crayon collections for Earth Day. They can collect themselves, or inspire local businesses to do so, which can really make this a community event. Denny's has already joined the movement to help our schools and out planet.
The Crayon Collection uses the crayon to teach adults and children alike the very valuable lesson of sustainability and philanthropy. The idea is simple, redistribute discarded crayons in underserved schools, OR eliminate millions of pounds of non-decomposable paraffin wax from landfills, where they do not decompose! So, it sounds like we really can't lose no matter how we choose to get involved. Not to mention, it does not take much effort to get involved, and you get a chance to teach your children a powerful lesson.
I think Sheila said it beautifully when she stated,
Children feel a wave of sadness while thinking about kids that have no crayons while millions of good crayons are thrown away, harming the environment. A light bulb goes off and they make the decision that crayons should be recycled. Then the conversation is opened up to many other things we use and toss away without a second thought such as straws, plastic bottles, etc.
It is very powerful to think about the dialogue, education, and message we can start with our children at such a young age. Lessons that can last a lifetime and literally change the world they will live in, and their children will live in. Earth 911 spoke about the best way of ensuring our future is to start to teach our children about recycling, so that they grow up with an awareness and habit that helps the environment.
The Crayon Collection distributes millions of crayons to more than 1000 Title 1 Schools and Head Start Centers across the nation. Of course, much of this is done with the kind and willing work or volunteers around the United States, and the world! Many teachers have to purchase supplies out of pocket for their classes to function, so this helps to greatly ease the burden. It is estimated that most of these teachers are spending $945 a year out of their own pockets on basic classroom supplies and materials. The National Head Start Association's Executive Director, Yasmina Vinci, says, "Receiving all those quality crayon's donated from restaurants and participant's is helping them help children succeed." Think of all that are wasted per year that could go to young students in need? Yet another example of the many lives being touched, the many lessons learned, and the many ways our planet is being less burdened.
Are you inspired to start helping with Earth day approaching, or because it just sounds like an amazing cause to get involved with? There are a number of ways that you can help. You can start your own crayon collection by pasting a sign on a bin, and placing it anywhere allowed in your community (the crayon collection will even provide you a sign). You can spread the word, perhaps by spreading this article, and tell those you know, as well as local restaurants to donate their unwanted crayons to the Crayon Collection. You can donate in your own community by taking crayons that are collected to a school in need near you. The Crayon collection is glad to let you know who they are in your area. Lastly, you can donate directly to the crayon collection to help them keep doing their important work.
I will close with telling you a little about the start of the crayon collection. It is an idea that Sheila Michail Morovati had in 2011, when she noticed all the crayons left behind at restaurants when she would take her own children out. It was her solution to the issue of waste and need, and a very creative solution if you ask me! It works to create a social shift with our children, build an awareness from a young age, and instills the concepts of collection, reallocation, and stopping wastefulness. This Earth Day, consider how you might get yourself, or perhaps also your children involved. As a huge proponent of the merits of adult coloring books, I think this is a project that can span the ages in terms of involvement. If you would like to learn more about the association for yourself, please visit www.crayoncollection.org. Have a happy and rewarding Earth Day.
Popular in the Community