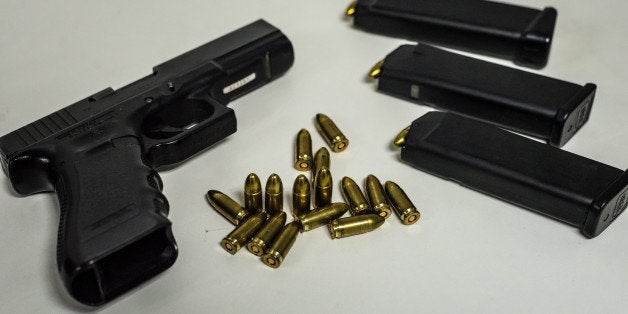 It's hard to describe. There's no listing in the DSM 5 (that's the big red book shrinks use to diagnose mental, emotional, and psychological conditions). There is a listing in the Handbook of Clinical Sexuality for Mental Health Professionals. It's called hoplophilia.
Briefly, hoplophilia means people can be attracted to guns on a sexual level. Sort of like you can't be a real man or a real woman without that piece of hardware riding on your hip, in your pocket, your purse or bra holster. But while that may be true, I think there's something more even more unhinged about what the NRA is doing.
Here's one example. NRA Board Member, and one time NRA president, Marion Hammer is suing the Southwest Florida Water Management District for violating the Second Amendment. What?
It seems that lead from bullets fired at a shooting range is seeping into the water supply and contaminating it. This is called "lead mobility."
The Florida environmental folks want to put the brakes on lead mobility and protect the water. Hammer sees protecting citizens from that kind of lead poisoning is, as she puts it, "back door gun control." I see it as shades of Flint, Mich.
Even the NRA's buddies at the Sporting Arms and Ammunition Manufacturers' Institute (oddly enough located in Newtown, Conn.) warn about this and offer solutions in their publication, Lead Mobility.
Let's travel from Florida to Iowa. Here are just a few of the head scratchers from the brain trust of the Hawkeye's state legislature:
HF 2042 would allow kids 14 and under to handle guns. That's a really, really, bad idea. In just the first two months of this year 75 kids -- all under 11 -- have been shot or killed. Even in Iowa, home of this legislative brilliance, on January 3, a toddler shot himself. And that was just because of an unsecured gun. Imagine all the little John and Jane Waynettes if they got their hands on guns intentionally.
HB 2043 would legalized the purchase and use of wait for it, wait for it, SILENCERS! SUPPRESSORS! You know those black tubes you see on the end of guns in the movies to muffle the gunshot? The bill is offered under the guise of protecting the hearing of shooters. Of course that will have no effect of law enforcement personnel tracking the sound of a shot if they have to. Knock, knock -- you can always buy earplugs. Maybe even with the NRA logo on them. Oh -- but that won't look cool. See my earlier mention of hoplophilia -- guns as a sexual fetish. How big is your silencer? Oooh, that's sexy!
HF2057 would allow drunks or others under the influence of something to wander around with a loaded weapon. The old law would invalidate the permit of anyone found carrying a gun while intoxicated. The new one says that's fine and dandy.
Two more things before we leave Iowa. When it comes to blind people, the Hawkeye State nickname is dangerously appropriate. In Iowa, if you're blind you cannot drive a car. But if you're blind you can own and carry a gun. And use it. And you can get your "training" from an online course. Visionary. Truly visionary.
And of course Iowa's US Senator Jodi Ernst has a few choice words about guns: "I do believe in the right to carry, and I believe in the right to defend myself and my family, whether it's from an intruder or from the government, should they decide that my rights are no longer important." So I guess when Barack Obama shows up at her door to grab her guns, she'll shoot him.
Slow clap for Iowa legislators and the NRA.
Now let's head over to the state of Washington. Specifically, the town of Endicott. According to The New York Times, Erik Zettergren was mentally unstable and a two-time convicted felon. Wisely, he was not allowed to possess firearms. Until he was.
The NRA has been pushing hard to loosen laws regarding who can own a gun.
Which brings us back to our friend Erik Zettergren. Despite his felony convictions, the hard work of the NRA paid off and a judge had no choice but to restore Erik's right to have guns. He wasted in no time is arming himself.
Fast forward a mere two months. Erik, his girlfriend and some others came home from a party. He was drunk. He then found his girlfriend in a compromising position with another guy. Badda bing, a Glock-17 appeared in his hand and badda boom, Erik shot the other guy. But wait -- there's more. Then at gunpoint, he forced his girlfriend to help him dispose of the body. Yes, he's back in jail. But it's clear to me the NRA helped kill the other guy.
And there's a disturbingly long list of Washington State felons who have traveled a similar path to Erik's. Over the last two decades or so thousands of felons and domestic abusers have gotten their guns back. In 2010 alone 430 convicted felons and violent domestic abusers have gotten their guns back. All but 30 have gone on to commit murder, child rape and other atrocities. What does that say about how many are wandering around today fully armed?
Which is how -- and this is not a Coen Brothers movie -- Marcus Schumacher, in Fargo, ND, a convicted felon who had served time for negligent homicide, shot a cop to death.
Again, how many sons, daughters, husbands, wives mothers, fathers, and other loved ones have to be sacrificed at the NRA's Altar of the Second Amendment before it becomes too many for them. The NRA spent more than $28 million over the last couple of election cycles to insure their agenda gets passed.
With that kind of expenditure my guess is they can no longer afford a conscience. So no number of bodies is too high. Until it happens to someone they love. Then, maybe, maybe the NRA and the politicians in their pocket will do something. Then again, maybe not.