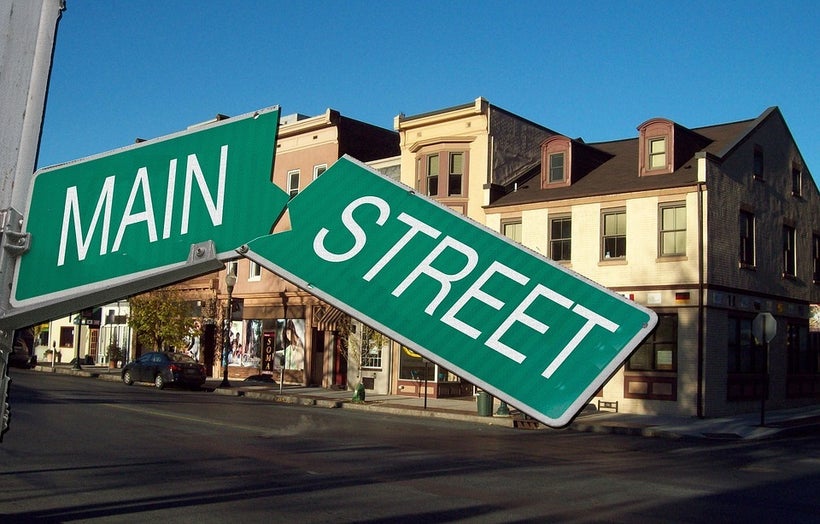 So, here we are, about to celebrate another Small Business Saturday. For years it has fallen on the first Saturday after Thanksgiving.
As I thought about this "big" event, I began to think about the fact that there is certainly a romantic narrative when it comes to small businesses in the United States. We know that the vast majority of the companies in the US are small (having 50 or fewer employees) and thus can easily conclude it is a unique part of the nation's character. We are told that small businesses are right up there with all other uniquely American institutions — baseball, apple pie, American style football, etc. Most of the jobs in this country are created by small businesses (roughly 80 percent); but the reality is those companies could make many more employment opportunities except America's businesses are forced to stay small because of mega businesses that used government policies as a form of protectionism against upstart entrepreneurs.
I visited with Judith Sadler, who is a leading authority on labor law. I visited with her on the Price of Business show. I asked her to give me some examples of how the government keeps enterprises small. The list of examples seem endless, here are just a few:
For companies with 11 or more employees, OSHA requires summary forms from all employers.
When there are 50 or more employees (with federal contracts involved) and for all businesses over 100, Affirmative Action programs require "contractors and subcontractors to create and implement AAPs annually to provide statistical analysis of the employer's "under-utilization" of individuals from certain protected classes and include the steps that will be taken to improve their representation in the employer's workforce. Separate Affirmative Action Plans (AAPs) must be created for women and minorities, Vietnam era and disabled veterans, and disabled individuals. The plans must be written each year, they do not have to be filed with the Office of Federal Contract Compliance Programs until an audit is conducted."
One of the most noted laws of this type — the Family and Medical Leave Act — is devastating to those with 50 or more employees, as it "establishes policy of 12 weeks of unpaid leave (and in some instances more than 12 weeks) when employee is covered by provisions of the Act."
The Health Maintenance Organization Act takes aim at companies with 25 or more employees, requiring "employers with 25 or more employees who are already providing health insurance benefits(contributory or non-contributory) to offer an alternative HMO option to employees, if a qualified HMO is available in the area where at least 25 of the employees live. The Act provides for assessment of a civil penalty of up to $10,000 for each 30-day period in which this option is not provided (but certain exceptions extend the deadline, such as where existing contract is in effect which sets annual enrollment dates, in which case the HMO option must be provided during the next open enrollment period)."
Even companies with as few as 20 employees are vulnerable to these type of government regulations, such as the Consolidated Omnibus Budget Reconciliation Act (COBRA), which requires "group health plans sponsored by employers in the prior year to offer employees and other covered dependents the opportunity for a temporary extension of health coverage in certain specific instances; imposes notification and record keeping requirements on employer." Under the Obama Administration it became even harder for employers, since they have to share part of the financial burden of paying the premiums, if the unemployment was the result of a layoff. Nothing has changed regarding this under President Trump.
This does not even include the huge impact the Affordable Care Act has on business, driving employers to hire fewer and to hire as many as possible employees as possible on a part-time basis.
The list goes on and the federal government is not the only ones who have such bills. California, Hawaii, New Jersey, New York, Rhode Island, and Washington, are among the many states that have tough laws that harm anything but the smallest of companies.
So how does "big business" and "crony capitalism" play a role in this? It is quite simple. Virtually all of the regulations on smaller businesses were championed by lobbyists from larger companies that used its influence on Washington to get these often oppressive policies put in effect. They are a form of protectionism used by big business to undermine the competitiveness of small companies.
The bottom line is that government regulations place limits on the growth of businesses in this country. This is not charming or romantic, but oppressive to the small businesses trying to make a profit under it. It is time to get over the myths and legends of America's "small business character." It is time to unleash small businesses so they can achieve their image of the American Dream and not the one designed by the government.
REAL LIFE. REAL NEWS. REAL VOICES.
Help us tell more of the stories that matter from voices that too often remain unheard.
This post was published on the now-closed HuffPost Contributor platform. Contributors control their own work and posted freely to our site. If you need to flag this entry as abusive,
send us an email
.