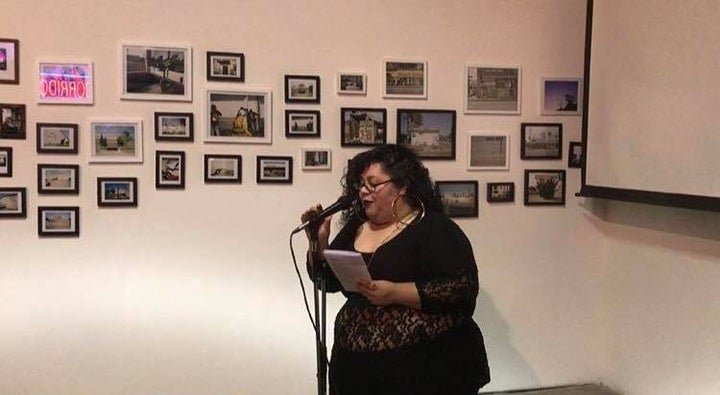 Mami told my sister the other day "I see plenty of big girls that wear nice shirts without having to show all their panza like Yesika." Another time when I was leaving for a night of dancing with my best friend, she asked, "You are really going to go out like that?"
Now, you have to understand that Mami loves, spoils and supports me the best she can with the tools that life has given her. Mami was raised in El Salvador. Migrated to Los Angeles in the '80s. Mami was and still is a beautiful woman. In her youth, multiple men sexually assaulted her. She was with my father for 27 years. They loved each other very much, but my father was an alcoholic. At times he was physically abusive towards Mami, my sisters and I. Mami does not trust men. She has always told my sisters and I that all they want is sex. Mami has judged us for our dating habits. Has made hurtful remarks. Has held her upbringing and trauma next to ours. Womanhood and sexuality are difficult things to maneuver in our family.
In the last couple of years I have found a personal awakening. A coming home to myself. After my father's death, the years of grief, some health and body image issues of my own and a sexual assault, I woke up one day (or maybe it was a series of weeks) and decided I was tired of hiding. How was I hiding? In too many ways. The one that I am writing about now was in my clothing. As a fat woman, there is SO much we are told we cannot wear. Tight clothes, short clothes, sheer, white, patterns, prints, stripes. All of them a no. There was so much that i wanted to wear but felt that I couldn't.
One day at a clothing store I tried on a cropped top. I didn't plan on liking it. I was more of a "let's see how this fits and how much more weight I need to dream of losing before I wear it in public" kinda thing. I took pictures in it. I loved it but felt ridiculous for it. I went home without it, but thought of the shirt all the time. I ordered it online and when it arrived, it hid in my closet for a month. The day I finally wore the cropped top in public I wanted to fly and cry all at once. I noticed all stares but I also felt incredibly powerful. I have always had a bold personality and now my outfit matched it. Slowly my wardrobe became a collection of shirts that exposed my belly. Almost every day I pull on a sheer or lace or mesh top. I feel the most beautiful when I am defiant.
Mami doesn't fully get it. She is used to how things were before. In El Salvador modesty is a virtue. Mami was made beautiful by it. She is a good Catholic woman. This daughter, is not. Last week I asked her what she thought of my lifestyle. She sighed and then smiled. She called it strange but she said she could see my happiness. I opened up to her and talked about my past lovers and how I stayed too long each time because I thought my weight meant that I couldn't leave. I confessed to her about the years I hated my body. I told her I used to dream about waking up as a thinner woman. I don't have those dreams anymore. We talked about all the cities I have visited because of my writing. I explained that I am a body positive artist. I consciously choose to wear crop tops when I am on stage. I want women like me to feel as beautiful and free as I do. Mami was very quiet, but she listened. The next day when I was getting ready to go out for drinks with friends she approached me. In her hand, my soft pink lace crop top. "Here, I took it to wash for you" she said.