A: Dale Jackson Small business owner 3rd District GAGOP Chairman
Q: So how did you get interested in politics in general?
A: I became interested in politics when we discovered our son was severely affected by autism. I then realized how big of a role that government plays in the life of a special needs family.
Q: How does it play a role?
A: In the educational system and now in how we are allowed to treat his autism. Currently the best way to treat autism is via cannabis oil but yet it is illegal here in the state of Georgia. My position as district chairman of the GAGOP has given me the opportunity to influence state officials within our party to change those laws.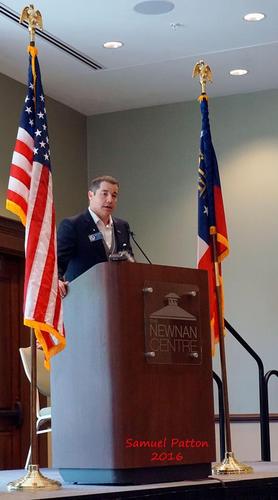 I originally got involved in the delegate process when I supported Ron Paul in 2012. We knew the process and our strategy was to get Ron Paul on the ballot by having the required number of delegates go to the RNC. I was elected as an alternate delegate in 2012. I was obviously involved this time around because I'm now the chairman of the district. Hopefully next time around, the new Trump delegates will still be around and maybe in four years one of them will be chairman of the district just like I am now.

Q: Did you have to give a speech or two, saying what you would do if elected as a delegate?
A: I gave a speech in 2012 and this year in 2016. I said the same thing both times. If elected I will go to the national convention and represent conservative limited government principles.

Q: Who won the district? If Trump won it, why didn't pro-Trump delegates win at the meeting?
A: The primary dictates how the delegates are to vote on the first ballot. It doesn't dictate who the people are that are elected to represent the convention body at the RNC. The convention body elected three delegates of their choice.
Q: What are the rules? Do you have to vote for Trump each time, or Cruz? Does it depend on the ballot?
A: According to the rules and how they have been explained to me, I am bound to vote for Donald Trump on the first ballot. After that I am free to vote my conscience.

Q: Did any Trump supporters show up? How did they take the results?
A: I would estimate that of all the delegates casting votes, approximately 20% to 25% were Trump supporters. They were understandably upset that their slate did not get approved by the convention body. I spent most of the morning explaining to the leader of their group exactly what was going on and how things were going to move forward. I wanted to make sure they were comfortable with understanding the process.
Q: Why do you think the results went down the way they did?
A: The delegates wanting to support Trump were just late getting involved in the process. I don't think the campaign fully understood how important the actual delegates could be if it came down to a brokered convention. Once it became obvious that the convention may go that route, it was too late to start the process. The delegate process started with mass precinct meetings in February. In February it looked like Trump would easily walk away with the nomination.
Q: One of my students, Seth Golden, asked "Do you coordinate with other Cruz delegates on strategy?"
A: Building coalitions in the convention process is always necessary to be elected by the convention body. Moving forward to the RNC, I will vote my own conscience based on who I believe to be the best candidate for the republican nominee.
Q: Do you know if Cruz shares your opinion on cannabis oil?
A: He has stated that he believes in states' rights but I'm not currently comfortable with his official stance on states experimenting with cannabis oil laws. Now that I'm one of the delegates to the RNC.... I have a feeling that he and I will have that conversation face to face. That will definitely play heavily into my decision.
Q: Did you get to work in the marijuana for medicinal purposes proposal into the meeting?
A: I was able to present my resolution supporting cannabis oil and developing a cultivation program here in Georgia to the convention body. I was able to answer a few questions from the floor and then the body voted on the resolution. The resolution passed almost unanimously! I have found that most people within the Republican Party are very open to the idea of medical cannabis oil once they are presented with real facts.
Q: One of my students, Abby Bowen, asked what you think of the petition to make Quicken Loans Arena (the Convention site) a gun free zone for the Republican Convention, so people will be able to carry guns?
A: I'm unaware of the petition but I would argue that in order to maintain a principle that I believe in, we should be able to carry a gun to protect ourselves. However, after attending the previous convention I know that there is VERY strict security at the convention and guns will not be allowed.

John A. Tures is a professor of political science at LaGrange College in LaGrange, Ga. He can be reached at jtures@lagrange.edu.
Calling all HuffPost superfans!
Sign up for membership to become a founding member and help shape HuffPost's next chapter