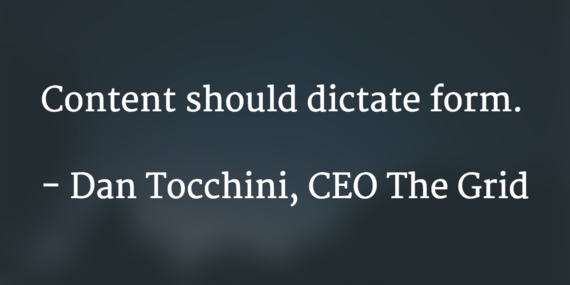 Dan Tocchini is the founder and CEO of The Grid where he gets a lot of mentorship from D3 AKA, Daniel the 3rd, his dad. You might find that having your dad as a founder is a bit well – odd.
But in Dan's case, D3 is a seasoned entrepreneur who has worked with companies such as Disney, Microsoft and ESPN – every founding son should be so lucky.
The Grid, like most things entrepreneurs build, was constructed out of a need for something better. Dan came to realize that there was a reoccurring issue with websites and their owners – "I want to be able to manage it myself." But in most cases you need to hire a developer to manage your website.
And as Dan found out hiring a developer could run you a few thousand dollars to 10's of thousands of dollars.
And I am that website, owner. My site currently sits on Squarespace, which I adore, but outside of what the templates offer I need to hire a developer to add additional features. And, managing my website is not the best use of my limited energy. I just want to produce content, build my email list, and let someone else worry about managing my site.
So Dan spent the next few years deep in constraint programming, machine learning, computer vision & other artificial intelligence (AI) trade tools. Essentially, Dan and his small team built a website platform that builds itself:
no templates
no coding
no walled gardens
How? You tell The Grid what you want and through the magic of AI, it builds your website.
Yes, I know what you're saying – "An AI that builds my website?" How do I know you're saying that because I have been repeating that same question, in my head, all morning.
But it's a reality. The Grid's website is up; there is a waiting list of over 61,000 people, and Dan's team is working with the lucky few that are in private beta.
So I reached out to Dan asking for an interview and Tocchini was happy to participate. I hope you get as excited as I am about the future of website development.
So Dan, what's your story?
I'm founder & CEO of the Grid, the company creating the first AI websites that design themselves.
​I come from a long line of entrepreneurs named Dan. My great grandfather (D1) came from Italy and invested in Real Estate in the Sonoma County area of California. He built the first talking motion picture theatre north of San Francisco, and built the first few theaters for the Naify family, founders of United Artist Theaters. My grandfather (D2) took to that business and expanded on it, and his theatre circuit is currently one of the top 20 privately held circuits in the U.S. My father, (D3), has owned a number of businesses, including movie theaters, a consulting firm, retail stores and trading companies.
So you could say that the excitement of problem solving through entrepreneurship is in my genes. In college I became a Computer Science / Physics nerd at UC Berkeley, to make spare change I developed a knack for selling fashion goods on eBay and I caught the eye of a European Diamond Jewelry Company owner.
After I graduated I soon found myself drawn into the intrigue of international diamond sales and, a year later, I was introduced to the website problem that faces so many small businesses when I needed a website to showcase inventory and communicate with clients.
In my search for a professional web designer, I received a baffling range of proposals that cited costs of between $8–40k and included confusing maintenance contracts. Since I was a programmer in my academic life I figured it couldn't be that hard to make a website, so I plugged-in, hacked my website together over a weekend, and fell in love with the intersection of design and technology that web development uniquely embodies.
The following Monday, instead of selling precious stones, I tried selling my newly acquired interactive skills as an online service and landed work for the rest of the year!
I reluctantly walked from diamond sales and opened a small interactive design firm that I ran for the next 4.5 years. After a short time it occurred to me that websites suffer from an existential dilemma - what is a website? Is Google & Facebook a website? iPhone apps are software, but do you think of websites as software? "I want to be able manage it myself" is among the most commonly requested website features, but imagine asking a developer to make you an iPhone app you can add new features too without the developer's help!
No matter what "CMS" solution we used, Wordpress, Squarespace, etc. the clients would have to pay someone else to use it & ultimately tensions would rise as they struggled to add a youtube video or upload a new background image.
Needless to say, I developed a strong distaste for the current state of website development & focused more on mobile apps, desktop software & motion graphics. But, the website problem stuck with me & key ideas slowly crystallized, like: Content should dictate form. Giving non-designers baby-photoshop is a recipe for disaster. It would be insanely awesome if you could do the same thing you do on social networks, only your content goes through the brain of a master designer like Vignelli or Müller-Brockmann.
After years of tinkering with prototypes for what is now becoming The Grid, and immersing myself in Constraint Programming, Machine Learning, Computer Vision & other such tools of the AI-trade, the vision seemed possible & I was ready for full-time product development. Soon after that, D3 introduced me to Brian Axe, former Google Ad-Sense product director.
Brian joined D3, and me on the founding team & was to become an invaluable mentor on the whole product management side of things. That was about 5 years ago and our team is 35 people strong now.
Tell us about a time when things didn't go the way you wanted - like a promotion you wanted and didn't get, or a project that didn't turn out how you had hoped?
After the first year & half of R&D at the Grid, with a rough prototype and only 3 engineers, which included me, Facebook courted us for acquisition. At the time, I was finishing one of the Grid's platform tools, called Grid Style Sheets, a language for layout design that leverages the Cassowary Linear Arithmetic Constraint Solver, a significant algorithm that also powers the interface logic for Apple's iOS & OS X.
We were the first to bring Cassowary to bear on the web. It just so happened that the algorithm's author, Greg Badros, was a good friend and former colleague of Brian Axe, one of my co-founders at The Grid. At the time Greg was Facebook's VP of Engineering & Products and now he's on our board of advisors. We have been fortunate with several happenstance personal and technical breakthroughs with the talented people behind Facebook, and still do.
We were initially informed that the offer, depending on stock, would fall between $30-$50M, which definitely got our attention considering our small team and distance from market. For a week there, we were certain we were to be Facebook-ers. Then a negotiator called and the opening offer came in between $10-$15m. I had to ask myself what else would not be as rosy as it seemed? Taking that chance just wasn't worth giving up the vision of The Grid for what would amount to a high salary gig. We knew we would be worth so much more the moment we came to market.
You can imagine our disappointment at the time, especially after several meetings and weeks of anticipation. So much so that we lost one-third of our three-person engineering team. But in hindsight, thank God we didn't sell out because what we've built over the following three years is now worth 10 times what we were offered and our value's poised for another quantum leap in the coming months.
Now, we get to set the tone of our own culture. We have team members spread across eight time-zones, and we travel the world working from exotic locales and actually reduce our burn-rate when compared to officing-up.
I learned that true transformation requires a vision big enough to carry you through the pain of momentary setbacks and disappointments.
Fights are healthy, how you get through them is another the question. How do you deal with conflict? Compromise?
As my father, D3, would say, conflict arises when people perceive their interests are better served by being apart than being together. And, compromise comes through persevering long enough in a conflict to put language to the tensions that naturally emerge when circumstances change.
I like to work out the tension that comes with conflict by playing a lot of trampoline dodgeball:) I'm maybe a little too serious about it, but we did place 3rd in the world championships.
Tell me about the time you realized you had the power to do something meaningful.
It's amazing how diligently grinding away, not worrying about anything but finding a solution with every small step, has transformed my decade-old gnawing frustration with websites into something that you care to write about that is also increasingly making a difference in the lives of our team, investors and users.
How do you make sure that The Grid will be relevant five years from now? Ten?
It's been one year since we came out of stealth and told the world about The Grid, but few people realize that we've been going for five intense years now. The first few years were deep R&D where we launched several open-source projects like Grid Style Sheets and NoFlo. We haven't sold out to the big guys or to the wrong type of VC and now have the most successful non-gaming consumer software crowdfunding campaign to-date ($6M and growing).
We are in closed beta right now and expect all 60,000+ of our paid founding members to be on The Grid by the turn of the year. As long as we continue to execute on the product that bridges our crazy tech with our marketing, The Grid will be around for a very long time.
What values do you want to instill in your team?
Be bold, break rules, diligently seek latent discoveries in open-source and academia, and definitely play trampoline dodgeball.
Reader Question: Knowing what you know now about The Grid would you switch over and let an AI manage your site? Share your answers on Twitter.
Calling all HuffPost superfans!
Sign up for membership to become a founding member and help shape HuffPost's next chapter