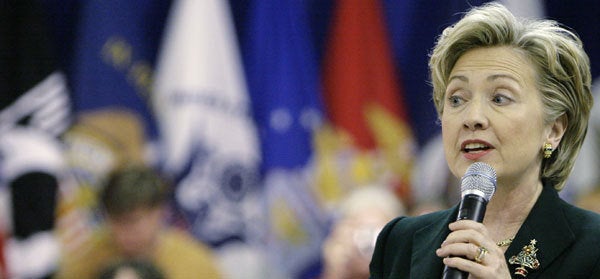 We need to talk. How dare the leadership of the Democratic Party turn on Hillary Clinton! How dare they betray Bill Clinton! How dare they not speak out when Hillary is disrespected by words like bitch, whore and the "c" word! How dare they allow them both to be smeared as racists, playing the race card! Where was Howard Dean ? Where was Nancy Pelosi ? Where were Hillary's colleagues in the Senate when the Clintons were being so unfairly accused and denigrated? The Democratic Party has a lot to answer for. If we had stood as a party with one voice and said, "no", we will not allow one of our own to be so disturbingly maligned, we would now have a unified democratic party electorate at the end of a virtually tied primary race. Instead we are deeply divided. Now, since the party's leaders have chosen again and again not to speak up, I will.
I am a Hillary supporter and along with millions of Democrats throughout our country , I have been outraged by how the media have treated her throughout this primary season. But what is most disturbing is how my Party has stood by and allowed the demeaning and dishonest attacks on Hillary to continue. This is not the party I thought I belonged to. This is not the party that espouses fairness, justice and equality for all. This is not the party that elected Bill Clinton President in 1992 and 1996 and Hillary Clinton as Senator in 2000 and 2006. That party knew that it had benefited enormously from the Clinton administration as well as the incredible accomplishments of one of the most activist, hardworking First Ladies in our history. That Party stood proudly by a president who many called the first black president because both he and his wife had demonstrated a lifelong commitment to civil rights and human rights.
Imagine if Democratic leaders had done what Hillary did when President Bush associated Barack Obama with terrorism in his much lauded speech in Israel. Remember, Hillary gave a heartfelt statement that Barack was one of our own and she would not stand by and allow him to be so denigrated ?
Women are outraged. We are still fighting for her, and we are ashamed of how our candidate, a woman who has devoted her adult life to serving others, a woman who has been a distinguished First Lady, a woman who has helped her colleagues pass legislation and win races in their own states, a woman who has stood up for all of our rights, has been treated not just by the media but by her own Democratic Party. Throughout all this, Hillary has maintained her focus, her message and her dignity. This is truly courage under fire. This is what it takes to be a great president. It is not over until the lady in the pant suit says it is and I and millions of others are with her.
Calling all HuffPost superfans!
Sign up for membership to become a founding member and help shape HuffPost's next chapter