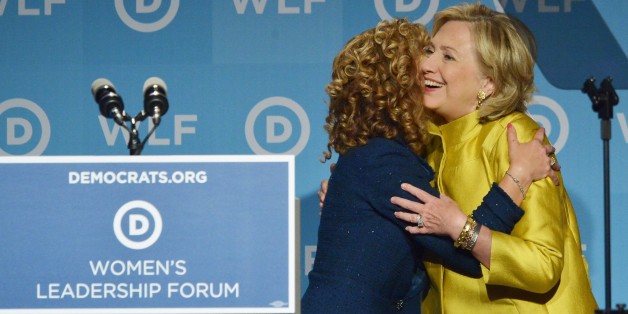 Today, moms across the country will be treated to brunches, cards, flowers, and just generally the appreciation they so fully deserve. The range of ways we show our love for mothers will be as varied and diverse as the families celebrating.

Of course, moms deserve more than just one day a year.

Families have always relied on mom, but it may be more true now than ever before. Women are the primary breadwinner in 40 percent of households with children. In an age when a quality education is a prerequisite to future success, moms are often a child's first teacher. Women comprise nearly half of the nation's workforce, and more than half of the nation's voters.

To be a mother is to face difficult choices every day about what is best for your children and your family. As a society, we must be committed to empowering moms to make those decisions and to create opportunities for them to succeed.

As a mom, I'm proud that Democrats are on my side. Democrats are fighting for middle class moms, and those still climbing the ladders of success to get there.

Not every mom works outside the home, but it is inexcusable that those who do may be inadequately compensated for their labor. Too many women are still paid a fraction on the dollar compared to men, and the gap is even greater for women of color. The Lilly Ledbetter Fair Pay Act was the first bill signed into law by President Obama. But we could move even closer to securing the promise of equal pay if Congressional Republicans join us to finally pass the Paycheck Fairness Act.

Women also constitute a majority of workers who earn the minimum wage. For these hardworking moms, it shouldn't be too much to ask for a living wage on which they can support their family. No one who puts in an honest day's work should have to struggle just to make ends meet.

Many working mothers, or mothers-to-be, lack basic employment protections and benefits. Democrats support legislation to increase access to affordable child care for working parents, and to strengthen family and medical leave policies. Moms should be able to care for a sick child or an elderly relative, or welcome a new baby to their family. (And dads should, too!)

Mothers are also among the biggest beneficiaries of the Affordable Care Act. The law has helped more than 16 million Americans gain access to quality, affordable health care. That includes free preventive services and screenings, pregnancy benefits, and prescription drug savings for Medicare recipients.

Finally, part of being a mom is making the decision to start or grow her family. It's a decision best made by a woman for herself, not by her boss or a government official. Democrats are committed to protecting a woman's right to make that choice.

Mother's Day is about thanking moms for everything they do for their children. But I'm also thankful for everything Democrats do for moms.

I'm proud to be the Chair of the Democratic National Committee, and I'm proud to represent the people of Florida in Congress. But there is no job or title of which I am more proud than being Rebecca, Jake and Shelby's mom!
REAL LIFE. REAL NEWS. REAL VOICES.
Help us tell more of the stories that matter from voices that too often remain unheard.