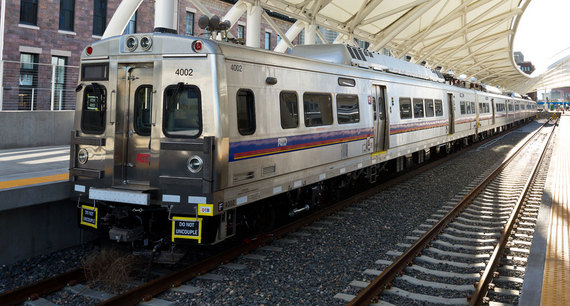 The first time you land in Denver, you're excused for wondering if perhaps you missed the announcement regarding an emergency landing in Kansas. So flat and dull the terrain and so far away the city (not to mention the Rockies, if you can even see them), this isn't the Colorado of your imagination, this is something else entirely, something they do not put in the travel advertisements.
Then, to make matters worse, once you land in what feels like the Midwest, you're left pretty much high and dry. Great for the rental car companies who can - and do - gouge with impunity, also great for the taxi companies - fares to downtown run around $70, about as much as some people will have paid to fly to Denver in the first place. Not flush with cash? Hope you like waiting up to an hour for the bus.
That's how it used to be, anyway. Everything about arriving in Denver got better late last month when the A Line train came into service. This 23-mile addition to a growing network of regional rail transit moves passengers from the airport to Union Station in roughly 35 minutes for a reasonable $9 each way. Great, right?
Better still, once at Union Station, a free bus - all day, every day - runs straight down 16th Street, quickly connecting you to pretty much every downtown hotel that isn't walking distance from the train platform. (There's even a hotel built right into the station now, the pricey but impressive Crawford.) Transfers are available right here to the rest of the rail network, too. Easy, right? And all it took was, what, decades?
The A Line - officially referred to as the University of Colorado A Line, thanks to a sponsorship deal - is just one of many steps being taken to tie Denver's considerable, traffic-choked sprawl back together - eventually, you'll be able to ride the rails all the way from DIA to Boulder. (At the moment, that particular line goes only as far as suburban Westminster, but it's a start,)
For now, however, there's so much going on at the heart of the city, you could easily do a proper weekend getaway without bothering to rent a car. The sights begin right when you step off the train - the station has been beautifully re-imagined as a proper, 21st century transit hub, while adjacent neighborhoods are more vibrant and alive than ever before.
From the post-industrial Platte Valley right behind the station to oft-overlooked areas north of Coors Field, change is everywhere you look - interesting new projects such as the Source public market are giving new purpose to old industrial buildings, you can barely move without bumping into new residential development. Museums, stadiums, the impressive parks along the Platte River, downtown shopping, even the old Elitch Gardens amusement park - it's all right here, with the rest of the city an easy cab (or Lyft or Uber) ride away, if you don't feel like digging deeper into the local transit system.
Don't like cabs? If you're signed up to Car2Go or Zipcar in your home city, Denver has both - Car2Go typically shows dozens of available cars within steps of Union Station during the day; if you're not signed up for the service, it's well worth looking into. Unlike typical car sharing services, Car2Go operates on a point-to-point system, meaning you only pay for the time you're in the car, as long as you park within the home area. In Denver's case, this means you can visit the impressive Botanic Gardens, go shopping in Cherry Creek or brunch in the Highlands, pay $0.41 per minute for the time it takes to drive there, park, lock and walk away, rebooking the nearest available car through an easy-to-use app when it's time to return.
Finally, if you prefer two wheels to four, the city's B-Cycle program, with 87 stations and 700 bikes, is a snap for tourists to access, even if short-term use can be somewhat expensive. There's even a station right when you hop off the A Line, if you want to get started right away.