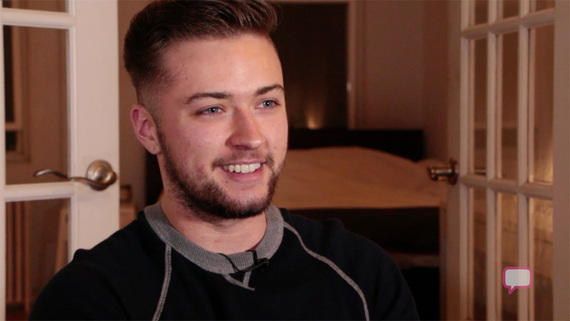 I'm From Driftwood is a 501(c)(3) nonprofit archive for lesbian, gay, bisexual, transgender, and queer stories. New stories are posted on the site every Wednesday.
When Charlie Poulson began his gender transition in college, his transition was followed with great interest by the people in small-town Ames, Iowa. Everyone knew he was transgender. But then he went on a trip to Rome. Charlie recalls:
[T]hat fall semester, my last year of college, we did a study-abroad trip to Rome, and this was the first time that I had gone somewhere after surgery where nobody knew my past, nobody had known that I used to be a woman, so I was a little bit worried that if I wasn't passing, then something might happen to me.
Needing a haircut, Charlie knew his concern would be put to the ultimate test in what is arguably the ultimate masculine setting: a barbershop.
I'd brought in a picture of how I wanted it cut, because I figured that would probably be the easiest way to go about that. But at the same time, (A) I was nervous, because I was getting a haircut in a foreign country in a language that I wasn't comfortable speaking fluently, and (B) barbershops are almost like a rite of passage for any kind of ... masculinity, in general speaking. I was sitting in there, and on top of that, I was kind of worried, like, "Oh, is he gonna figure me out?"
After the experience at the barbershop, Charlie realized the need to talk about how to navigate the world beyond surgery. See what he has to say by watching the video below.
REAL LIFE. REAL NEWS. REAL VOICES.
Help us tell more of the stories that matter from voices that too often remain unheard.