88 percent of the companies on the S&P 500 list in 1955 are gone. In 10 years, 40 percent of companies on that list will no longer exist. Across industries, the same pattern emerges; traditional means of differentiation have become commoditized. This coupled with the speed of digital disruption has many companies rethinking their strategies to compete.
Our research shows that companies who invest in improving the digital customer experience are winning.
Over the last 10 years or so, a select group of companies that we refer to as "Digital Experience Leaders" (DXL), have emerged across sectors. They excel at delivering superior digital experiences and have achieved breakthrough financial results, beating the market year-over-year.
To quantify their success, we measured these Digital Experience Leaders performance against the S&P 500 index. Over a 10-year time period, DXLs grew 276% over the S&P 500 index. For example, an investment of $10,000 in the DXL portfolio yielded a return of $41,258 while the same investment in the S&P 500 yielded a return of $14,922, a difference of $26,336, or 276%.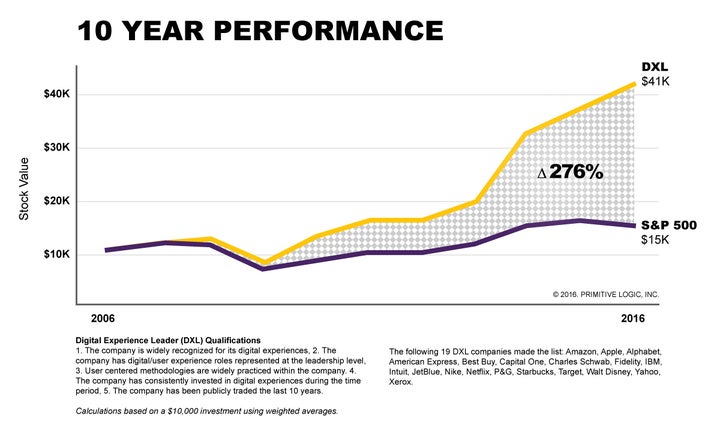 Of course, this growth cannot be attributed to digital experiences alone; multiple variables contribute to stock performance. However, these results coupled with our interviews of digital leaders from many of these companies support our conclusion: investments in digital capabilities have been a significant contributor to DXL success and growth.
Lets dig a little deeper to see what they're actually doing.
Customer empathy
What sets DXLs apart is this notion that the most valuable insights come from observing and empathizing with users in their environment. By understanding how people live or work, and the contexts in which people engage with products, they are able to empathize with customers and ultimately create more meaningful experiences.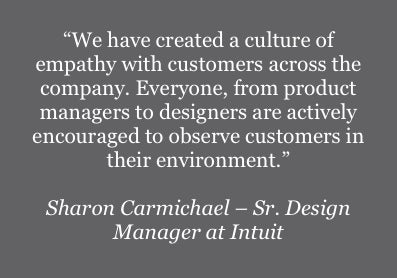 We saw the importance of this firsthand when redesigning an ordering system for a Fortune 100 healthcare company. To understand where the experience was failing, we went into the field to observe doctors and nurses in their environment. We noticed that, prior to placing an order, they would print out order lists from a separate system that they would manually key into the ordering system. This led us to create a prototype to allow users to bulk import their order list into the new ordering system. Not only did this save time for the end-user, it also separated the organization from its competitors, making them standout leaders in the industry.
End-to-end view of the journey
It's a recurring theme; companies with poor user experiences lack cross-organizational collaboration, often treating customer touchpoints as separate entities, rather than continuous steps in the customer journey. Not surprisingly, these companies end up with fractured digital experiences, which may have the user think they are interacting with different companies.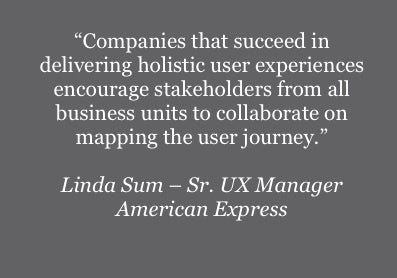 DXLs on the other hand tend to have a high level of collaboration and communication across organizational lines. At some companies, such as Intuit, specific roles are responsible for the full customer journey. At Amex, stakeholders from various business units frequently meet to discuss digital projects and their impact on the overall experience. As a result they achieve a holistic view of the user experience, enabling them to see where hand-offs from one touchpoint to another are breaking down and how a more seamless user experiences can be created.
Embracing creativity and failure
Few managers want to pay the price for creativity. They typically want to minimize risk and costs, and pursue a path of least resistance, even if there is a more challenging path that can lead to a better solution. This is especially true for companies with neophyte digital experiences.
DXL companies seem more inclined to accept uncertainty and risk. In fact, many DXLs give employees carte blanche to explore multiple competing options before deciding on a winner. This process in itself – testing, prototyping, and refining – is what allows them to understand what works and what doesn't work.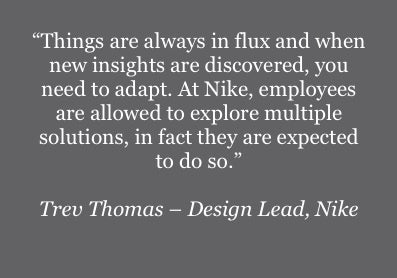 The consumer electronics company Belkin is a great example of this. While working with them, I saw how team members were encouraged to explore new ideas, prototype, iterate, and test with customers. Several of Belkin's arguably best products were conceived as a result of following this process.
From insights to action at lightning speed
Customers leave digital trails about their experience in various ways providing a view into the user experience. What sets DXLs apart is their ability to analyze these trails and quickly pivot from insight to action. They have made investments in technologies, data infrastructure, and people, allowing them to extract customer insights and quickly deploy enhancements. For example, at Walt Disney, cross-disciplinary teams made up of designers, analysts and developers, work side by side to identify issues, define solutions, and launch continuous improvements. These investments pay off, creating unique advantages and superior digital experiences.
Leadership representation
Companies with less sophisticated digital experiences frequently treat user experience as a subgroup reporting to marketing, engineering, or product development. This limits the sphere of influence often compromising the digital experience. DXLs on the other hand, give user experience a seat at the table, commonly represented at the executive level. Not only does this ensure that the voice of the customer is heard at the highest level, it also improves the quality of the product experience while empowering the design team.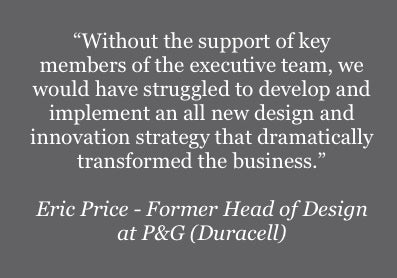 The ladder to success
It is clear to us that winning in today's digital experience economy requires a new mindset. As more companies realize this, the bar for digital experiences will be even higher. We hope that this article can help companies in evaluating their maturity level and continue their path to greater digital excellence.
Popular in the Community