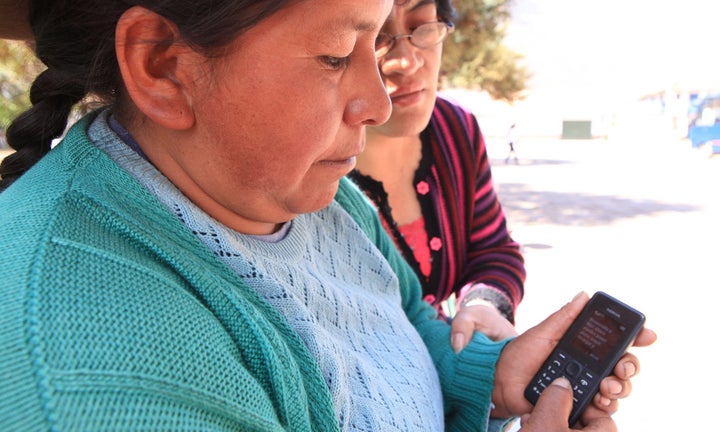 By Carolina Trivelli and Ruth Goodwin-Groen
As innovators, engineers and business leaders gather this week in Barcelona at the Mobile World Congress to showcase the latest developments, it's important not to lose sight of why this all matters: digital payments play a critical role in creating opportunities for people to improve their lives and participate in their economies.
This can seem like hype since good news can be hard to believe. But the key to understanding how digital payments does this, is to acknowledge what it is like to live in an only-cash environment and be excluded from access to formal financial services. It means you need to pay and get paid in person, receiving a stack of cash from your employer or from your government and spend valuable time standing in time-consuming lines to make or receive payments. This inefficiency also adds extra costs and reduces income particularly for small business owners who need to step away from their shops. Most urgently, people who live in a cash-only environment do not have safe ways to save or build assets. Cash savings can get lost, stolen or are too easily accessed and are therefore not available when it's time to pay for school or an unexpected financial shock. Even if families begin to move above the poverty line, they are often vulnerable to slipping right back with an illness, injury or natural disaster.
The role financial inclusion plays in reducing inequality and poverty is why so many governments, private sector organizations and foundations have made it a priority. So where do digital payments come in?
Well, it's very hard and expensive to provide financial services for paper money transactions. Without consistent documentation to acknowledge receipt of wages or payments, cash can lead to corruption and lost tax revenues that end up hurting those most vulnerable. Because of these obstacles, cash can actually hinder the progress of achieving an inclusive financial system.
A 2016 report from the McKinsey Global Institute revealed that digital financial services could add $3.7 trillion to the GDP of emerging economies by 2025. But the benefits of digital payments, whether those are made through cards, mobile money or online, go beyond just theory, research or vague promises for economic growth. Our combined decades of experiences working in the humanitarian world of digital payments have given us a front seat to witness these tangible benefits.
When Carolina served as Minister of Development and Social Inclusion in Peru, she had a front seat in how this translates into real world benefits, making a tangible difference for women and families specifically.
Rural, indigenous, poor women in Peru who receive their social benefits through savings accounts under their own name increased their savings significantly. Within two years, the women increased their asset base, and their bargaining power increased within the household as well. This is just one example of how public benefit disbursement improved the lives of more than 1 million Peruvians living in poverty.
Peru's commitment to improving the lives of poor women was the main reason it became a founding member of the Better Than Cash Alliance. There are now twenty four other government members of the Alliance also making such impressive differences in poor people's lives such as Sierra Leone, Kenya and the Philippines.
As more women gain access to responsible financial services, they are able to have more control over their lives, contribute directly to the economy and invest in the health and education of future generations.
While digital finance is not a silver bullet and requires significant work from the public and private sectors and development partners, it is a worthwhile endeavor that could help significantly transform the lives of the most vulnerable populations around the world.
As we celebrate the industry achievements at this year's Mobile World Congress, we encourage everyone in this space to reflect not just on innovation but on why we innovate: to unlock the talents and contributions from all people by creating an inclusive financial system that allows us all to contribute to a more inclusive and growing economy.
Ms. Carolina Trivelli is the Chairwoman and former CEO of Pagos Digitales Peruanos, a company responsible for managing Bim, a shared interoperable mobile money platform aiming to contribute to Peruvian financial inclusion. Ms. Trivelli is a former Minister of Development and Social Inclusion, and an expert in issues of rural poverty, rural financial markets and rural development. She currently is a Senior Researcher at Instituto de Estudios Peruanos.
Dr. Ruth Goodwin-Groen is Managing Director of the United Nations-housed Better Than Cash Alliance, leading its efforts to accelerate the global shift from cash to digital payments by governments, companies and international organizations.
Support HuffPost
The Stakes Have Never Been Higher
Related
Popular in the Community