If you've ever stayed at a W Hotel you were probably there because you prefer an experience with more style or flair compared to the often bland or forgettable nights at a big-name hotel chain.
The W is a boutique luxury hotel that is trying very hard to deliver on unique, local experiences. But one of the challenges for any brand that is banking on this kind of UX is how to make it scale...
Anthony Ingham is Global Brand Leader for W Hotels at Starwood Hotels & Resorts Worldwide, Inc. He and his team are responsible for the W Hotel brand with more than forty properties around the world, and big plans to almost double that figure in the near future.
What are some of the keys to W's success?
Here are some key take-aways that almost any brand or marketer might consider implementing in their own strategy: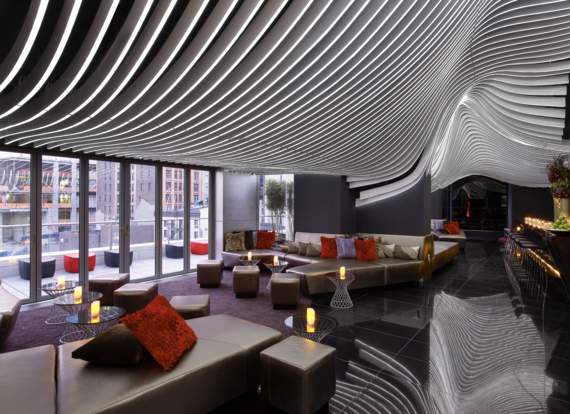 1. Ditch Traditional Advertising
Ingham and team have abandoned traditional ad spending on TV, radio, print etc. for a more digital and social play. But that doesn't mean you should ignore traditional advertising or that it is somehow going away. Ad execs like Gary Vaynerchuk of Vaynermedia are famous for saying things like, "Traditional advertising (still) works, it's just overpriced."
In W's case, they have shifted from "push" to "pull" because they realize there is more power in content marketing. Regular people and influencers are talking about the brand and sharing with others when they create content at or around the hotel.
W invests in collaborative partnerships in verticals like fashion and music. These partners use W Hotels for their fashion shows and other events, then share the content with their ecosystems. This seeds the market with the kind of taste-maker and lifestyle traveler W is hoping to attract.
2. Focus on Local Markets
W's focus on local markets makes each hotel property experience unique and special. They have W Insiders who are way beyond a concierge. They know the surrounding area and offer hotel guests an insider's perspective at local dining, shopping, sites and more.
3. It's About a Strong UX and UI
User experience and user interface are tech terms that this luxury hotel brand takes very seriously. W's mission is to scale unique experiences for guests. Once you sample the local flavor and return, the hotel becomes the stage where you can be the star or simply mix and mingle with like-minded people.
4. The Generals Run the Army
Ingham explained that each of his GM's in their respective local markets set the tone and pace for the brand. At HQ, the W team is trying to catch up and recalibrate based on feedback and reports from the front line.
This approach allows for the culture and vibe to flow freely and stay organic. Although there's structure and organization, W thrives as it remains unbridled by typical corporate meddling or interference.
5. The Mother Let's the Wild Child Be Wild
When you belong to a huge group like Starwood there's a chance to get lost in the crowd or for the brand to be watered down. In W's case, Starwood allows for the freedom and more wild and playful nature of the brand to express itself. It is a great case study for how to handle acquisitions or manage multiple brands under one roof.
There's a lot more to be learned so watch the full-length episode above and share your comments below. You can also tweet me @BryanElliott.
Popular in the Community