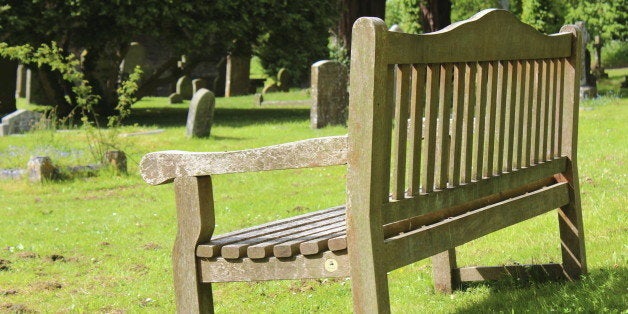 Reader Anxious Mommy writes,
My 3-year-old loves cemeteries. He says they're beautiful and quiet. Lately, he's been asking more questions about them and I don't know how to explain that we bury people in them without scaring or confusing him.

Today, he brought home a note in his backpack from his preschool teacher, explaining that she's ill and will be leaving her position at the end of the month because of her illness. What is an appropriate way to teach him about death, dying, and illness? I don't want to scare him or confuse him or cause him anxiety.
I think that your kid, who actually sounds pretty cool, will be more resilient about this topic than you might expect. Thankfully, his teacher didn't die, and hopefully won't, so you don't have to worry about him grieving her. To explain her illness, you can just say, "Sometimes people get very sick, and then they can't go to work or school anymore. It is worse than a cold or a fever. They are sick for many weeks or months. Sometimes they get better and sometimes they don't."
When he asks what happens when they don't, you can say, "Then they die, and they are buried in a cemetery, like the ones we see sometimes." Then if he asks about burying, you can say, "When people die, they are placed in a wooden box, and everyone who loves them, like their family, comes to the cemetery and talks about them and how nice they were. Then the box is put under the ground and a gravestone, like the ones we see, is put up with the person's name on it so that his family can come visit it and think about him."
The best way to avoid scaring or traumatizing your kids is to be honest, without getting into excessive details, and to talk in a kind and matter-of-fact way. This is also how I believe you should talk about sex, drugs, and anything else. Most kids are going to be cool with this explanation of death. Some will ask more questions and some won't. Some strange ones will want to go to a craft where they make a tombstone. Roll with it.
Death is a part of life, and I believe that a parent's matter-of-fact, unafraid attitude about all aspects of life, from the biggest to the smallest, can inoculate a child against the development of anxiety. On the other hand, overprotection and parental anxiety can easily make your child anxious. As I always say, "It's easier to fix a broken bone than to cure an anxiety disorder." It isn't, of course, easier to bring back the dead than to cure an anxiety disorder, but I believe the same idea still applies here.
If you act like what you're saying is going to cause your child to be upset or will give him nightmares, then believe me, that will assuredly happen. You have more power than you know, and your tone and facial expressions can worry a kid just as much as your overt words. So don't say something like, "I don't want to scare you, and this won't ever happen to Mommy or Daddy, but sometimes peoplepassawayandgotoheavenand HEY! Do you want to play with Play Dough?" Your kid will instantly pick up on your anxiety and discomfort and lack of desire to even discuss this, and that's when he'll feel anxious.
Good luck, and keep me updated. Till we meet again, I remain, The Blogapist Who Says, Also, If You Believe In Heaven, Add That In If You Want.