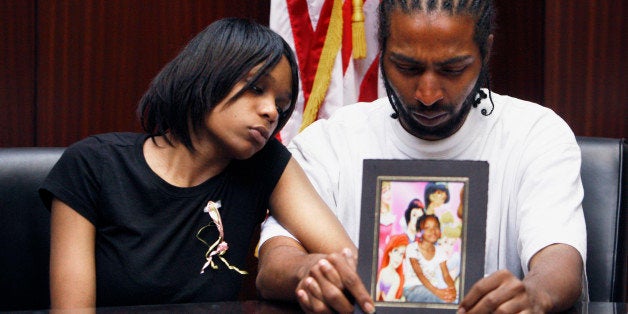 2014 has been marked by massive protests decrying the failure of the justice system to charge officers for killing unarmed black men. And there have been urgent calls for the recognition of black humanity as well as an outpouring of profound sympathy for the mothers and families of those slain men. One wonders whether this amounts to an added layer of trauma for the mothers of murdered black daughters whose deaths don't rate high enough for the nation's outrage or the black community's collective mourning.
Few seem to care about the mother of Aiyana Stanley-Jones, the 7-year-old Detroiter killed by white officer Joseph Weekley during a botched police raid on her home. So far attempts to punish Weekley have stalled. Meanwhile, the deceased's father has been sentenced to 40 years in prison on a murder charge. News footage of Charles Jones' sentencing shows Lyvonne Cargill, the mother of Je'Rean Blake, 17, reading a statement to the court about her suffering and loss. Even in the brief clip, her grief is palpable.
But the pain of Dominika Stanley over the senseless loss of her baby girl, Aiyana, is also unimaginable. Hard to suffer, too, is the crushing weight of isolation and alienation as the world responds to tragedies like that of Trayvon Martin, Michael Brown Jr., and Eric Garner to the exclusion of the loss of black women's and girls' lives.
Indeed, we can't breathe. Also, we can't wait.
Angela Helton, Rekia Boyd's mother, told a reporter that her child touched everyone she came into contact with: "She loved everyone. My daughter, I'm going to miss her very much." Boyd, 22, was killed by an off-duty Chicago police officer. She was unarmed. Her brother Martinez Sutton, too, was visibly bereft as he and his mother and a number of local supporters protested outside the officer's home in 2012.
For Yvette Smith's identical twin sister, a part of her is gone. Yvonne Williams told reporters, "I wish I could have that back, but I can't. I just want justice for her." Bastrop County, Texas, Deputy Daniel Willis gunned down Smith, 47, in February 2014. Responding to a 911 call about a domestic dispute possibly involving a gun, when Smith opened the door, a deputy shot her in the lower abdomen and side, killing her. Initially the authorities suggested Smith didn't heed their orders and had a weapon. Both allegations were retracted. Willis, no longer a deputy, was indicted by a grand jury in June. Admittedly, the indictment is itself a small victory, but it's likely cold comfort for her loved ones.
A scouring of local news sources is often the only way to learn about the cases, struggles, concern and grief of mothers of murdered black females. Roughly 20 percent of unarmed black victims of fatal police violence are women. That number is based on the NAACP Legal Defense Fund's tweeted list of unarmed blacks killed by police and also my own limited research, as I added a few cases, like that of Tanesha Anderson. Anderson, an African American, 37, died two months ago, shortly after Cleveland officers cuffed the unarmed woman and, according to her family members, slammed her to the pavement.
The voices of black mothers, like those of their slain daughters, remain largely silenced. But they need to be heard because the potential threat of authorized, lethal violence is a reality for all in the black community. Moreover, hearing the voices of grieving mothers of slain daughters only strengthens the movement to halt state-sanctioned anti-black violence. It also continues the cause for making black lives matter by valuing the humanity of black women and the families and supporters who do actually mourn them.
Images of Rekia Boyd's brother during the national day of protest on December 13, 2014, show him wearing a hoodie with a picture of his slain sister with these words: "CPD Took My Life, But Not My Voice."
Let's make protecting black women's and girl's lives and voices a reality in 2015. Maybe if we do, we will lose fewer of them to violence.
Popular in the Community