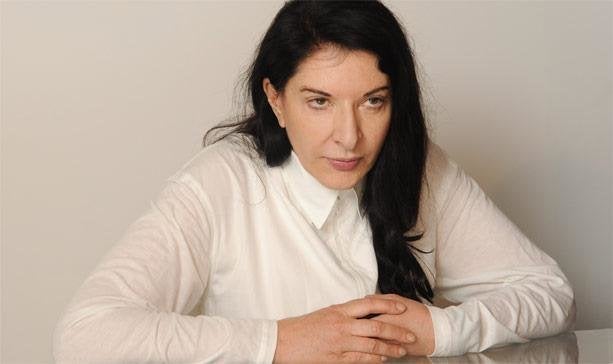 The art market is generally agreed to be illiquid, finicky, and a slave to the flavor of the moment. Nonetheless, the price of an artist's work is one of the prevailing manners in which success is measured. The principle is the same for most types of art from painting to sculpture to video -- but what if there is nothing to buy? As the performance art biennial Performa 11 wrapped up, ARTINFO delved into the market for performance artists and asked the question: how do artists with ephemeral work get paid?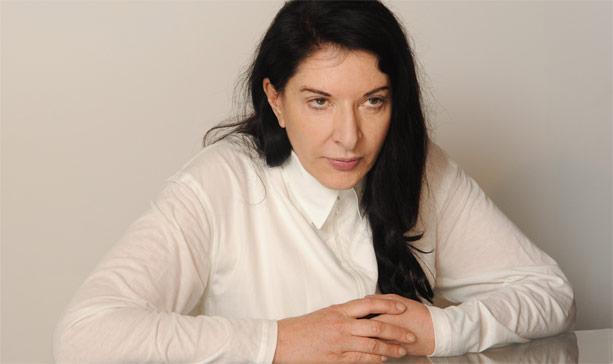 Marina Abramović / Courtesy BFA
The simplest answer is that they usually don't. The key to a lucrative art career is -- no surprises here -- to produce something that has some sort of material worth. Most performances have negligible market value because they are not easily corralled into a permanent object. There is no canvas to hang on a gallery wall, nothing to take home, nothing to own but the memory of the moment. That is not to say that material objects cannot be created by performance artists. Generally, there are two ways to pay the rent as a performance artist: produce work in an immutable medium separate from performance, or become so successful as a performance artist that you can profit from the secondary materials capturing, recreating, or stemming from the performative moment. It could be argued that Matthew Barney, one of the most successful artists working today, has engineered his market entirely from these aesthetic epiphenomena, with the films documenting his performances, the props persisting as sculpture, and sketches being sold as art objects. Then there is the relatively new phenomenon -- arising, in part, from gala culture -- of the performance commission, where the most famous practitioners are paid to create spectacles for elite crowds.
Marina Abramovic, the current gala darling, is another rare artist able to make a living from her live productions. The art dealer Sean Kelly, who has long represented the artist, admits that Abramovic is a special case. She isn't just any artist, Kelly told ARTINFO, she is the "preeminent performance artist in the world," which makes her an outlier -- but at the same time there has been a concerted effort to build her market. "If you want to discuss it in purely market terms - which sounds sort of vulgar - I think what has been spectacularly successful in Marina's case is we built her market as a brand, like Damien Hirst. Marina is a very, very successful brand." He added that having a successful retrospective at the Museum of Modern Art in New York doesn't hurt, either. The show at MoMA, according to Kelly, allowed the gallery and Abramovic to expand her reach and "build her brand globally."
But even as a major international star, Abramovic does not necessarily generate cash from her performances. Rather, the market for her work is made up of the objects related to her acts that give them permanence: DVDs, photographs, and catalogues that capture her performance. She also doesn't make money from everything she does. According to Kelly, it depends on the individual work and what it is meant to achieve. "She makes performances," explained Kelly. "In some cases there is nothing from that performance. It will be deemed through conversation with us [the gallery] with her, that the performance needs to exist in the imagination and not really be documented in any way."
On very rare occasions, it is possible to acquire a performance work. In 2008, MoMA acquired German artist Tino Sehgal's performance "The Kiss," but it proved to be difficult (director Glenn Lowry called it "one of the most elaborate and difficult acquisitions we've ever made"). When the Pompidou Center in Paris tried to acquire another of Sehgal's works, "The Situation," French video artist Fred Forest questioned the legality of the acquisition.
However, the difficulty of making money with performance art is sometimes the point. In an interview with ARTINFO before the opening of Performa 11, founder RoseLee Goldberg said that she started the event in 2004 because of the vast market pressures put on artists as prices continued to soar. "It's hard enough to be an artist anyway, but in 2004 and everything was being measured by such a dramatic scale of success. I think performance allowed everybody to get back to talking about ideas again," she said.
The artists who perform during the biennial don't make money from their work, aside from those who receive official commissions. Now in its fourth iteration, Performa is as popular as ever, but it isn't a money-making business. The show is run as a nonprofit and the ticket sales go toward the cost of putting on the project. "We raise money to make the artists' dreams come true. Nobody's going to make any money after it. We raise money to pay for the cost of the project," said Goldberg in a separate interview.
-Shane Ferro, ARTINFO

More of Today's News from ARTINFO:
Calling all HuffPost superfans!
Sign up for membership to become a founding member and help shape HuffPost's next chapter