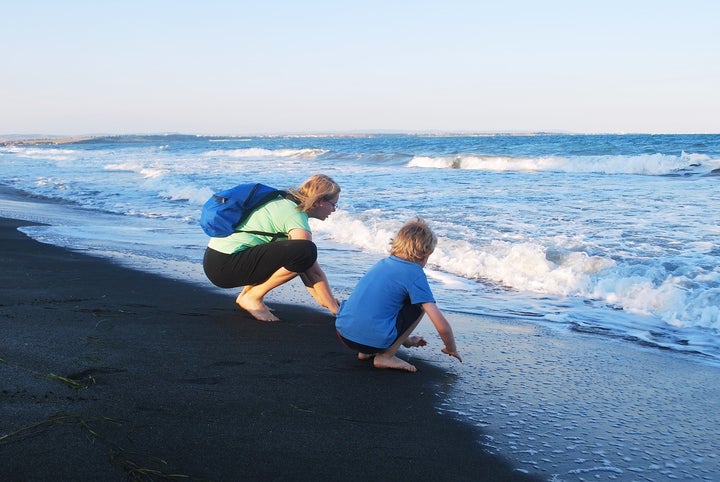 Perhaps you think you've read every post on the topic of "pussy grabbing." And maybe this piece of writing won't be much different from the last eight hundred and sixty-seven others that have crossed your news feed during Pussy Gate 2016. Yet there is a possibility it will sever from the rest.
Donald Trump's repugnant and utterly offensive words forced a much-needed, yet tough, conversation with my 16-year-old son this week. Current events at school this year have been somewhat of a car wreck, and my children have been left in twenty sixteen's wake. Donald Trump's audio tape appeared to be the metaphorical straw.
After attending class Monday, my 16-year-old came to me with, by far, the most daunting and loaded question I have ever caught leave his lips.
In his words. "So…Mom…what is it that creates Rape Culture? Is it perpetuated (yes his words – this kid kills me), solely by men who believe they have the right to control women? Is it status, wealth, narcissism, insecurity, or…Mom…is it ignorance? I don't get why anyone would ever talk about a woman or threaten a woman with assault, it doesn't make sense, every person, good or bad, has a Mother."
My jaw dropped. Not because my son had the cojones to talk to me about Rape Culture, but because he had the acumen to truly think it through. To wonder what caused it, and to acknowledge its existence. May I remind you, he is 16 years old. There are 50-year-old men and women out there who refute the existence of Rape Culture, particularly Rape Culture upon women.
I had no clue how to answer such a question, as a survivor of rape, I didn't want to jade my answer with emotion. Yet, I couldn't help but feel he required to hear all that encompasses Rape Culture, as to make an unbiased decision. To truly understand how a woman feels, more so, how it has affected his Mother.
Besides, how can anyone make an impartial judgment concerning Rape Culture without hearing or understanding the effects of rape?
With that in mind, I felt as though it was time to explain to my son what had happened to his Mother. I took a deep breath, and without extensive detail, I explained my abuse as a child and my rape as a teenager. I went on to explain how I'd felt when confronting my abusers, as well as reporting them to the police.
I explained: I felt shame, embarrassment, guilt, and the terror of ever feeling any of those sensations again. That daily, I fear to leave my car parked in the dark. Go on a morning jog, or even go to a bar by myself, whether or not it is to meet friends there. Not solely because I fear I could be raped again, but because most women are on guard, most of the time.
I described, almost every woman carries this anxiety, not just because they have experienced what I have, but have experienced some type of unwanted pressure from a man in their lifetime. Whether it be a kiss, a hug, or an unwanted conversation.
I also went on to explain the unwanted blow-job, the one many teenage girls use to appease the harsh realities of feeling they put themselves in a position requiring sex and felt it too late to back out. I needed him to understand, no means no. There is a pressure on women to appease, often out of fear, or disappointment. A pressure a teenage boy NEEDS to understand.
Judge me how you must, the kid is 16. I cried myself to sleep after being pressured to give a guy a hand job, at exactly his age.
A look of dismay enveloped his face. But what I didn't expect was the look of confusion as he realized he had never had these emotional or feared responses as a man, while alone, ever. He understood consent, but not pressure, the culture in which surrounds rape and sexual assault, mainly towards women.
He then put his hand on my shoulder, "Wow, Mom, I am sorry, but I am sorrier that anyone EVER made you feel you had to do something you didn't want or gave you fear. I wish they knew they were continuing the problem. I wish men knew that it is shameful to use their power against women, but I wish that never happened to you, the most." He felt compassion, a much-needed emotion in the world of Rape Culture.
Apparently, my Son, whom I thought I taught there is no gender divide, felt a gender divide. He, at 16, can recognize he has the privilege of walking down a dark street without fear. Something most women don't. He can see the epitome of Rape Culture, not because I told him he had to, but because in his sixteen years of life, he has not one time felt the fear or concern I did at his age. Simply because I am a woman, and he is a man.
Mr. Trumptastic's leaked audio tape, filled with the vulgar, obscene and the ILLEGAL notion of "Grabbing 'em by the pussy," when a man desires. Then swiftly excused as "Locker room talk," fueled an already toxic Rape Culture bias.
It has caused women to speak out, and forced much-needed conversations. But his actions are not new. Rape Culture isn't a Trump issue, it's a social issue. However, because he has the ability to become the next president, it's also a serious concern.
Rape culture exists and is thriving. But I shouldn't have to sit at my laptop and write these words; I shouldn't have to inform anyone that there is a culture that exists in which (mainly) women are blamed, accused, and shamed for being raped.
I SHOULD NOT HAVE TO SAY THIS. Especially to my son.
Has Brock Turner taught us nothing? Or do we have to endure another privileged white male with little to no consequences for his illegal and morose actions? I beg we take an honest look at what Rape Culture is doing to our society. Because I can't afford to raise my Son and Daughter in this putrid environment. I will not stand for it.
It isn't solely the words "Grab 'em by the pussy," that pissed people off. Better yet, pissed me off. But the unyielding and grim reality, a man who may hold the power of a country in his hands, has no clue about RAPE CULTURE, and it would seem; he doesn't give a fuck. None of us can afford to have a leader who believes it's okay to joke about sexual assault.
Don't ask us why we are angry, don't tell me, it happens to men too. Because the reality is, if a woman spoke in the way The political Carrot Top did, they would first be ostracized, then called a whore or slut, by the same people who believe Donald J. Trump said nothing wrong. We the people are better than this.
We can change Rape Culture by talking about the effects of Rape.
Sexual assault is not "Locker room talk."