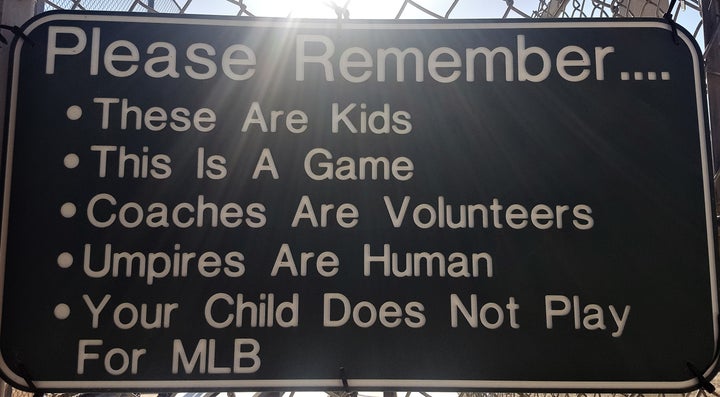 Earlier this summer, my 10-year-old son played what will likely be his most memorable baseball game. Games at this age level usually run six innings. This exhilarating game during the state Little League Tournament went for 13 action-packed innings and ended under the lights after five grueling hours.
Longtime umpires told us they'd never seen a game like it. When my son's team (finally) won, you would have thought they'd taken the World Series by the celebrating in the stands and on the field. We cheered nearly as hard for the other team who fought just as hard. The local newspaper even wrote a big story about it.
During that game, I witnessed some of the best and worst in sportsmanship. The kids on the field – ages 8 to 10 -- displayed the best. Some of the parents, not so much. At times during the epic game, between the cheering and the clapping and sign waving, parents from both stands complained about their coaches' decisions, cursed the umps, or said the team could finish it off if only their son got more playing time or was in a different position. Others yelled at their kids when they made errors on the field or swung at a bad pitch.
Of course I sometimes find myself frustrated by a play or call and can't help but whispering about it, but that night I mostly kept thinking, "I just hope these boys are enjoying this. Whether they win or lose, they'll never forget this game."
On the way back to our hotel, I asked the hungry and tired ball players in our car how they felt about their exciting victory. I wanted details, and they wanted chicken nuggets. The only responses I got were these:
"It was fun to play for that long."
"It was like playing two whole games!"
Which was exactly what I wanted to hear. Too many times, fun and sportsmanship get lost in the quest for wins, even at these young ages. With kids already suffering overuse injuries, parents and coaches pressuring kids to practice all the time or commit to one sport at an early age, and kids quitting sports in huge numbers, several organizations are working to change the atmosphere in youth sports.
Longtime coach John O'Sullivan founded the Changing the Game Project to transform the youth sports atmosphere and return it to the kids. He says today's competitive environment has taken enjoyment out of athletics for children, and sometimes it's parents who steal the joy by questioning their coaches, pressuring them to practice, yelling from the sidelines, or critiquing their performance right after a game.
The Aspen Institute Project Play illustrates this beautifully in a video on their website from an Ohio parks department. Project Play's mission is to make youth sports a great experience for all kids, and offers eight steps to help make that happen.
O'Sullivan says young athletes need three critical ingredients to play a sport long enough to actually be good at it, he says: ownership, intrinsic motivation, and enjoyment.
"Without those three things they'll never play long enough or hard enough," he says. "Your first question should always be, 'Are you enjoying it?'"
Kids who are intrinsically motivated willingly go to practice and work hard, he said. If they're playing just to please their parents, they probably won't stick with it, no matter how talented they are.
"They have to own it," O'Sullivan said. "They have to play on their terms, not because of their parents' dreams for what they could be."
His program works with youth sports organizations, schools, and athletic clubs, helping them find productive ways to encourage athletes and get the best from them.
"We believe that all youth sports organizations should have a mission beyond sports," O'Sullivan says. "Whether it's respect, commitment, passion, fearlessness, or joy, you should be using your sport to teach those things as well."
We saw some great examples of those values during the Little League World Series last month. One compelling example came when a Venezuelan player hit a two-run walk off triple to win the elimination game against the Dominican team, and his teammates rightly rejoiced in their win. The pitcher, meanwhile, collapsed on the field in heart-wrenching sobs. The Venezuelan coaches were the first to walk to comfort him and help him off the mound. Several of his opponents offered hugs during the traditional handshake line after the game.
It was an entirely different scene during the junior softball World Series a few weeks ago outside of Seattle. The hometown team lost in the semifinals, and some players from the winning team posted a tasteless picture on social media flipping off the host team. They quickly regretted it, as they were disqualified from tournament, and the team they beat took their place in the championship game.
They forgot they were supposed to be having fun.
It's a mantra I repeat regularly to my son. He's been obsessed with any kind of sports ball since he could grasp one in his tiny hand. He's a driven athlete, who swims, plays basketball, soccer, tennis, water polo, and his favorite: baseball. He loves it. He's talented. And he's so hard on himself.
After one game this summer in which he went 3-3 with solid singles, he sadly told me, "I'm in a slump" because he hadn't hit for extra bases. At one swim meet, after winning all four of his races, he got out of the pool, threw his goggles down and stormed off because he was unhappy with his time.
"You know this is all supposed to be fun, right?" I reminded him.
As his mom – who doesn't share his innate sense of competition or his natural athletic ability – I struggle with how to encourage him, and how to manage the pressure he puts on himself – and how to make sure he gets the best out of youth sports when the whole enterprise is becoming more competitive, expensive, and pressurized. I'm grateful for caring coaches who stress balance and organizations that offer guidance for parents like me.
O'Sullivan told me it's healthy for my 10-year-old to play different sports throughout the year, and not to specialize in one too soon. And he told me we're on the right track with keeping his enjoyment at the forefront even as we support him as he pushes himself toward his goals.
As his baseball team struggled in what would be their final appearance in the state tournament the night after their long game, some parents grumbled about calls, others offered inspiration, and some swore under their breath when something went wrong on the field. Then one of our dads bellowed: "Have fun out there boys!"
And we all cheered for that.