Is the glass half empty, half full or both?
Last year I had the honor of presenting the work of New Tech Network at the White House Summit on Next Generation High Schools. Heady stuff to stand up in front of best and brightest minds in the education innovation space and talk about our plans to improve school quality and spread the New Tech school model more rapidly across the country. Some would say you cannot have both, that we have to choose quality or expansion. Other false dichotomies in the education space include "personalized learning" OR "deeper Learning". And the one that really gets my attention: Deeper Learning OR Equity (see Deeper Learning Has a Race Problem).  In each of these instances of false choices, I urge us to  stop using "or" as an excuse and instead summon the courage to pursue the promise of "and."  
Today, New Tech Network is releasing our 2016 Annual Outcomes Report that provides compelling evidence of the success of the New Tech school model in disproving many of these false dichotomies across nearly 200 schools in 28 states: in urban, rural AND suburban settings; economically prosperous AND economically challenged demographics; charter schools AND public school districts are choosing to re-imagine their K-12 systems to align with this century AND the demands of a changing economy. The success of schools in our network comes because teachers, principals, district staff, students and their community members have put in the time to commit to changes while maintaining the belief that all students deserve access to a meaningful 21st Century education.
 This isn't to say that this work is easy.  Want a glimpse at what school innovation takes? Read The Difficult Work of School Change by Washington Discovery Academy principal Jeff Spencer.  Challenging the assumptions embedded deep within our educational system about what is or isn't possible requires consistency and great fortitude. Thankfully, those efforts are bearing fruit.
 New Tech schools outpace national averages in high school graduation, college entrance, and college persistence rates. On average New Tech students graduate at a rate of 91%, nine percentage points greater than the national average.  In addition, 84% of New Tech schools had higher graduation rates than the 2014 national average. Learning experiences in New Tech Schools result in students outperforming their counterparts in three key student outcomes:  higher order thinking, graduation rates and college persistence rates. New Tech students grow 61% more in higher order thinking skills between freshman and senior years than the comparison group.
 One particularly impressive data point to share is our success among Title I eligible NTN schools (Bergeron, 2016,): "Compared to the national average, NTN schools eligible for schoolwide Title 1 had higher graduation and enrollment rates for the class of 2014. Nationally, in 2014 economically disadvantaged students had a graduation rate of 75% and the college enrollment rate for students from low income families was 58%. For the class of 2014, NTN schools eligible for schoolwide Title 1 had an average HS graduation rate of 93% and college enrollment rate of 59%."  Yes, all students can benefit from deeper learning, regardless of their economic background.  
We are on a mission. With an homage to Jim Collins and his "Great by Choice" book, we have embarked on our version of the 20 mile march to provide access to deeper learning to every student in every community. I did not say to establish New Tech Schools in every community. We want to be smart and use the power of school networks to transcend last-century governance structures as the reason some believe we can't innovate and improve. When given the right tools and access to effective practices, we believe that all public schools have the capacity to provide deeper learning for their students.
 Coming together again at the White House one year later to reflect on our progress to reinvent the high school experience and the release of annual report at the same time are both public affirmations of our commitments to the aspiration that all students can graduate college and career ready. Thank you to the White House team for not checking out early―using the power of convening to urge us all to engage in this 20-mile march together. Every child is our child, and I believe that the path of "AND" holds much more promise than the path of "OR." Working together to share what we are learning will help dispel the plague of 'false dichotomies' and will help us get better at true improvement which in turn moves us that much closer to our aspirational mission of "all students". I look forward to the conversation at the 2016 White House summit.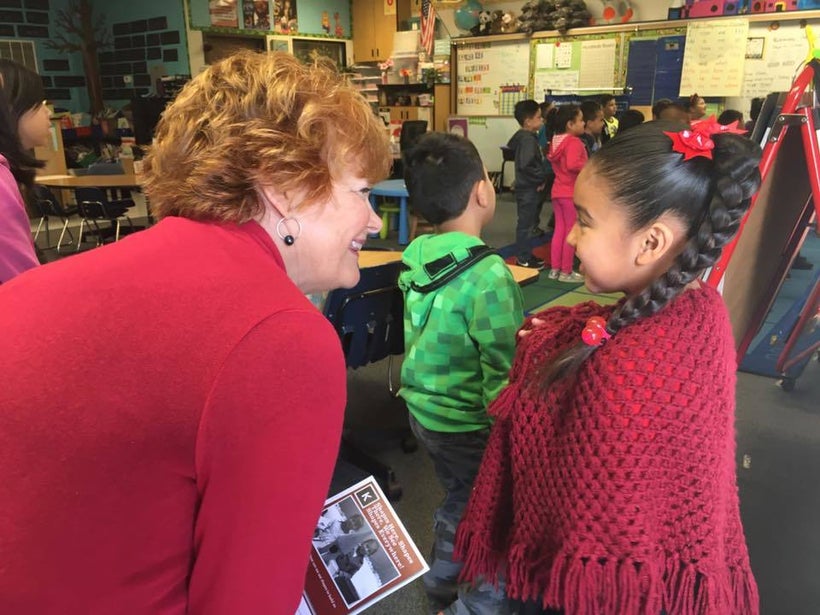 REAL LIFE. REAL NEWS. REAL VOICES.
Help us tell more of the stories that matter from voices that too often remain unheard.
This post was published on the now-closed HuffPost Contributor platform. Contributors control their own work and posted freely to our site. If you need to flag this entry as abusive,
send us an email
.