I recently had a chance to sit down with one of my role models -- Salar Kamangar, CEO of YouTube. As a fellow Persian, I have a world of respect for him and everything he's done for the tech industry.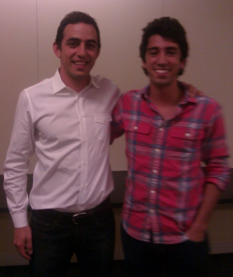 Salar was the ninth employee in a company that now has over 30,000 employees. He helped pioneer Adwords, Google's advertising platform and main source of revenue. After Google acquired YouTube in 2006, Salar went on to lead the video search giant and make them vastly more profitable.
But let's rewind -- how did Salar get to Google in the first place? What happened in 1999 that brought him in?
Salar claimed it was luck that got him to Google. Upon hearing his story, however, it became apparent that he was incredibly smart and strategic about how he went about landing a role in today's tech giant.
While attending Stanford, he tried to find an up-and-coming industry that he was passionate about entering after graduation. For Salar, that industry was search. He obsessed over the industry and narrowed down a list of start-ups doing exciting things in that space. He decided to go after three companies -- Google, Ask Jeeves and Direct Hit. After creating the short list, Salar tried to find a way to land an interview and show that he would be a valuable employee.
He recalled meeting Google co-founder Sergey Brin on Stanford's campus in 1999. Sergey had returned to his alma mater to recruit students to join his start-up. Salar said he approached Sergey -- who was standing in a booth and talking to students -- and they exchanged contact information.
Over the coming weeks, Salar created an analysis of the competitive landscape in the budding search market and sent it to Sergey. He obsessively used Google's search engine, reported bugs, and emailed detailed feedback to improve the site. After a few weeks of emailing Sergey and his team, he finally landed an interview. They hired him and the rest is history.
This actually reminds me of a very similar story that happened with another Stanford alumnus, Tristan Walker.
Tristan became one of the first employees at Foursquare after pestering the founders and demonstrating his value. While we don't have records of Salar's emails to Sergey, we do have Tristan's emails to Dennis and Naveen, the founders of Foursquare.
Hey Dennis and Naveen,

How's it going? Hope all is well! My name is Tristan Walker and Im a first year student (going into my second year) at Stanford Business School (originally from New York). Im a huge fan of what you both have built and excited about what you guys have planned for FourSquare. It is an awesome , awesome service.

I would love to chat with you guys at some point, if you're available, about FourSquare. This year, I'm looking to help out and work extremely hard for a startup with guys I can learn a ton from. Dennis,with your experience at Google and the Dodgeball product, and Naveen, with your experience at Sun and engineering in general, I know I could learn a great deal from you both!

Before business school, I was an oil trader on Wall Street for about two years and hated it! Moved out to the Bay/Stanford to pursue my passion for entrepreneurship and the startup world. This past spring I had the opportunity to work for Twitter as an intern and learned a ton. Solidified my commitment to working at a startup that I'm passionate about, and FourSquare is one of those startups that I believe in.

I know you guys are probably getting inundated with internship-type requests, but thought it'd be worth a shot! I can assure you Im humble and Im hungry! Let me know if you'd be interested in chatting further. I definitely look forward to hearing from you.

Stay awesome!

Tristan
Tristan didn't get an immediate answer. In fact, he sent eight emails to Dennis and Naveen before getting this:
"you know what, i just may take you up on some of this, are you ever in nyc?"

-dennis
hey dennis, yeh I was planning on being in ny tomorrow. how about we meet up live at your offices?

-tristan
But get this! Tristan literally had no plans to be in NYC. He bought a ticket and met Dennis the next day. Dennis gave Tristan the opportunity to take an unpaid internship at Foursquare for the next month. Tristan took it, gained the team's trust and eventually earned a full time job. Two years after sending his first email, he became Foursquare's Director of Business Development.
Looks like Tristan and Salar have a great deal in common. Not that it's a science (not at all), but here are six tips on how to join the next Google or Foursquare:
1. Find a growing industry or space that you're passionate about.
2. Create a short list of exciting start-ups in that space.
3. Get in touch with those start-ups' founders via connection, introduction, or hustle.
4. Email the team with things of value -- competitive landscape, bugs, specific feedback.
5. Find a way to meet in person, interview, or keep in touch if a job opening arises.
Most importantly, Salar and Tristan did work for their companies before they were even paid. That's how much you have to love and believe in the startup you join. Salar did mention he got lucky -- and that's partially true because this process means you're gambling on two things. First, the industry that you're passionate about is also the one that will grow immensely. Second, the startup that you choose within that industry is the one that will survive.
But hey, being an entrepreneur is risky business.
Calling all HuffPost superfans!
Sign up for membership to become a founding member and help shape HuffPost's next chapter