This question originally appeared on Quora.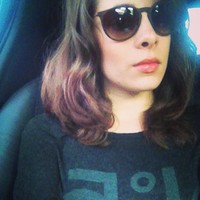 Answer by Chelsea Henry, Photographer + Blogger, http://www.thedauphine.com/

Preface: My hair is naturally curly. Like, really curly.
My hair also used to be incredibly dry (on top of its natural dryness). Probably because of all of that bleach. Also this photo is incredibly embarrassing -- it's from 2008.
Now? My hair looks like this:
Here are the basics that I've stuck to in the past few years:
Use a sulfate free shampoo. If you've got curly hair, you probably have naturally dry and damage-prone hair. Sulfates do nothing for you except make that dryness worse. Pureology Hydrate and L'Oreal EverCreme are two of my favorite brands/lines.
Use a hair mask (or two) weekly. Deep conditioning treatments will give your hair a bit of a boost, add a little extra moisture and protect from frizz. Joico K-pak Reconstructor is amazing. So is Jasmine and Henna Fluff-Ease by LUSH. Leave them on over night for a little extra nourishment. It's A 10 also makes amazing leave in conditioners!
Use heat as infrequently as you can. I usually straighten my hair 2x a week and use dry shampoo in between washes.
Rinse with cool water. I'm not saying freeze yourself in the shower, but rinsing with cool water will help with frizz and shine. Also, do you

really

need that added heat on your poor hair? Didn't think so.
If you

do

use heat, please

please

use a heat protectant. Aveda's 'smooth infusion' style-prep, CHI 44 Iron Guard, and It's A 10's leave-in are among those that I use regularly.
Don't straighten your hair from wet. I don't care if you have a "wet-to-dry" straightener. Just don't. Blow dry with a 100% boar bristle brush (which will help give you shiny, sleek, locks). End with a 'cool shot' if your blow dryer has one -- it'll help close the seal the cuticles and set your hair so you have less frizz. Trust me.
Don't use a normal brush when brushing wet hair (or brushing through hair in general, really). What does that even mean? Use something like a Tangle Teezer Brush -- they're

made

to use on wet hair and don't yank or pull. I tried going back to a big comb and even that feels to harsh now.
Give it a break -- if you have nowhere to go just let your hair be. Air-dry, no product, you know the drill. That said, popping a little argan oil onto your ends before bed

never

hurts.
Get trims regularly. I thought I was being good by just letting my hair grow without getting trims until I realized it really wasn't growing much at all. Why? Because while my hair would grow, my ends would split and split then break. Now that I get regular trims my hair is actually growing and any breakage I get is snipped within 8 weeks.
Popular in the Community