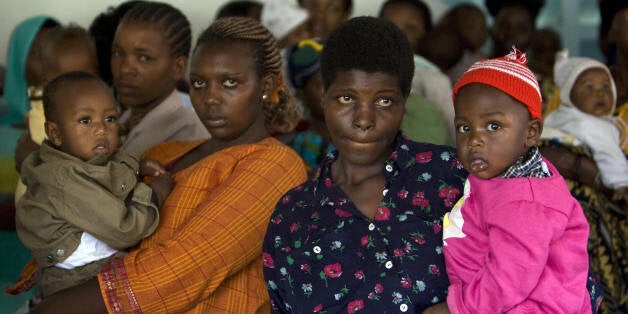 Leaning forward on a wooden bench, a young mother named Rebecca panicked. Precious, her 1-year-old daughter, lay gasping in her lap. Lips pursed, chest heaving - Precious' lungs were ravaged by bacteria and she was on the verge of suffocation. Looking out from Bilibo, her remote Liberian village, at the dirt path and log bridges extending deep into the dense rainforest, Rebecca knew there was only one way to get Precious medical care: to carry her by foot to the nearest clinic -- 14 hours away.
Though illness is universal, access to care is not. Around the world, over 1 billion people in the world's most remote villages go their entire lives without being seen by a health worker. Following its civil war, Liberia had only 51 doctors to serve its 4 million people (for perspective, imagine just 10 doctors treating all of San Francisco). The WHO estimates the world is short 7.2 million health workers and that this gap is worsening. Even in countries with greater health workers exist they are too often based in out-of-reach clinics in cities -- days away from at risk children like Precious.
All people deserve access to health care, no matter where they live. In the 21st century this shouldn't be a radical idea. The United Nations' Post-2015 Development Agenda is working to make universal health coverage a key goal. But, how will this goal be achieved? The standard solutions -- constructing more clinics and training more doctors -- are necessary, but not sufficient: doctors and clinics have failed to reach too many living in the world's most remote communities.
Achieving universal health coverage requires universal health delivery -- for every person in every village. We can get there by seeking new opportunity in an old idea: community health workers.
Using community members to deliver health interventions isn't a new idea, but professionalizing them -- transforming them from amateurs into high-performing providers -- is a strategy that's yet to spread. Though widely promoted as a means to bring primary health care to rural villages as early as 1978, community health workers (CHWs), at least in their conventional form, often fail. It's not their fault. Too many health systems still under-invest in community health; as a consequence CHWs underperform -- most particularly in remote villages where they're needed most.
Why? When deploying CHWs, the status quo has been for a village chief to recruit community members -- without testing their qualifications -- to receive a few days of non-assessed training. Unequipped, unsupervised and unpaid, they are essentially treated like amateurs and never reach their full potential. The health of their people suffers as a result: those who never had access to healthcare ultimately never get it.
To close the healthcare access gap we must do things differently. At Last Mile Health we are working to create a new workforce to save lives in the world's most remote villages by professionalizing community health workers. We study the five processes needed to deploy a community health worker -- recruiting, training, equipping, supervising and incentivizing -- and work to make each more efficient and more effective. In short, we make community health workers better.
In remote Bilibo, we recruited one of Precious' neighbors, Zarkpa, a 25-year-old woman who had never had a job. Before Zarkpa earned the role of community health worker, she had to pass four tests: a community-vetting process; a literacy screen; oral and practical assessments; and a probationary period. Zarkpa was trained not for a few days, but for several months: she was instructed in the diagnosis and treatment of the top 10 killers of women and children and -- after passing stringent tests -- equipped with a backpack of point-of-care tests and life-saving medicines so she could start treating Precious. Zarkpa receives ongoing coaching from an outreach nurse who ensured Precious recovered safely and links her to the referral clinic in case of the unexpected. For all of this, we didn't expect Zarkpa to serve as a volunteer; we issued her a contract-guaranteed salary -- tying it to her performance so she would be accountable to her village.
No one should die because they live too far from a clinic. By giving community health workers the tools to succeed while holding them to rigorous performance standards, no one has to.
This post is part of a series produced by The Huffington Post and The Aspen Institute, in conjunction with Spotlight: Health, a forum exploring the key issues of our time as they relate to medicine, population health and global health, as well as the relationship between health and other disciplines (part of the Aspen Ideas Festival, June 24-27, 2014). To see all the posts in the series, read here.
Popular in the Community