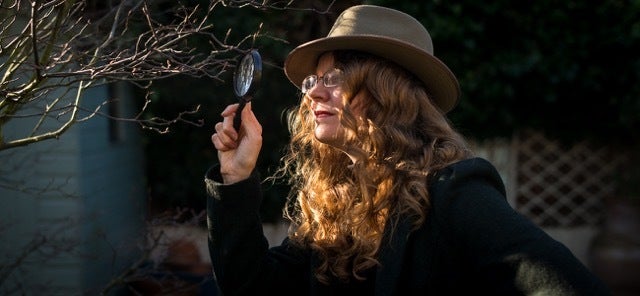 This summer, Pen + Brush is teaming up with experts in both the visual and literary arts to bring our readers a guest blogger series focused on insights, advice and information that will help artists and writers take their work and their careers to the next level.
For our second topic, "The "Business" of Being a Creative," 21st Century art world game-changer Susan Mumford provides the following thoughts on where to find customers for your work.
How do you find art buyers?
by Susan Mumford © Be Smart About Art Ltd
Life would be easier if art buyers grew on trees. Although they don't, they are seemingly everywhere, disguised as neighbors, colleagues, friends, the dentist, a cousin and so on.

Here's how I found early buyers as an art dealer. Prior to opening a gallery, pieces were displayed at home. To get people to view works, I invited friends over for dinner and participated in 'open house' events. Friends and family are often the main clients of early-stage artists and gallerists. Though such individuals may not consider themselves to be 'collectors', they are advocates, spread the word, boost your confidence, play an important role for your viability and who knows, might become bona fide collectors (with your help)!

The most important way to 'find' art buyers is to put yourself out into the world and hustle. How you meet people depends on your personal circumstances, such as where you live, how you interact with people and what availability you have. Who your ideal clients are depends on what you have to sell, whether that's low-end reproduction prints or top-end limited edition video installations. Regardless, the key to building long-term, repeat art buyers is based on building relationships.

In once met a collector on the London underground. At the time, he didn't have a sign on his forehead that labelled him as client material. Yet it turns out he is a culture vulture and buys the occasional piece. By taking his details, sending individualized invites to events and having an ongoing dialogue about his tastes in art, he became a client. Being open to opportunities enables random meetings such as this one to result in business.

In order to guarantee getting in front of buyers, many artists and gallerists participate in fairs. Though these events come at a price, there is a likelihood that some contacts made stand to become ideal long-term clients. Similarly, major online art marketplaces like Amazon Art and Saatchi Online attract collectors. Other targeted opportunities include juried exhibitions, open studios and markets.

A less direct, yet impactful way to get in front of potential clients is via media (traditional and social). Examples include articles, blog posts, radio interviews, podcasts, YouTube videos, Facebook posts, periscope broadcasts and the like. Though such placement doesn't guarantee clients, do enough of the right media (that your target audience reads / watches / listens), and there's a high probability of work paying off in the long run.

None of this is to forget the value of third-party introductions. When I was an art consultant, a great client who bought again and again was the result of a single email introduction from an interior designer. For the designer, bringing in an advisor was an effective way to look after her clients, all the while receiving an introducer's fee. Think about the gate keepers to your ideal clients. Build trusting relationships with them and spell out how you can help their clients.

As soon as someone buys from you once, build the relationship. There's a reason for the adage, "it's easiest to sell to existing clients."

Where are you going to find your next art buyers? Give this thought a lot of consideration. You might have already met them (but done nothing to follow-up), clients of contacts, existing buyers, social media connections or visitors at an upcoming event. Build relationships and hustle. 
Originally hailing from Arkansas, Mumford now divides her time between London and New York as an entrepreneur, mentor, speaker and author. While running a gallery in Soho, London, she founded the Association of Women Art Dealers (AWAD), a non-profit trade network with London, New York and virtual chapters, with members dotted around the globe. AWAD's mission is to facilitate business and collaborations between and for women art dealers. She is also founder of social enterprise Be Smart About Art, which helps art world professionals thrive in a changing industry. In late 2015, her first book was published: Art is your life. Make it your living. Her movements can be followed on Twitter and Periscope at @susanjmumford. Also see: www.besmartaboutart.com @besmartaboutart www.womenartdealers.org @womenartdealers
This post was published on the now-closed HuffPost Contributor platform. Contributors control their own work and posted freely to our site. If you need to flag this entry as abusive,
send us an email
.