That's what I'd like to know. How do you forgive the 14-year-old who murdered your son?
Jaime Gough was a curious boy who loved sports, music and his close-knit family. In 2004 his best friend Michael Hernandez lured him into their middle school bathroom stall with the promise of a revealing a secret. Instead he slit his throat and stabbed him approximately forty times with a serrated folding knife. Then casually walked back to class covered in blood splatter. According to his own journal, Hernandez wanted to be a serial killer and had to start somewhere. So he killed the easiest target, Jaime. His notes revealed ambitions of mass murder and a step-by-step plan of how to begin with those closest to him.
I cannot even imagine how to process the phone call informing you your child sits slumped and butchered, dead on a blood-soaked bathroom floor. How does the brain take that kind of attack? The double tragedy of his death and his murder? How do you survive the next few minutes, much less the rest of your life? Like a spider trapped under a glass. Many people, me included, would want to jump off a cliff.
The South Florida community was up in arms, dozens of stories were filed, hundreds of flowers placed at the school and thousands of tears shed during the ordeal of the funeral, the trial and the agonizing process of allowing the system to work.
According to Maria and George Gough, the only way they could live with themselves was to forgive Michael in the middle of the trial. WTH? I would want revenge.
That's exactly how author Jason Wood felt, when returning home after living abroad, George told him what the family had been through. For Wood, two years of running a boatyard in Jamaica, dealing with all kinds had hardened him with real life examples of street justice. An eye for an eye. So he suggested they try to find a prisoner on the inside to "adjust" Jaime's killer so they could avoid the trauma of a trial and skip straight to punishment. George said, "No can do, man. Maria and I have forgiven him."
In the new book From Fighting to Forgiving, (Kantanoose), Wood, the only author allowed to officially tell their story, chronicles the early life of Jaime's parents in their respective countries -- Maria from El Salvador and George from Panama. Maria was already familiar with violence; her mother was brutally murdered in front of her. She hoped life in America would be different.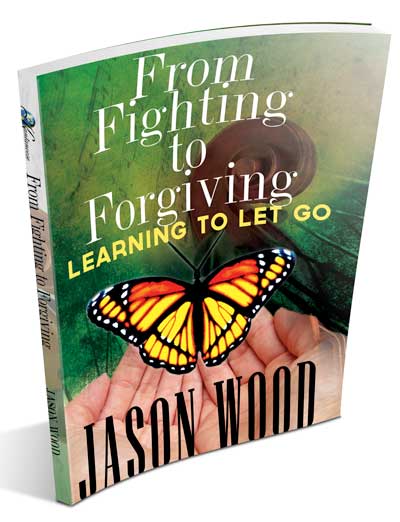 When Jaime died, his parents processed it differently, separately. Jorge was bitter, lost, confused, upside down, and in a "dark hole," blaming himself for not being able to protect his son. Maria just cried all the time, mad at God for letting this happen to her family.
It's been nine years since Jaime's death. They've been telling this story for almost a decade, on TV, on the radio, person to person, on local news outlets, to bloggers like me. They've kept him alive by telling the tale, over and over. They say the "fruit of forgiveness" has honored and given Jaime a legacy, the process of showing other victims of tragedy how to let go of hate and anger.
At the recent signing event at Books & Books, George said, "When I put myself in the place of Michael's parents I began to understand. They had lost their son too." He actually felt sorry for the kid. It was Michael Hernandez who was the spider trapped under that glass, not the Goughs.

Wood says in writing this book he's learned there is "power in the powerless" because he could only listen, unable to provide a solution. So instead he just told their story.
From Fighting to Forgiveness is available in English and Spanish at all Books & Books locations and on Amazon, $15.
Calling all HuffPost superfans!
Sign up for membership to become a founding member and help shape HuffPost's next chapter