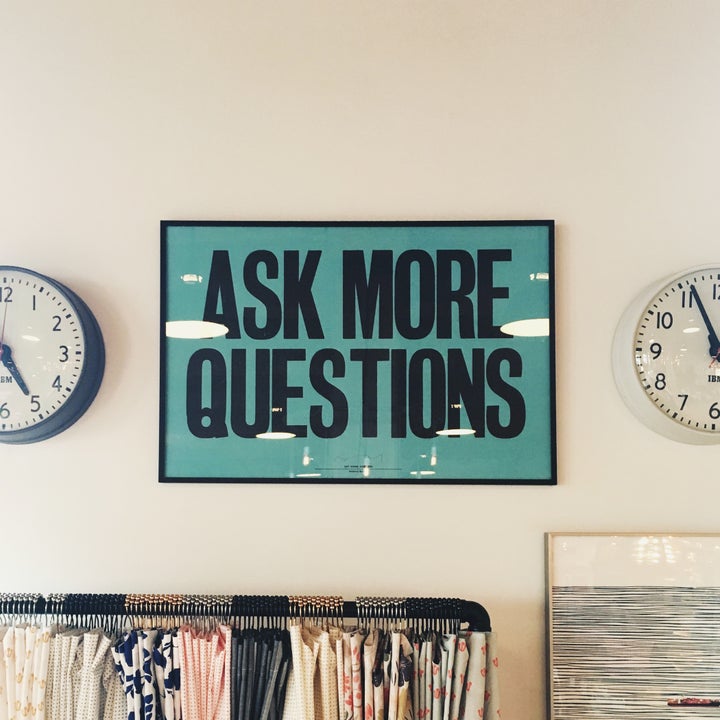 Curiosity isn't a luxury for companies...it's more like oxygen for healthy organizations. A 2015 PwC survey of more than a thousand CEOs found that many leaders cited curiosity as one of the leadership characteristics that is becoming increasingly critical for companies in the "challenging times." At the moment, curiosity isn't a trait that we cultivate. But the trends we are observing—and the data—suggest that we should.
In disruptive industries like the technology sector, curiosity is widely respected. Most of the revered founders of tech companies started their business with a question, which led to a team, who built a prototype, which led to a financing, that scaled a business...IPO...magazine cover, etc. However, curiosity isn't recognized or rewarded in most industries, and it's rarely part of strategic business development goals. You don't often see it on the list of official criteria for hiring or rewarding employees.
In our recent study on curiosity in the workplace,* only 5% of U.S. employees named it among the two most important characteristics that should be rewarded to help their company change and adapt for the future. While 70% of U.S. professionals say they consider themselves "extremely curious" or "very curious," more than half don't think curiosity is valued in society at large. At the same time, there's already a discussion of the fact that as Artificial Intelligence gets smarter and replaces more and more jobs, curiosity will be the key to landing (and succeeding in) a job, optimizing performance, and winning in the marketplace. While robots are wildly productive, they haven't yet been programmed to be curious!
So what's holding us back from embracing our curiosity now?
The Culture of Genius is largely to blame. In this type of company culture some minds are seen as inherently more brilliant than others, and others are intimidated to question things and speak up as a result. It can create a toxic environment that's stifling curiosity and has many employees doubting whether they "have what it takes." Stanford Professor Carol Dweck studied this phenomenon and found it prevalent in many of the 200 startups and Fortune 1000 companies she spoke with.
Part of our study was also dedicated to barriers that stop people from asking questions in the workplace. Employees say the major barriers are: "You don't get real answers when you ask," and "Fear looking stupid" or "Fear of others' reactions." Moreover, there's a clear disconnect between what senior leadership and their employees think on this matter. While 69% of C-suite respondents say they see no barriers to asking questions in their companies, less than half of employees agree.
And nevermind the rewards. Only 22% of the workforce believe you can make more money by being more curious. Ask C-suite executive the same question, and you'll see double the number who believe that curiosity helps professionals reap the rewards.
So how do we fix this problem, create a culture where we foster greater curiosity in the workplace, and become more competitive in the changing marketplace?
Make questions and curiosity central to your daily work and the company culture. Create an environment of transparency where people can get genuine answers and all kinds of questions are valued—this is especially important for the next generation of leaders. Commitment to encouraging curiosity can start from your weekly townhalls and meetings that focus on questions rather than management monologues, and also find a reflection in workplace policies, employee experience and even your office design.
Establish a safe space where people can ask with no fear. With over 40% of millennial workers concerned about how their questions will be perceived, we believe a more inclusive environment will help solve this issue and empower people to question things more. This year we've worked on an Inclusion & Belonging survey advised by Stanford researchers and have recently launched it internally to see where we can do better as a company. We'll also make it available as a benchmark-able template on our People Powered Data platform, so all companies can measure this crucial component of organizational well-being. It is important for us as part of our mission to 'Power the Curious,' and it's equally important for us to pay this forward.
Hire a diverse team where different points of view and questions can inspire more learning. It should be blindingly obvious by now that your business is in trouble if you don't have diversity on your senior leadership team and board of directors.
Practice the art of questioning. It's not only one of the best ways to stay informed, but asking 'why' helps you identify and understand the motivations driving employees, customers and partners. There is so much data and information available to businesses these days, but we getting to the 'why' only comes from staying curious and asking questions. Just relying on data doesn't work. It has to be combined with curiosity and people-powered insights.
And reward these great questions! At SurveyMonkey, we reward and recognize employees each week for their questions that drove innovation both through peer recognition programs and the leadership team's announcements. Equally important is to highlight when curiosity led to failure. "Hey, we thought we had a good idea, we tested our hypothesis, it failed, we learned!" Celebrating when you swung and missed gives teams the confidence to keep trying.
Finally, make sure you and every member of your team are in regular direct contact with customers to boost the organization's overall curiosity about customers. Only 32% of employees in our research* currently say their curiosity is piqued by customers. Survey your own team to find out what the number in your organization is and bring it to 100%!
The bottom line: when people are empowered to ask questions, the entire business (and customers!) benefit. Curiosity is quickly becoming a requirement rather than an afterthought, and creating an environment where it can flourish will ultimately determine the future success of your business. Whether it's developing a new product or keeping your customers and employees happy, winning in the market depends on being strategic, driven and (often) humble enough to swap periods with question marks.
*In collaboration with INSEAD's professor Spencer Harrison. Methodology: ​SurveyMonkey conducted this online "Curiosity in the Workplace" survey in two waves: June 21- 29, 2017 among a national sample of 13,331 adults ages 18 and up, including 8,988 people working full-time or part-time, and September 1-11, 2017 among a national sample of 6,490 adults ages 18 and up, including 4,278 people working full-time or part-time. Respondents for both waves were selected from the nearly 3 million people who take surveys on the SurveyMonkey platform each day. Data have been weighted for age, race, sex, education, and geography using the Census Bureau's American Community Survey to reflect the demographic composition of the United States. The modeled error estimate for each wave is plus or minus 1.5 and 2 percentage points, respectively. More information on methodology: https://www.surveymonkey.com/mp/survey-methodology/
Popular in the Community