STONE TOWN, Zanzibar -- It was hard to see the hallowed ground for all the minibuses full of tourists jockeying for position in the parking area outside Christ Church Cathedral one recent sweltering afternoon in Zanzibar's main commercial center.
I had come to this place not because of the church itself -- one of only a few in Stone Town, where upwards of 90 percent of the population is Muslim. Instead, what drew me was the history of this place before the cathedral was built in the mid-1870s.
The Anglican Church erected Zanzibar's only cathedral on top of what had been, just a few years before, the main marketplace for the island's flourishing slave trade. It is believed the Stone Town site was the last slave market in Africa when a reluctant Zanzibari sultan closed it in 1873 under pressure from the British government.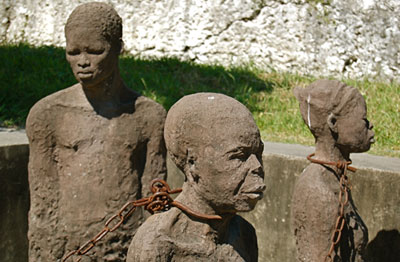 The Anglicans purposely built Christ Church atop the former slave market as a statement of redemption and resurrection, as a kind of re-consecration.
They laid the cornerstone for their cathedral on Christmas Day 1873, not long after the market was shuttered. The first service in the cathedral was held four years later, on Christmas Day 1877.
Christ Church's altar, decorated with a triptych of mosaics depicting scenes from the life of Christ -- including a central rendering of his crucifixion -- sits precisely where the slave market's whipping post once stood. Slaves were tied to it and lashed to demonstrate their strength for potential buyers.
I can think of few things more depraved, evil or unholy than what transpired here, a place where human beings, reduced to mere (and expendable) commodities, were brutalized without mercy.
Across the cathedral's courtyard in the basement of a separate building remain two slave chambers just as they were when the Stone Town market was closed. The chambers where as many as 75 women and 50 men were kept in two dank cells with ceilings so low my head touched them as I walked through last week (and I'm 5-foot-5) feel as close to haunted as anything I've ever experienced.
Now one cell is lit by a fluorescent lamp, but the other is left as it was -- the only light emanating from two small windows carved into the stone walls.
Authentic slave-era chains and shackles hang from the ceiling. You can touch them -- this isn't a museum. I did. I won't forget the sensation of the cold weight of the chain in my fingers, and I can't stop thinking about what it would have felt like to be tethered by one.
What we humans have done to one another, and what we continue to do...boggles the mind, really.
Is it possible to redeem such a place, ground hallowed not because of holy deeds done, but instead made sacred by the unthinkably unholy acts that transpired here?
I imagine that's what has been on the minds of many people in New York as the plans for what to do with Ground Zero in Lower Manhattan have been debated. Similar conversations and contemplation occurred at Holocaust concentration camp sites in Europe, in Oklahoma City, in Pearl Harbor, and at spots throughout the world where atrocities have taken place.
Is it better -- and I can't help thinking of the scene in Forrest Gump where Forrest bulldozes Jenny's childhood home, the place where she was first abused -- to remove every trace of the atrocity, to knock it down, bury it, seal it off, and move on?
Or should memorials be built to the victims and those who sought to bring them solace, freedom and end to their suffering?
What the Anglican Church has done in Stone Town is both. The cathedral stands as a monument, literally, to the triumph of light over darkness, good over evil, God's audacious grace over humankind's fathomless cruelty. And yet it doesn't seek to forget or diminish what happened on this so-called sacred ground.
In another corner of the cathedral courtyard stands what is, in some ways, an incongruous monument to all that has happened within its walls -- a thoroughly modern sculpture by the Scandinavian artist Clara Sornas.

It shows five slave figures, slightly larger than life, chained together in a pit. They are men and women, young and old, with features that show the variety of tribal and ethnic backgrounds that is Africa. Their expressions are neither of torment, nor resignation. They look numb, worn down, and yet somehow defiant.
Perhaps that is because they are only half in the pit. Their heads and shoulders are in the open air, faces exposed to the relentless equatorial sun.
For reasons still unknown to me, despite the herd of minibuses in the parking lot, there were only a few visitors inside the cathedral on the day I visited.
My Zanzibari guide, Mussa, a lovely, helpful fellow, was explaining dutifully how the pipe organ came to be installed, and that the small wooden cross in the corner, according to lore, was fashioned from the tree under which the Scottish missionary and explorer Dr. David Livingstone's heart was buried.
But I was distracted by another scene: A couple of other tourists were tramping across the altar, snapping pictures of the mosaic and the round marble spot on the floor that marks the whipping post's former location, seemingly unaware of where their feet were standing.
Popular in the Community