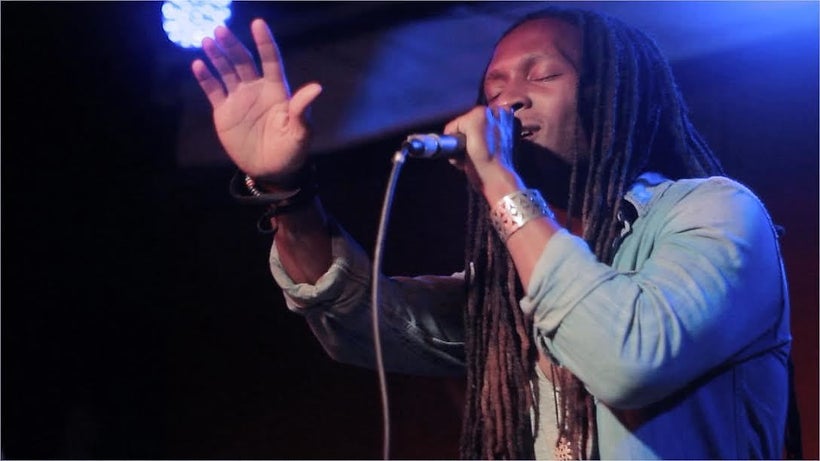 His voice is like the warmth of a cup of tea that seeps through your palms on a winter day. I meet the soul singer at S.O. B's— (Sounds of Brazil)—the lower east side's underground artist breeding ground. From Gil Scott Heron to J Cole, revered artists have graced this hot spot. Now, Bel-Ami, backstage and collected, is ready to join the grand line-up.
He casually strums his guitar, humming a soft, soulful tune. It's his latest single, "Let Go," and almost immediately, the melody brings comfort to the room. Losing yourself in his voice is easy. It's as soothing as a train ride that persistently rocks your eyelids heavy. Listen to "Let Go" and feel your eyes automatically close, fully succumbing to the two-step of the moment.
A Houston native turned Brooklyn transplant, Bel-Ami emerged on the music scene in 2010 with his first single, "U Do That Thing." In 2013, the Houston Chronicle called Bel-Ami's first EP, "Know U," one of the best albums of 2013.
Now, with "Let Go" from his second solo EP (set to release this fall), Bel-Ami is fully committed to releasing his love without constraints. A continuation from "U Do That Thing's" "something 'bout the way she walks, something 'bout the way she talks...," in Let Go, Bel-Ami surrenders to "that something" and loves hard. With cuffing season upon us, it's a pretty timely gift.
Overly prepared and absolutely ready, I meet the artist backstage and am grateful that it's him: humble, gracious, approachable. He dons an eclectic monochrome headband, black and brown ombre locks and a rock star guitar that screams, "I ain't here to play." Yet, his demeanor says, "it's alright, you can say hi." The juxtaposition is comforting.
We chat until it's his time to perform. Unsurprisingly, Bel-Ami's energy sends proverbial flames throughout the room. It's electric. "Ya'll better talk to me now! I came all the way from Houston to sing for ya'll!" The percussion hits and Bel-Ami begins. "Baby, I don't know what it is that you do to me, but lately you've been all that's all my mind…."
The crowd is already in applause. From early 20's to early 40's, attendants range from funky hipsters, to the curly haired sistah and the middle aged professional who, after hearing Bel-Ami's first line, is forced to unbutton his collar. One guy in particular breaks out in dance isolations, popping and moonwalking. How he got all of that from a soul song, not sure, but a Bel-Ami performance would do that to you.
Fast forward a couple of weeks and this Houston singer sits with me to discuss his latest single, life and submitting to love.
Imani Brammer: So, who is Bel-Ami?
Bel-Ami: …I am, someone who is trying to make a difference in a world that doesn't seem to like change. And so I approach music with the intent to speak life in everything that I do.
The 33-year-old artist was born Amir Bellamy, a name he dons with high regard. "My first name is Amir and it means prince. So I see myself as a lion, you know, very royal," he says. "Bel-Ami is the French translation of my last name, Bellamy. Bel, meaning beautiful, and Ami, meaning friend. Just as my music is an extension of me…it only seemed natural to use Bel-Ami."
The soul singer moved to New York City in April out of what he thought was sheer curiosity. It wasn't until later that he realized he sought growth as an artist. "…My reach is much wider here than it is anywhere else," he says. "Originality is the expectation here, and the culture supports it. Aside from that, it's just a more compact version of home. I'm learning to adjust my personal space requirements." He laughs.
I.B: How did Bel-Ami come to be?
B.A: As a kid I first discovered I could sing, but never really saw it as anything real. Over time, I kind of pushed it to the side as nothing more than a hobby.
Never sold on one career path—he finds practicality boring— it wasn't until a near fatal car crash that Bel-Ami shifted his view, giving his "creativity the energy it deserved," he says. "The accident made real the value of the time we have here. We must move with urgency, act on our thoughts and ideas."
I.B: How'd you come up with the idea for Let Go?
B.A: Guys are typically closed off emotionally. We're taught to be that way early in life, and we tout it as strength, when in actuality it's a hindrance from us fully knowing ourselves, and from others fully knowing us…Let Go is about submitting to love. Being fully comfortable with someone to allow them to see all of you...
Currently entranced in eternal love, Bel-Ami followed his own advice and recently married his now wife, Malika Bellamy. The love, he says, emerged out of vulnerability. "I had to let go of the fear of being vulnerable to someone else. It's scary to."
I.B: What specifically, is the "it" you're letting go of in this song?
B.A: Fear of the unknown that change brings. That's why we are so resistant to change. We find comfort in those things that are familiar. However, when something new is introduced that we recognize has the power to shift our circumstance, we typically hesitate. The moment I realized I needed to move happened long before I actually moved. I knew that my ceiling would be much higher in NYC. However, the higher you're up, the further you have to fall.
We take a water break and Bel-Ami again, strums his guitar. His voice is like the moment you finally exhale. In this single, the sounds are soft, ambient and weird—slightly reminiscent of Willow Smith's Summer Fling. "The low end of the song is full and heavy, providing a contrast to the airy vocals and bright synth leads," the singer describes.
He partners with Michele Thibeaux in a duet, providing the perfect balance of feminine and masculine vocal harmony. The track is smooth and soulful, like an ol' school kind of love. You can flirt to it, dance to it and let it play as the background track of intense intimacy, yet, your mother would approve. Void of expletives and sexual content, it's pleasant, wholesome and honestly, refreshing.
I.B: What's on your iPod right now?
B. A: Anderson. Paak, Zedd, Jaimie XX, Hiatus Kayote.
It's no wonder. Look at his playlist. To this day, Bel-Ami counts opening twice for Mint Condition as one of the biggest moments of his career. "They are hands down my favorite band," he says. "And Stokely is, in my opinion, the most talented vocalist of my generation. So being able to perform on the same stage as them was an honor."
Though he has the likeness of Raheem DeVaughn's soul, D'Angelo's sultry and Anderson. Paak's funk, Bel-Ami's sound is not to be confused with simply soul. It's alternative soul—there's a difference. His music includes genres from electronica to soundscape, yet there remains an underlying R&B and soul foundation, "so it still feels familiar," he says.
I.B: What can we look forward to in this upcoming EP?
B.A.: This EP is a story of acknowledging the endings, and welcoming the beginnings, realizing what's true, and giving your energy to make it great! This album is made for anyone who has ever found themselves lost. Lost in love, lost in life, lost in direction. It serves as a reminder that in being lost, you are also on the cusp of discovery.
Special shout out to all the millennials out there, toiling through your 20's, tripping your way through adulting. This album is for you.
I.B: Now tell me, how can "submitting to love" transform your life?
B.A: It reveals a whole new side of you. It can be the single most beneficial occurrence in your life. Love works for love, so those who submit to it will only find more of it.
The singer's music elicits the perfect boo lovin' vibe. Cozy up with your partner and let your emotions rise freely. Thoroughly feel the amorous butterflies. With Bel-Ami on repeat, I promise you'll get what Netflix and chill can't ever provide.
If you'd like to see this interview with more key snippets, watch the video below!
REAL LIFE. REAL NEWS. REAL VOICES.
Help us tell more of the stories that matter from voices that too often remain unheard.
This post was published on the now-closed HuffPost Contributor platform. Contributors control their own work and posted freely to our site. If you need to flag this entry as abusive,
send us an email
.