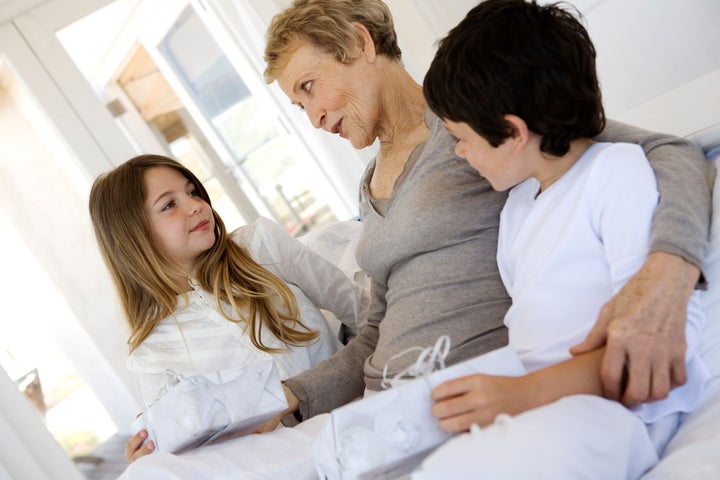 Congratulations! You have found the love of your life, he has asked you to marry him and you have said, "Yes, yes, YES!" You want to shout your happiness from the rooftops, but, if you're over 35, chances are that you or the wonderful man in your life may have a few people who need to be the first to hear your happy news...the kids.
Getting married later in life is fun, romantic, sexy and exciting, but we know it can be a bit, well, complicated. All three of us have had a lot of experience with this because we all became stepmoms the minute we said, "I do," as did many of the brides we interviewed for our book.
Hopefully, throughout your relationship with the new man in your life, you have been able to include the kids and have developed a relationship with them so the news that you are getting married is not coming to them out of the clear blue sky. But the most important thing no matter how old his -- or your -- kids are is that the news needs to come from you before they hear it from anyone else.
If the kids are young, they may be confused. One bride said that when her husband remarried, her six year-old son wanted to know why "Daddy and Sue don't come home for dinner with us." Just take a deep breath and explain things as clearly as you can. Here is an article we found helpful: Stepfamilies: Then Comes Remarriage.
If the kids are teenagers we suggest that timing is everything. If they are grappling with boyfriend or girlfriend break-ups, college testing, etc., choose a time to tell them when they're not so stressed out. Pick a time and place where you can talk without interruptions, and try and talk to your kids on your own. That way they may feel free to ask questions they might not feel comfortable asking otherwise.
If the kids are adults, treat them as such. They probably figured out long ago that someday you might be giving them this news, so tell them as you would any another adult.
The Garter Brides also know that not all kids will take the news in the same way. Dianna remembers, "Chris had two daughters and a son. One daughter hugged me and came to the wedding. The other one didn't attend. It took her years to get used to the fact that her Dad had gotten married again, but eventually she accepted our new life."
If your fiance's children's initial responses to your marriage plans are not the positive ones you'd hoped for, try not to let that color your feelings towards them. All kids, no matter what their ages, fantasize that their parents will get back together again.
Here's one absolute no-no: it is not up to your kids to tell your exes that you are getting married again. If the divorce was acrimonious and you don't want to make a phone call, happily there's email, texting, voicemail and snail mail, and some ex-husbands may actually be delighted. No more alimony!
Life experience has taught us all that things change with time. As a mature bride you know that everyone is not going to respond to your newfound happiness in the same way, and that's O.K.
Remember that this new joy is not about what anyone else thinks; it's about the two of you. So enjoy your wedding planning and focus on sharing this happiness with your new extended family!