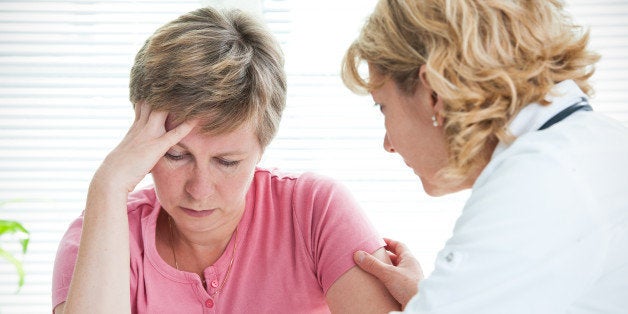 Your spouse, family member, relative, friend, co-worker or acquaintance has received a diagnosis of breast cancer and has shared that information with you. And unless someone has shared that same diagnosis with you in the past or you are a cancer survivor yourself, you most likely don't have the slightest idea about what to do or say. You probably have hoped that this day would never come for you and now that it has you probably feel a bit of panic. Most likely, your first reaction is one of fear and horror and not being able to say anything. If you had your choice, you would probably run in the opposite direction if you didn't know that wasn't the right thing to do. And most of all, you feel guilty about having these thoughts when you are not the one who has just received that diagnosis. But, I want you to know that many others have shared such initial reactions in the past and what you do after you get past that initial shock will make all of the difference not only for you but also for the patient.
If you take a moment and reverse the situation, what would you want from a person to whom you just delivered such news? You have no idea what you are about to face. You are afraid. You are confused. You are trying to figure out how you will manage to do all that is medically required of you while working to pay the bills and taking care of your family. You are trying to decide how to prioritize everything in your life so that you can do it all and then some without breaking physically, mentally and financially. And now that you have a better understanding of what that patient is facing, you are in a better position to decide how and where you are best suited to step up and help out.
Think about what you would need from others to help you. Let's say you are a friend of a patient who has a child who is a friend of your child. You could step up and indicate that you can take the children to school and pick them up afterward and provide after-school assistance with the child's activities and homework until another family member gets home from work. Or if you don't work a job, you might be able to help by taking the patient to and from doctors' appointments, help with shopping or cooking or other household chores during the day when the patient is unable to handle these things for any number of reasons.
A breast cancer patient will most appreciate being able to live as "normal" of a life as possible. That means that the focus should be on doing as many activities that were done and shared before the breast cancer diagnosis. If your plans include taking a patient for a test, perhaps you can then to go lunch afterward where you share conversation like you would have in the pre-cancer diagnosis days. However, if the patient does want to discuss how she is feeling or what the test was like, a listening ear without the need to provide comment will definitely be best.
One other thing that might be best to consider is that even if you make the offer to do something or help out in some way, the patient may not be comfortable in really asking you for the assistance. Therefore, perhaps rather than saying that if you need something, let me know, you might say, I am going to the grocery store this afternoon so please prepare me your list by 1 p.m. Or you might say, I am making a beef stew for my family for dinner and I will be making enough for you and your family, too, so I want to know what would be the best time to drop it off for you. Or you might suggest that your cleaning lady is coming by to clean your house and you have arranged for her to add 2 hours to her time to do chores at your house so what time would be best to send her by.
I have found that the best way to help and support a breast cancer patient is to provide help and services and support in the same way that you would help them in any other situation that has created a crisis in a person's life. If you are willing to stand by the person who is dealing with breast cancer, you will find the ways to deal with anything and everything that comes your way. There is nothing that a patient needs more than to know that they are not alone and that they always have someone to whom they can turn who will support them and help them in any way that they can. And, bottom line, there is nothing more important.