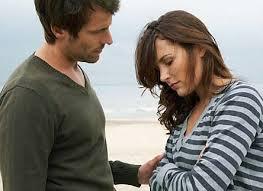 No matter how many dating enthusiasts or experts I approach about this topic, I cannot get a straight answer. How do you break it off?
The common answer is not so simplistic. It involves multiple variables, but two stand out. The length of the relationship and the known emotions of the other person are important because you are telling them politely but honestly -- "You are not in my future." In a perfect world, it would end with those simple words.
The world's far from perfect. So how important, then, is the delivery...
You can take the Jerry Maguire approach, a crowded restaurant so there will not be a scene.
You can give the not so subtle clue of 'we need to talk and can I come to your place to do it.'
There's the 'Costanza' -- 'it's not you, it's me.' No matter what, it is the other person, and keep in mind that the 'Costanza' approach is borrowed from a single man who wore a wedding ring to attract more women.
There's the 'epiphany' approach: 'this is not the man/woman I am supposed to be with and even though my timing cannot possibly be more wrong and inappropriate--post-funerals, pre-medical boards, in the middle of an exotic vacation, I have to let you know this right now.'
The 'fade-away', usually reserved for three dates or less, has been utilized for relationships longer than some marriages. I am simply going to disappear, never ever going to speak with you again. The ghost (so it is now called) would seem to be impossible these days with social media, but it happens, and it's the methodology I hear most often used.
The ghost is likely the easy, safe and convenient way out or it can be viewed as the most merciful. Nobody wants to tell someone that 'I actually prefer brunettes' or 'their career is not impressive' or that 'I feel like I'm kissing a friend' or 'I just feel nothing.' Honesty can cut someone to their core. Mercifully fading away might be a good option if you find it a disservice to be anything but honest. The answer for the break-up, from your perspective, is usually concrete and largely superficial. So it might be the 'right' thing to spare someone your honesty.
Also, what value does complete honesty really serve if there is someone for everyone? "You're a nice guy but you're dumb as rocks." "You're an attractive woman but I find you dull." The truth is that the guy you perceive as dumb could be another's Einstein and the dull woman could be another's life of the party.
So who knows? Maybe it is best to be the ghost.
Maybe you should tell someone in person because you want to be remembered for taking responsibility, or for acting courageous. But is there more courage in fading away? I do not know the answer.
The problem with the Jerry Maguire approach is the chance that you could be met with hostility or worse yet, questions. "Why not?" Are you then wrong for using the 'Costanza' instead of the truth?
I do not know the answers, and the enthusiasts and experts seem to feed me mixed reviews. I suppose it is situational. Regardless, it is not an enviable position, but it is necessary.
So whatever strategy you employ, remember that you will be remembered for it, but there's triumph in not sustaining something when it's not right.
As always, I would love to hear your thoughts.
Calling all HuffPost superfans!
Sign up for membership to become a founding member and help shape HuffPost's next chapter