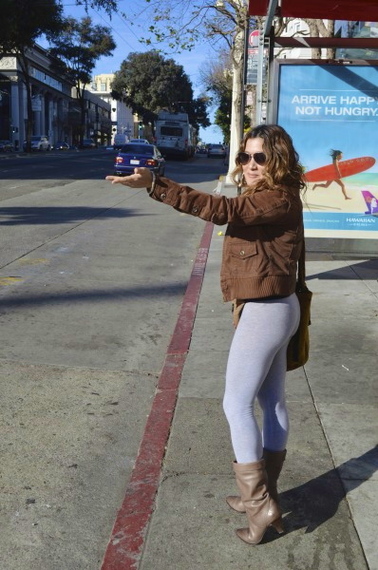 As Mother's Day approaches, I'm reflecting on the example I'm setting as the most influential female in my boys' lives. Unintentionally, I have been teaching them about women. As scary as it is, as mothers our influence on future relationships with women, both positive and negative is massive. Sometimes it takes a small incident to make one pause and reflect...

Landing at JFK at nearly 3:00 a.m., I wasn't paying attention to my surroundings. I was focused on walking from the west side of Central Park to the east, where I could plop on a bench lazily and watch my kids play. "Hold up," a young guy spoke into his phone, "I'm looking at a damn perfect ass." But no matter how exhausted, my boys didn't miss a beat. Neal and Liam started giggling, and said, "Did you hear what that guy said about you?" "No, I didn't." They re-told his comment, and were 100 percent sure he was referring to their mother's "ass," an outline you could see through my American Apparel leggings. My own mother, their grandmother quickly chimed in, "well, you just made your mother's day."

I have to say, for a brief moment I was quite pleased that my booty was being called "damn perfect," especially in the day and age of Kim Kardashian booty expectations. My behind, while not large, has always been a body part with which I've never been concerned. It's not where I gain weight, and has been a pretty consistent player -- staying the same even after motherhood. As a woman in the high pressure world of feeling like we have to meet a perfect beauty standard, I appreciate having a body part not needing constant scrutiny.

As soon as I listened to the words in my mother's comment, "Well, you just made your mother's day," I felt a knot in my stomach. Growing up in a predominately male household, I heard the conversations my brothers and their friends would have about girls. Although I was raised as a feminist, it was what I took in around me that had more of an effect on my own self worth. Beauty was important.

Who taught me this lesson at a young age? My grandfather. He was tall, handsome and quite charming. Working in the high-end fashion business, he spent most of his adulthood surrounded by glamorous models. My Papa wasn't like my father; he was intimidating, elegant, quiet and not the most nurturing. So who better to ask a question I knew would get an honest answer? "Papa," I looked up at this handsome man with my big brown eyes, wild hair and awkward smile. "Yes Mara?" "Do you think I'm pretty?" Without hesitation he looked at me, a child, and said "Well, you're no Cindy Crawford." It was at that moment I learned my own beauty had limits. Even in the subjective eyes of a grandparent, he confirmed my beauty was limited. In typical Mara fashion, I accepted his comments as truth hiding my feelings of rejection with laughter.

This was a poignant moment in which as a young girl I learned to seek approval regarding my looks from men. This result was due to a mixture of being raised around males and society's influences. And seeing my own boys, who will one day be men, watch two females' positive reaction to a man's low brow comments was a horrible lesson. How do you undo a child's observation? Or better yet, how do you undo years of women being conditioned to seek approval for their beauty?

I don't have the answers, but I'm happy to be asking the questions. Is it wrong to feel good after being objectified? If I didn't have kids, would I even struggle with these questions? And, the question still lurking deep inside most women, including me, how does my ass look?