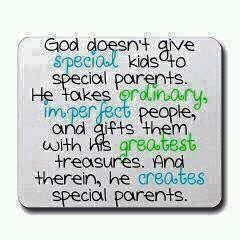 I'm never quite sure what to think of these sayings. Did God give me special treasures to make me special? Did he give me special kids because I'm already special? I'm not sure any of that resonates, and frankly it all seems like a massive oversimplification.
When we had Alex we chose not to get prenatal testing because we knew that if our baby was born with any type of medical or developmental diagnosis that we would do what it took to parent him. It seemed like a remote possibility to a couple in our 20's, but sure enough, our child was born with Down syndrome, and sure enough, after experiencing confusion and sadness, we rose to the occasion and continue to do so.
Does that make us special? I really hope not. Isn't that what parents are supposed to do?
So then we chose to adopt Ben. Special? I don't think so, we just realized we were good at adapting to Alex's needs, and found him delightful, so we figured we would be just as delighted having another child with Down syndrome. We knew that not everyone has the resources to parent their kids with Down syndrome, so when we recognized our ability it seemed obvious that we should use our strengths to add another child with Down syndrome. Special? Meh, since when is recognizing your strengths and using them special?
Ben came with a super size package of needs, each of which rolled out one at a time. Each time we have done whatever is necessary to meet those needs. It's what parents do. They take care of their children no matter what. If buying hearing aids, coping and helping Ben cope with many medical tests and treatments and hospitalizations is special I guess I don't get it. What else are we supposed to do? Our child needs care, we give it. Simple enough.
We are different. Going through all of that with a child changes a person for sure. I don't relate very well to my friends with only typical children anymore. I still love them and care about their children, but when you're a full time papaya farmer, you give a pleasant wave to the apple folks, but they it's a more of a passing acquaintance. Maybe the apple farmers think papaya farmers are special, but I think that's a colloquialism for different. I don't think that watching all the average families going about their normal business while we navigate this complex life makes us special. It does make us unrelateable and lonely though.
We're parents. We're nothing special. We were handed Uno cards when everyone else got a deck of standard Hoyle playing cards. We're over here playing Uno and seeking out others with Uno decks. We're playing our game just like everyone else, it's just with a whole different deck of cards. We have different rules and no matter what, our cards will never quite blend with yours, even though they're the same shape and size. When those of us playing Uno learn the game and get good at it, perhaps we inspire some kind of awe in the Hoyle card players. But if this very night their deck got traded in and tomorrow morning they had Uno cards, they'd learn to play Uno too. It would be hard at first, and they'd have to get used to new cards and new rules, but they would do it, just like we did, because that's just what you do.
Uno cards are less common, more colorful and come with different rules. Papayas are not apples, they are grown and used differently. Does taking what you're giving, figuring it out, making it work with love make a person special. I actually hope not.
I hope that anyone would farm their papayas and play Uno. I'm sure my analogy is also and oversimplification, but maybe it is just enough to get people thinking.