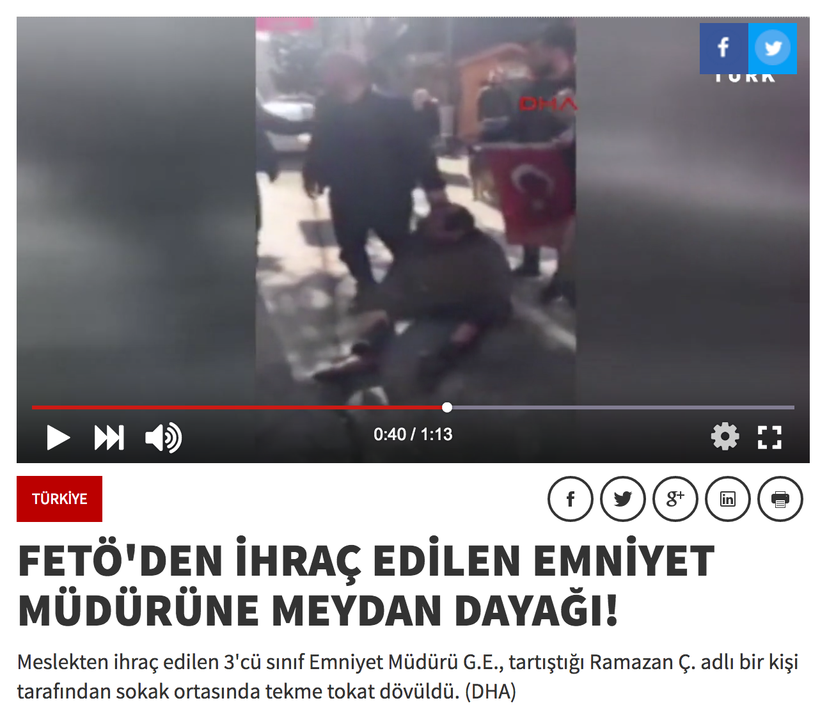 For more than 135,000 public officials sacked by government decrees in the post-coup crackdown, hardening economic challenges and ever-present threat of abject poverty are the least of their troubles.
Media-endorsed social mobbing, daily harassment and dishonoring insults by fellow citizens in broad daylight in streets constitute far serious, ever-constant problem that plunge tens of thousands of people and their families into permanent state of psychological trauma and social isolation.
And neither law enforcement nor media offers any help to contain social hysteria that divides people and friends in nationwide level. If you have, even with the slightest hint, any connection to Fethullah Gulen Movement, or any official charge, which is couched in those terms — membership to "FETO" (Fethullah Gulen Terrorist Organization) — leveled against you, it is enough for someone to end up in crosshair of public wrath, government-driven social hatred and crucifixion.
Media coverage of "FETO" news, coup trials, police raids on suspected "FETO" members, visual presentation of arrests give ample example on media-led hate speech and dehumanizing discourse against a particular segment of society.
The end result is no surprising. Having been subject to bombardment of such toxic media language, people take justice into their own hands, and sacked officials over "FETO" link are brutally beaten in broad daylight in streets while onlookers indifferently stare and go their way.
One recent incident in Black Sea province of Samsun is a case in point. A video shared by mainstream media and other websites featuring a man beating a former police chief fired by the government went viral on social media. Mainstream Haberturk TV whose editorial policy has been shifted to government line over the past four years, released the video on its website with an exalted headline affirming the violent act: Public Beating to Police Chief Dismissed Over FETO Link.
What is more jarring is than the beating itself was open endorsement by a national television channel, which presented the story and video in approving fashion, an attitude that could give blank check to watchers who would tempt to follow the suit in the future.
In the video, a store owner beats a former police chief at the store, showing ID card of the police to another man who captures the jarring scenes with his cellphone. The man let loose profanity and insults while beating the hapless police chief, claiming that the former police officer threatened his family. He then drags him into the street, urging people to call the police to arrest the beaten officer and continues to hit him in the face while blood spills to the ground. He even asks a Turkish flag from someone so as to prove his patriotism by beating a "traitor."
Onlookers and bystanders watch the unfolding scene with surprised eyes, but do nothing to interfere with the assailant or tell him to stop. Moments later police arrive there. After listening to the attacker, police let him go.
This is not surprising after all when considering months-long implacable media demonization of sacked officials, with real or imagined ties to Gulen movement. Media depiction of Gulenists, and dismissed public servants, as traitors and evil people in most indecent terms contribute to emergence of a mobbing culture. Non-stop bashing of Gulenists by government-controlled press and mainstream media outlets created a public frenzy that could easily translate into acts of vandalism and mobbing. For millions of people, Gulenists are not regarded as human beings.
To make matters worse, this toxic atmosphere leaves a profound impact on ongoing trials into coup plotters. The government blames Gulen movement for the failed coup attempt, and has placed tens of thousands of Gulen sympathizers in jail, with little clarity on evidence.
In another case in Black Sea province of Trabzon, a prosecutor dismissed a complaint by a Gulenist who was tortured in prison, saying that police (security) officials could not be investigated for their conduct during the state of emergency. The most high-profile example came from a senior official of the ruling Justice and Development Party (AKP).  AKP lawmaker Metin Metiner, who is head of parliamentary commission tasked with investigating torture claims in prison, even publicly said in aftermath of the coup that there would be no inquiry into torture incidents if victims were Gulenists.
Such blank check by senior government and ruling party officials are not lost on ordinary folk. The result was displayed in the recent video. But officially-endorsed intimidation and terrorizing is not limited to Gulenists. Critics of different political creed also face politically-driven attacks.
Attack of a critical fashion designer on the first day of this year provides a perfect textbook case for media-sponsored mob violence. Designer Barbaros Sansal sparked national uproar and outrage when he wished Turkey "to be drowned in its own shit," in a video message he issued during New Year's Eve celebration in the Turkish part of Cyprus. He was immediately deported by the Turkish Cypriot authorities after concerted pressure from Ankara, social media lynching led by journalists and even Ankara mayor. He paid dearly for his remarks in which he revealed his disdain for what was happening in Turkey.
State-run Anadolu news agency released exact date, time and location of his landing so as a group of angry people — staff of ground service of Turkish Airlines— would give him a welcoming party; beating of a lone man excommunicated by media inquisition. The video footage of his beating went viral on social media with applause and open approval of tens of thousands, including celebrities and senior politicians. It was an ominous sign of breakdown in social norms and corrosion of civic culture.
Where mob culture reins in, mutual respect in society fades away, gives way to endemic mistrust and suspicion, summary punishment, arbitrary beating and mob justice; characteristics of a fascist social setting.
Banality of violence becomes a normal pattern of social conduct in everyday life, creates its own codes by removal of central pillars of a democratic society. This is what Turkey endures now. 
REAL LIFE. REAL NEWS. REAL VOICES.
Help us tell more of the stories that matter from voices that too often remain unheard.
This post was published on the now-closed HuffPost Contributor platform. Contributors control their own work and posted freely to our site. If you need to flag this entry as abusive,
send us an email
.