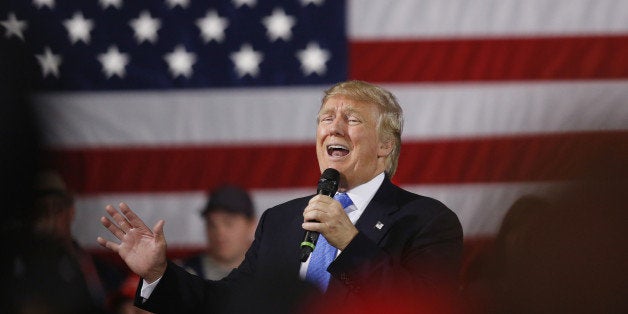 Mark D. Weinberg served as Special Assistant to the President and Assistant Press Secretary in the Reagan White House, and as Director of Public Affairs in the office of former President Ronald Reagan. He is currently writing a book, "Move Nights with the Reagans," to be published by Simon & Schuster.
This week (March 30th) marks 35 years since a would-be assassin's bullet came dangerously close to ending the presidency of Ronald Reagan after less than 100 days. While it is impossible to know how history would have been changed had Ronald Reagan not survived, the magnitude of the questions cannot be overstated: Would the American economy have recovered? Would our military have been rebuilt and our position of strength in the world reestablished? Would the Soviet Union have crumbled and the Cold War ended? Would our national pride have been restored? One can only wonder.
Fortunately for America and the world, Ronald Reagan not only survived, but thrived, leading to an unprecedented period of economic prosperity, military strength, world leadership and self-confidence. But not all of the people shot that day were lucky enough to carry on with their lives unchanged. Jim Brady, for example, the White House press secretary who was shot in the head, was never the same, though he made remarkable progress from his life-threatening injuries and regained more cognitive function than anyone expected. Almost anyone else would have faded from the national scene. But Jim and his wife, Sarah, were fighters who went into politics to make a difference, and they refused to allow Jim's injuries to deter them. With the full support of Ronald and Nancy Reagan, they established the Brady Foundation and despite considerable opposition, led the campaign for passage of the Brady Bill.
I could not help but remember Jim and Sarah as my wife and I attended Nancy Reagan's funeral a few days ago. Of all the people not there, I think the Bradys would have been among those Mrs. Reagan would have missed most. The Reagans and Bradys had a special relationship - -- forged on that terrible day 35 years ago -- when two scared women, both facing the very real prospect of widowhood, prayed together in a room at the hospital where their gravely wounded husbands had been brought.
As my wife and I returned to our hotel room after the funeral service, we turned on the television and saw coverage of the chaos that has become a hallmark of Donald Trump's campaign rallies.
Given from where we had just come, a greater contrast there could not have been.
Nancy and Ronald Reagan embodied decency, good manners, humility and a respect for the opinions of others. The Trump campaign has descended to a level far beneath the dignity of the office of the Presidency. Mr. Trump claims he is merely channeling an anger many Americans feel toward their government. That is not a valid excuse, nor is it anything new. We have always been angry at our government. That's why this country was founded.
In 1980, Ronald Reagan's supporters were also angry at their government for its failed foreign and domestic policies, but he did not foster their anger into a mean-spirited and foul-mouthed frenzy turning citizen against citizen. He did not demean his opponents and he did not brag about the size of anything -- specifically, neither his bank account nor any body parts. Rather, he spoke optimistically about a bright future for America, presented a specific and sensible plan to restore America's greatness (a catchphrase Mr. Trump has unapologetically stolen from the 40th President) and appealed to our hopes and dreams, not our fears and prejudices.
It is hard to imagine that anyone who left the Reagan Library after Nancy's funeral and thought of the difference between the two men, could come to the conclusion Mr. Trump is a "worthy successor" to Ronald Reagan. Many of those in the tent for Mrs. Reagan's funeral whispered among each other about whether they would vote for Mr. Trump if he is the Republican nominee. Truth be told, based on what I heard, a fair number would not. As Mrs. Clinton passed by Mrs. Reagan's casket, it occurred to a lot of us we could well be looking at the next president of the United States, and -- if Mr. Trump is her opponent -- that would be okay.
That Mr. Trump is a shrewd businessman is not in dispute. But so what? The U.S. Government is not a for-profit business. The skills required to make tons of money are not what is required of a Chief Executive. Mr. Trump says he prefers competence over experience. Does he really? It is difficult to imagine him hiring a someone to oversee building a hotel who has never managed any construction project before.
Competence and experience are not mutually exclusive. History has shown that the most successful leaders have both.
Donald Trump claims he is seeking the presidency because he loves his country. Why shouldn't he? It has allowed him to become a wealthy man. It is obvious he loves himself, too. The question is: which does he love more? If it is himself, he will keep going. If it is truly his country, Mr. Trump will buy time on T.V. for an address to the Nation, in which he will thank his supporters for their support and loyalty, legitimately take credit for bringing to the fore some of the most pressing issues facing the country, and step aside. He should tell his followers ours is the greatest country in the history of mankind, but can remain so only if we are united, and only if we look at our fellow citizens -- and those who wish to be -- as partners on a great journey. It is a journey, as Ronald Reagan said, to build "a shining city on a hill."
Mr. Trump stands at a crossroads. He may be the "presumptive" nominee, but he is no dummy and has to know he cannot win. So he must decide whether to be a slave to his ego or a selfless patriot. At his heart, he is someone who builds, not tears down. There is a difference between disrupting and destroying. It is time for Mr. Trump to return to what he does best, and help build that shining city on a hill.
Popular in the Community