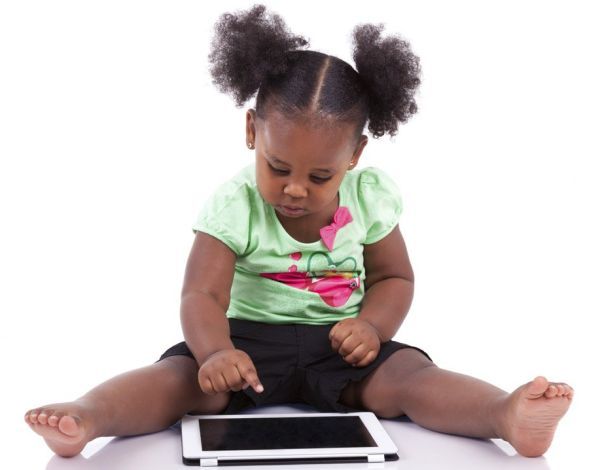 Children today are exposed to media at a very young age, and find themselves in front of screens more than ever before. In fact, a recent survey found that preschool-aged children spend an average of over two hours a day in front of screens.
What are they watching for two hours a day?
Common Sense Media, a web-based platform that surveys the landscape of the media marketplace, found that children are often watching programs that claim to be educational (e.g., Blue's Clues, Bubble Guppies, Daniel Tiger's Neighborhood). These educational programs have been designed to provide preschoolers with early learning experiences that enhance language and literacy development, while equipping children with school readiness skills. With tablets and streamed media now at the fingertips of children, parents are becoming increasingly aware of the need to make informed decisions about what their children are watching. Still, with viewing habits exceeding two hours per day, we must stop and ask ourselves two questions: What are children watching, and more importantly, how educational is educational media?
In a study guided by Professor Susan B. Neuman in the Literacy, Technology and Culture Lab at New York University, a content analysis of educational screen media was used to address these very two questions. Systematically documenting all media on streaming platforms like Netflix, Amazon Prime, Hulu and HBO Go, researchers found close to 5,000 educational episodes available for families to stream and view. Examining the educational content in a weighted sample of these episodes, the team uncovered three important findings.
1. A large portion of educational media does not explicitly teach vocabulary.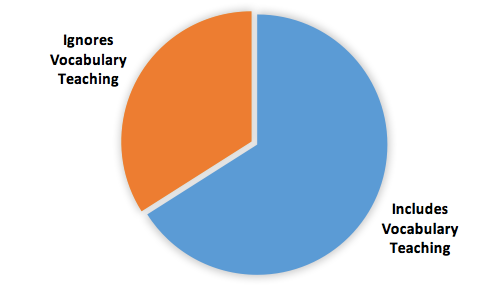 Vocabulary knowledge is extremely important in early literacy development, and is a clear predictor of literacy achievement in both the middle school and high school years. With a third of children's programming not addressing vocabulary development, many program developers need to reconsider how they educate young children, especially in shows devoted to content areas outside of the language arts, like STE(A)M, social studies, and socio-emotional learning.
2. Not enough time is devoted to teaching vocabulary in media.

In programs with vocabulary instruction, not enough time is devoted to teaching vocabulary. This means that children who are in front of screens for more than two hours a day are only exposed to vocabulary teaching for a mere few minutes. Interestingly, in those few minutes, researchers also found that a very large number of new words were being introduced. Thus, each vocabulary word in media received a very limited amount of instructional time.
3. Vocabulary words taught in media are far too easy for preschoolers.
Using three separate word lists that catalog words according to difficulty and age-appropriateness, researchers found that the vocabulary words appearing in educational media were far too simple for children who were about to enter school. Most of the words taught were nouns, and included simplistic everyday words like boat, dog, and mountain. A word cloud of the most frequently occurring words is presented below.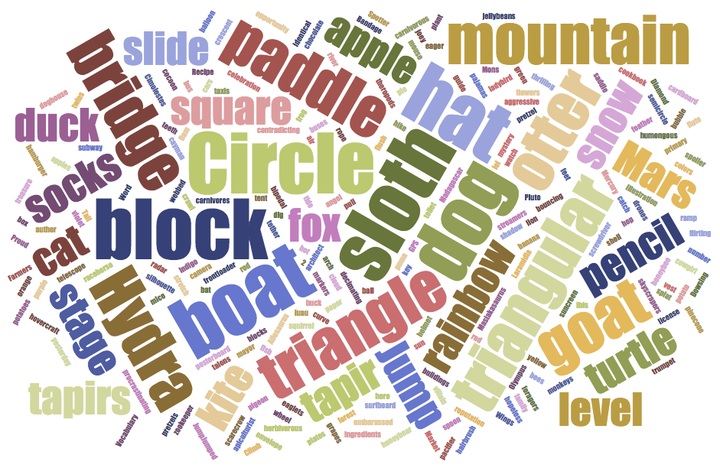 Although findings from the study do question the quality of educational media for preschoolers, this article concludes with twelve programs that exhibit high quality vocabulary instruction. These shows devote an appropriate amount of time to vocabulary teaching on screen, and/or teach high-leverage vocabulary words that equip children with school readiness skills. In alphabetical order, these include: