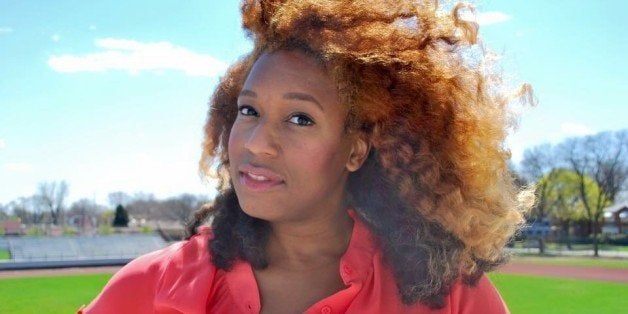 In June, 2011, after a failed attempt at going natural a year prior, I decided the time had come for me to end my 18-year relationship with relaxers. My initial plan was to transition for six months, but that went left when I realized that my six-day-a-week workout routine and my two textures of hair were not going to make for the perfect pair. So, after four weeks of transitioning and three YouTube "big chop" tutorials later, I decided to take a trip to my neighborhood beauty supply to grab a pair of shears and cut my own hair.

The time had come for me to end my 18-year relationship with relaxers.

Three hours and a sink full of hair later, I emerged from my bathroom with the most imperfect lady fade. Amongst my friends and family, I'm known to give zero cares and I had none with my new five-minute hair. I learned during my TWA (or teeny weeny Afro) phase, that it not only takes a lot of guts to face the world without hair, but it takes a ton of confidence.
It took me roughly three weeks to settle into my new look. Prior to finding comfort, I wore tons of makeup to ease into my baby face fade. I quickly found that my make-up routine would be short-lived.
The journey to great hair was full of twists and turns as I navigated the internet for information on the best information for caring for my hair. I settled into a few different routines, but I wasn't 100 percent sure if I was doing everything right. See, I have what people would label as indestructible hair, no matter what I do to it, it will thrive and grow regardless. I've colored, cut and abused my hair over the last four or so years and my hair continues to bring me coils and curls.
After four years in and a baby later, I decided that the time had come for me to take my passion for beauty and enroll in cosmetology school. I figured if I'm going to continue to blog about beauty it would be best for me to establish myself as a knowledgeable professional in the industry.
In September, 2015, I enrolled in a local beauty school and I acquired myself an experienced mentor. Shortly after enrolling in beauty school I submitted an article to BlackDoctor.org, "10 Things Professional Hair Stylist Want Us to Stop Doing To Our Hair," and of all the comments in the article one in particular struck a nerve with tons of readers. It was the comment made by mentor Aeleise Jana, "stop with the coconut oil and shea."
After chatting with Aeleise in the salon about her stance on shea butter and coconut oil I thought it would be a great idea to take Aeleise's behind the chair practice and turn it into a challenge. We decided to make to make it a 30-day challenge, called the #30dayhairdetox, and I wrote a follow-up piece, "7 Reasons Why You Need to Stop Using Coconut Oil and Shea Butter on Your Hair" and then I invited interested readers to join us for a 30-day curl changing challenge.
For 30 days participants gave up Shea butter, coconut oil, castor oil and Eco Styler gel.
After two iterations of the #30dayhairdetox, I've learned that my journey isn't about me at all, it's about me using my gifts to help educate women and help them to learn simple techniques to take care of their hair. It's about me helping women to learn to accept and embrace what comes out of their scalps. It's about me using my journey to create a relationship between stylists and clients. It's about me sharing my journey to show them that I use to be like them spending all day with my hair and now I have time to help them so that they don't spend all day doing something that can be made simple.
I didn't quite imagine that going natural would lead me to beauty school. I had been told numerous times in my adulthood that I should have gone to beauty school. I didn't know natural hair would lead me into the business of educating the masses on hair care, but I'm so glad it did!
I have met, chatted and fellowshipped with so many women, and I look forward to meeting, chatting and fellowship'n with many more!
This post is part of HuffPost's My Natural Hair Journey blog series. Embracing one's natural hair -- especially after years of heavily styling it -- can be a truly liberating and exciting experience. It's more than just a "trend." It's a way of life. If you have a story you'd like to share, please email us at MyNaturalHairJourney@huffingtonpost.com.
Calling all HuffPost superfans!
Sign up for membership to become a founding member and help shape HuffPost's next chapter