By Darren Beck, Director of Environmental Initiatives & CSR Innovation
Back in February, Sprint challenged college students across the U.S. to find innovative and profitable ways to extend the life of old smartphones and help address the pressing issue of e-waste. The concepts we received from 25 different Net Impact teams were inspiring and gave me great confidence in the type of solutions this next generation of entrepreneurs can contribute. By participating in our inaugural Smartphone Encore Challenge (SEC), these young minds addressed important social, environmental and financial issues that run the gamut from providing accessibility for blind consumers, reducing car accidents, bridging the digital divide, and improving cost savings for businesses.
At the root of creating this challenge are the millions of smartphones discarded each year and recognition that Sprint is in a great position to take action. We've built a leading position on e-waste reuse and recycling. Encouraging innovation in this space was a natural next step, especially when we have the resources available and supportive partners like Brightstar and HOBI to help make it happen.
As one of the SEC's judges, Beth Comstock, Senior Vice President and Chief Marketing Officer for General Electric, said of the contest, "Students and entrepreneurs working to reduce 'waste' - any kind of waste - through innovation will be welcomed in the future. We live in a resource-constrained world. We need more innovative solutions that help us waste less."
Transforming Your Grocery Shopping Experience, One Old Smartphone at a Time
The winning team hails from UC Berkeley and created the TouchCart concept, a supermarket smart device that aims to transform shopping carts into multipurpose shopping assistants. The idea is to offer a cost-effective solution for grocery stores' bottom line and customers' in-store experience, by providing shopping lists, a store catalog, a customer service phone line, and grocery scanning capabilities - straight from the shopping cart. Who doesn't want to bypass those long checkout lines, they thought, and the SEC judges agreed. TouchCart would also enable the store to track spending, customer experience and use of coupons, and provide insights for inventory and sales forecasting.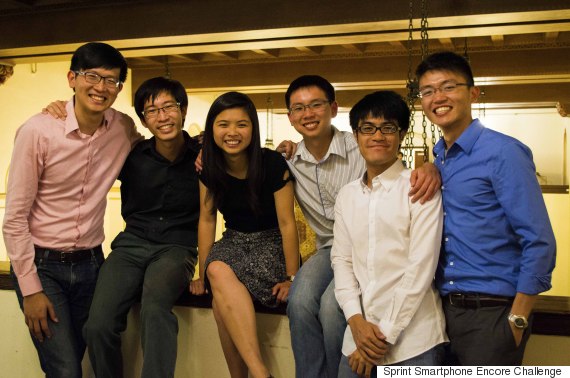 Sprint Smartphone Encore Challenge winning team from UC Berkeley, left to right: Theodore Teo, Jia Jun Ho, Jia-min Lim, Leon Tan, Yu Rong Leong, Ken Chew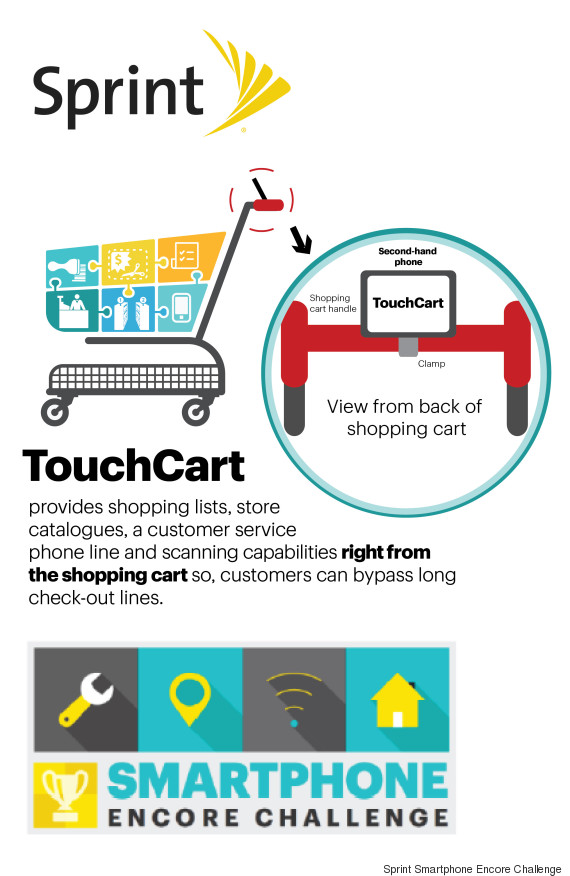 Touchcart/Sprint Infographic
This winning team earned $5,000, which they can choose to use toward attending a Startup Weekend to help further their business concept. Along with Brightstar and HOBI, Sprint will provide strategic guidance to the winner to help strengthen their business model.
Runners-Up Hope to Improve Performance on the Road and in the Classroom
It was a tough call for the judges, as the two runners-up were impressive in their own right. One concept was StreetSmart, developed by a team from Ohio State University's Fisher College of Business. StreetSmart would convert old smartphones into onboard monitoring devices for vehicles and calculate automobile insurance premiums based on individual driving behaviors. The tool would give feedback and financial incentivizes for users to adopt better driving practices, and serve as a black box recorder that can be reviewed in case of accidents.
The second runner-up was a team from the University of Illinois at Urbana Champaign, who came up with Neo, a concept that would transform pre-owned smartphones into affordable computers for budding programmers. In theory, the device would help tackle the "digital divide" by giving computer access to school-aged children who, under other circumstances, wouldn't be able to take advantage of programming tools.
The winner and two runners-up were also featured in a Net Impact "Issues in Depth" webinar on Earth Day, titled The "Circular Economy is Calling: Closing the Loop in the Smartphone Industry."
Taking an Accessibility Concept to the Next Level
Another participating team developed a concept called FontsAloud, which aims to convert old smartphones into optical reading aides for users who are blind or visually impaired. Sprint was so intrigued with this concept that these MBA students from Boston University have been invited to join us at our headquarters in Kansas City for the summer as interns in Sprint's Technology Innovation Center to develop a prototype of the device. They have accepted and will be working closely with our Accessibility and CSR teams.
Our hope is that this contest sparks the imagination of the industry, inventors and entrepreneurs, in order to grow the aftermarket for smartphones and other electronic devices. Knowing an ecosystems-based approach works best, we see future opportunities to engage device manufacturers in a dialogue about open-ended design to make repurposing even easier, work with academic labs and incubators to explore the potential and limitations of repurposing, crowd source ideas with our customers to identify creative new products, and help accelerate entrepreneurial ventures with viable business opportunities in this space.
We also will continue to try and drive production innovation through initiatives like the SEC, which look to harness creativity and desire to do good - traits inherent in the current generation of business students and socially minded entrepreneurs who embrace sustainability. For they are the ones who will help companies like us create added value for our products, and society.
Follow Darren Beck on Twitter: www.twitter.com/DarrenBeck
Calling all HuffPost superfans!
Sign up for membership to become a founding member and help shape HuffPost's next chapter