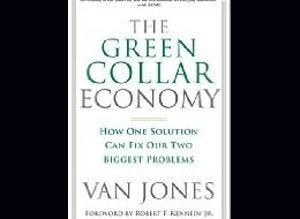 Social and environmental activist Van Jones felt he had important message about the economy, energy prices and global warming to impart in his book "The Green Collar Economy," which was published this month. What he didn't have, as a first time author with an almost non-existent marketing budget, was the kind of money and name-recognition that typically helps place a book on the best sellers list and in the national conversation. So he improvised.
Using a Web-based, viral marketing strategy, Jones and Green For All, an environmental organization he recently founded, worked to get the word out about his book far and wide. The result was a place -- number 12 to be exact -- on the New York Times best sellers list in the book's first week.
"Everyone is stunned," Jones told the Huffington Post. "Usually to get to number 12 the first week as a new author you've got to spend a million bucks or be on Oprah."
Through a combination of emails and phone calls to friends, bloggers, and a network of activists, Jones estimates that the viral campaign he and his co-workers launched resulted in emails being sent to millions of people, many of whom surely forwarded it along. The initial commercial success of "Green Collar Economy" proves that Internet buzz combined with online activism can push a book onto the best sellers list.
It also helps to have something original and important to say, which Jones clearly does. His book is an innovative and impassioned account of how transforming America into a greener society would not only address the global warming crisis but also generate enough jobs to help turn the around the economy around and provide work for the Americans who need it most. As New York Times columnist Tom Friedman wrote last year in an admiring profile of Jones:
Mr. Jones has been on a crusade to help underprivileged African-Americans and other disadvantaged communities understand why they would be the biggest beneficiaries of a greener America. It's about jobs. The more government requires buildings to be more energy efficient, the more work there will be retrofitting buildings all across America with solar panels, insulation and other weatherizing materials. Those are manual-labor jobs that can't be outsourced.
So how do you achieve success in viral marketing? Green For All contacted around 150 different organizations, large and small, national and local, according to Alli Chagi-Starr, the Grassroots Publicity Coordinator and Business Partners Manager for Green For All. They reached out to everyone from community gardening groups to labor unions to the Hip Hop Caucus. They got the Environmental Defense Fund to recommend the book to its 500,000 members; they got the organization who owns the domain name greencollareconomy.com to promote the book on its website. They contacted big environmental blogs like Treehugger. And they called everyone they knew.
"I've never personally called or emailed this many people in my life," said Chagi-Starr, who had spent the previous year cultivating these relationships. "I've never seen anything like this before. People got out their rolodexes and really went to town."
"Not having this book reach a lot of people was not an option," Chagi-Starr said. The book's success, "reaffirms once again the power of the grassroots."
It's hard to know when a viral campaign has truly taken off, but one measure could be how many times people received an email about the subject more than once, which was the case for "Green Collar Economy".
"A friend called and told me she got the email from 10 different sources," Chagi-Starr said.
One of the groups that helped promote the book was 1Sky, a sister organization of Green For All. 1Sky discussed the book in several emails sent to the more than 100,000 people on the group's list, featured a blog and video from Van on their homepage, and utilized Google ad words, according to Gillian Caldwell, 1Sky's campaign director. It was the first time the organization really put their weight and energy behind promoting a book.
"This was obviously one of the most successful viral marketing strategies for a book in recent history," Caldwell said, reflecting on the book's sales. "If it wasn't for that network this wouldn't have been a successful campaign."
Successful grassroots campaigns, she said, require a combination of strategic advantage, trust, commitment and friendship.
It doesn't hurt that Jones' platform seems to be one that inspires. Rev. Lennox Yearwood, the president of the Hip Hop Caucus, whose group sent out a series of email blasts on behalf of the book to its network of 700,000, said he was impressed by Jones' commitment to the green economy message.
"We don't put forth anything unless we really believe in it," Yearwood said. "I'm a believer in what the book stands for and obviously our members, mostly young people aged 18 to 29, really found Jones' book exciting."
"In the 1960s we had revolutionaries, in the 21st century we have solutionaries," Yearwood said. "Van Jones is a 21st century solutionary."
Fred Krupp, the president of the Environmental Defense Fund, said via email, that he was happy to send out a message to his group's 500,000 online members. "I was delighted by how responsive they have been," he wrote.
Jones ultimately attributes the success of the book's marketing campaign to what he calls the "invisible network of networks," and he thinks this "network effect" is here to stay.
"There are too many products coming from too many directions, people ignore the hype," he said.
"But if you're in a network that's about respect and reciprocity, people will take action."
Related
Popular in the Community