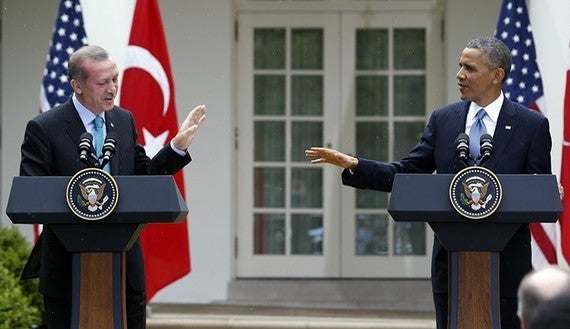 "We created 'Everything For Turkey Platform' as if it was apolitical... a structure that was supposed to voice democratic demands of Turks in the U.S. ... But because [Turkey's ruling party] AK Party is not officially here, all our activities so far have been outright political. I am not disturbed by that. Of course, we will embrace our cause. But the method is wrong," Halil I. Danismaz confessed to son and son-in-law of Turkish President Recep Tayyip Erdogan in an email.
The email, leaked by Turkish hacker group RedHack, was sent a day after Erdogan was popularly elected as a president and exuberantly celebrated the victory of "Reis," or chief, as Erdogan's die-hard fans like to call him. The email illustrates how the Turkish government has been using non-profit groups, quite illegally, to promote its agenda in the U.S.
Halil Danismaz is the president of Washington-based Turkish Heritage Organization (THO), a non-profit and as they publicly call it, "non-partisan" organization lobbying on behalf of the Turkish government. The email scandal revealed dozens of email chains between Danismaz, Erdogan's son Bilal and his son-in-law Berat Albayrak.
THO's involvement with the Turkish government was an open secret Inside the Beltway, but the emails reveal how astonishingly close Turkish non-profit organizations in Washington coordinate their activities with Ankara, particularly with Erdogan's family. From organizing rallies to lobbying efforts, Erdogan's henchmen in D.C. are doing everything in their power to polish the image of the Turkish government, go after their foes in the U.S. and even asking for the delayed payment of the government's lawyer in the U.S.
In the past few years, the Turkish government has aggressively intensified its lobbying efforts in the U.S. It hired a D.C.-based law firm and 10 other PR and lobby groups, including one in California, to restore its image stained in the face of Ankara's growing crackdown on dissidents back at home. A number of non-profit organizations also popped up in D.C. and New York in recent years, using research, policy and academic programs as a smokescreen.
In one of the email exchanges with Danismaz and Albayrak, Erdogan's son suggests donating up to $30,000 to candidates with the condition that they release an anti-Gulen statement, a U.S.-based cleric, and Erdogan's chief nemesis. "If they don't, go to the incumbent," Bilal says.
Danismaz and the Turkish Embassy in D.C. had also been working very closely in organizing rallies in different cities, including in New York (Danismaz, in one email, thanks Ambassador Serdar Kilic for "your contributions in our success"). In one of the emails, Danismaz even advises the ambassador to keep a low-profile in organizing such events to avoid tarnishing the embassy's reputation.
Turkish Heritage Organization is so involved in lobbying that they even hired Ali Cinar, a veteran pro-government lobbyist, as their executive vice president. In a 2015 January email, for instance, Danismaz forwarded an email by Cinar, who in length explains his lobbying efforts in the Democratic National Committee. Danismaz tells Bilal and Albayrak that they will benefit from Cinar and that he even has a position in the DNC. The troubling part of the email is that Cinar continued lobbying after being hired by the THO, a non-profit organization. Danismaz himself writes in one of the emails that he was going to meet with 3 PR firms in D.C. as well as Robert Amsterdam, Turkish government's lawyer.
Shady activities of pro-government Turkish groups had reached to the degree that even the FBI started asking questions. Danismaz, along with a number of other Turkish nationals, were interrogated by the FBI on espionage charges, one of the emails revealed.
Washington Representative of Musiad, Turkish American Businessmen Association, Ibrahim Uyar, was asked by the FBI if he had been spying on behalf of Turkey and President Erdogan. His assistant Emre Eren, Turkish American National Steering Committee (TASC) Treasurer Murat Guzel and Executive Committee member Mustafa Tuncer were among those interrogated by the FBI on spying charges.
Musiad is not the only business group that seems to have an intricate relationship with the Turkish government. In one of the emails, New York-based Cahit Oktay, director of operations at the state-run Anadolu news agency, tells Danismaz that a senior Turkish official in Ankara should call Turkish American Chamber of Commerce and Industry (TACCI) Chairman Celal Secilmis to prevent a Gezi-related fundraising campaign initiated by a businessman working with TACCI. "These are the guys who work here with taxpayer money," Aktay wrote to Danismaz.
These activities are not limited to political and economic circles. Henchmen of Erdogan's family are also working overtime to publish favorable stories in the U.S. media. The emails revealed that Guzel, who is publicly listed as a TASC treasurer, bribed former U.S. Congressman Dan Burton to write a favorable article at the Washington Times. The email was sent to Ibrahim Kalin, Turkish president's spokesman, Bilal, and Albayrak.
In a two-word response to Albayrak, who shared an article from Daily Caller about donations Gulenists made in one of the emails, Danismaz said: "Our story..."
Related
Popular in the Community