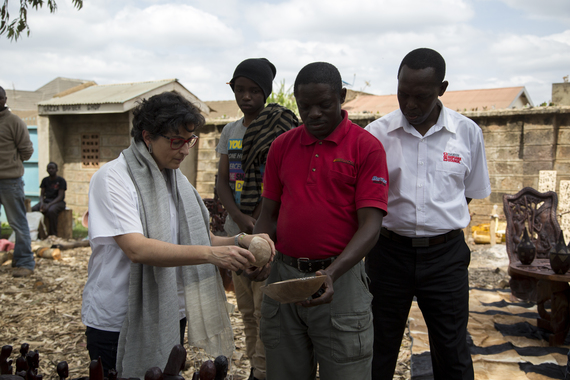 ITC Executive Director Arancha González meets refugees at a skills-building centre in Nairobi, Kenya.
Etienne* lives in Nakivale refugee camp in southwestern Uganda. The 21-year old fled there with his younger siblings after his father was murdered. He is one of more than sixty million refugees and internally displaced persons around the world today.

The unfolding migratory crisis has become one of the most acute challenges facing the international community. Millions of lives are at stake. All of us have a responsibility to act. Collectively, we need to find solutions.

Circumstances have changed dramatically since the international policy architecture for refugees was set up in the wake of the Second World War. By some estimates, the average stay in a refugee camp is now as high as 17 years. Dadaab, a camp in Kenya for refugees from neighbouring Somalia's long civil war, was set up in 1991, and is home to 330,000 people. Babies are being born to adults who themselves were born in the camp.

In such protracted situations, the traditional refugee policy mix - food, shelter, and some vocational training, but little focus on jobs linked to market demand - is simply not enough. Skills development as a means to income generation is the key to integrate vulnerable migrants into the mainstream of society, and to equip them for an eventual return home.

Income opportunities linked to trade can be particularly useful here, since tapping into external demand sidesteps fears of wage suppression linked to intensified competition on the local labour market. Connecting small and medium-sized businesses to international markets can create work for host country nationals alongside refugees, building economic growth and resilience in host communities. The International Trade Centre's early experience indicates that this approach works.

ITC has partnered with the UN refugee agency, UNHCR, to find income opportunities not only for refugees but also for host country nationals in neighbouring countries, who often bear the brunt of the costs of the global migratory crisis.

In Burkina Faso, for example, the two agencies have helped Tuareg refugees from Mali build on traditional skills in leather and metal-working to produce home décor items for upmarket shops in Denmark and Switzerland.

Work possibilities for refugees go far beyond traditional artisanship. The internet has made possible new opportunities in business process outsourcing (BPO). Together with the Norwegian Refugee Council, ITC has demonstrated proof of concept for simple BPO work performed out of the Dadaab camp.

Elsewhere, ITC has enabled social enterprises in Uganda to hire both nationals and refugees to undertake internet-based research for a university in Switzerland, as well as to transcribe interviews for United Nations Radio. ITC has identified high international demand for translation services, and preliminary costing exercises indicate potential for refugees and social enterprises to be competitive in this $20 billion global market.

For new ideas on how to harness modern technology for refugees, ITC turned to digital learning pioneer Hyper Island's social entrepreneurship and design students. One product of thiswas a mobile application to link talented refugees to overseas clients for translation, data entry, and other digital services.Together with the design and innovation consultancy Common Good, students are developing an app to facilitate cross-border connections, quality assurance, and international payments. Once fully operational, it will boost refugee incomes and reduce transaction costs. For international clients, the app will delivercost competitive services along with a chance to engage in meaningful 'impact-sourcing'.

Etienne is proof that trade-driven opportunities can make a material difference to refugees' livelihoods. Having taken a UNHCR-run visual arts course, he now produces and edits footage for paying clients. He also does translations on an ad hoc basis for international clients. Etienne has decided to stay in Nakivale for the time being. If he and the surviving members of his family manage to return home one day, they will take their skills and experiences with them, helping them earn incomes and rebuild the economic fabric of their communities.

The lack of livelihood opportunities in refugee camps pushes many people to embark on dangerous journeys in the quest for a better life. It doesn't have to be that way. As the case of Etienne shows, building marketable skills and connecting them to potential customers can allow disenfranchised people to regain a sense of purpose and dignity, and support voluntary returns to countries of origin. ITC will continue to push for income opportunities through trade for refugees.

*Name changed to protect privacy.
Calling all HuffPost superfans!
Sign up for membership to become a founding member and help shape HuffPost's next chapter