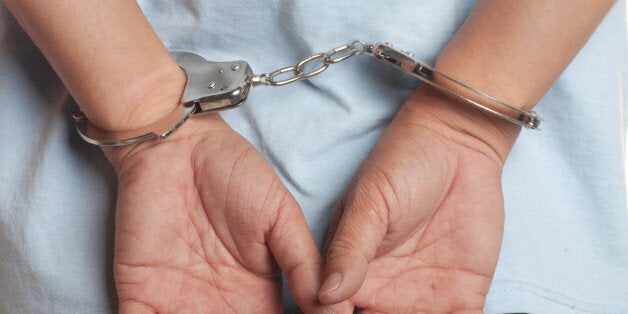 By Jacob Mchangama and Aaron Rhodes
Is the right to peaceful protest a fundamental human right? In Europe the answer seems to depend on whom you protest against. Several European democracies have accepted the idea that the price for doing business with China is censoring peaceful protest, when they should insist that the price for doing business in Europe is accepting the manifestation of public opinion.
On March 25, 2014, French police banned members of Falun Gong, a spiritual movement persecuted by the Chinese communist party, from demonstrating outside the Chinese embassy during the visit of Chinese president Xi Jinping. Without any plausible explanation, French police also stopped vehicles carrying photoshopped posters of Xi Jinping giving the "finger" that were commissioned by Reporters Without Borders as part of a campaign to highlight the dire state of press freedom in China. A French court quickly decided that the ban against a peaceful protest violated the rights to freedom of expression and association.
In doing so, the court ensured that French authorities follow rules at home consistent with positions taken on human rights abroad. On March 28 France and some 20 other EU states co-sponsored a resolution at the United Nations Human Rights Council affirming the right to peaceful protest. The text urged states to "promote a safe and enabling environment for individuals and groups to exercise their rights to freedom of peaceful assembly, of expression and of association," and to "facilitate peaceful protests by providing protestors with access to public space and protecting them, without discrimination." China voted against the resolution.
France is not the only European country that stands up for the right to peaceful protest in non-binding resolutions in the Human Rights Council while compromising those very rights at home. The French incident is part of a larger and deeply disturbing pattern surrounding Chinese state visits to European democracies. In at least four other states -- Belgium, Denmark, Ireland and Hungary -- police have cracked down on lawful protests, including messages perceived as offensive or humiliating by the Chinese guests.
When Xi Jinping continued his European tour from France to Belgium, the regime of censorship followed suit. As revealed by the EU Observer, Belgian police asked a Chinese dance company to remove or cover posters advertising their performances because they included a reference to Falun Gong, which could pose "problems for diplomacy." Ultimately the dance company chose not to comply, and the police took no further action. However, according to the International Federation or Human Rights (FIDH), pro-Tibetan protestors in Bruges were not let off as easily, with several being detained by the Belgian police and having their Tibetan flags confiscated.
The detention and removal of pro-Tibetan protestors and the confiscation of Tibetan flags was also part of the modus operandi of the Danish police when former president Hu Jintao visited Copenhagen in June 2012. While peacefully waving Tibetan flags, protestors were ordered to leave Parliament Square, and videos show Danish police officers confiscating Tibetan flags. Another incident saw an individual detained by three police officers in a public park close to a castle that was to be visited by Hu Jintao. Danish courts found that the sole reason for the detention was that the protester had been in possession of a Tibetan flag. During the trial, Danish police denied this claim but admitted that intelligence services had stressed the importance of the Chinese "not losing face," and that Chinese security staff had repeatedly asked Danish police officers to confiscate "illegal flags." During the same visit, Danish police drove vans in front of Falun Gong protesters, shielding them from view of Hu Jintao's motorcade.
The rights of pro-Tibetan protestors were targeted again when Xi Jinping (then vice-president) visited Ireland in February 2012. According to three protestors, their banners and Tibetan flags were confiscated, and they were denied access to a park visited by Xi Jinping. Another protestor claims that Irish police used excessive force when removing her from another site Jinping was to visit.
Even more alarming was the conduct of Hungarian authorities during the visit of China's then- Prime Minister Wen Jiabao's in February 2011. As mentioned in the U.S. State Department's 2011 human rights report on Hungary, local police targeted protestors against China's policies on Tibet, and Tibetans in Hungary were ordered to report to the immigration authorities on the very day of the state visit. The Parliamentary Commissioner for Civil Rights, Dr. Máté Szabó, concluded, "Measures taken against flag-waving pro-Tibetan demonstrators during the visit of the Chinese Prime Minister Wen Jiabao in Budapest, violated the rights of free expression and human dignity." In addition, the "prohibition of discrimination" had also been violated when immigration authorities summoned Tibetan residents.
The Chinese insistence on censoring protest has even led members of Xi Jinping's security detail to police these red lines themselves despite being on foreign soil. During a state visit in New Zealand, they forcibly confiscated a Tibetan flag brandished by MP Russell Norman.
These incidents are obviously not isolated, disconnected or random examples of police misconduct. They form a pattern of capitulation to demands that Chinese authorities be as free from confrontation about their human rights abuses when they travel abroad as they are at home -- capitulation that is apparently driven by fears of losing opportunities to close lucrative financial deals.
European police forces, bound by constitutional principles and both national and international law, have, at the direction of higher authorities, acquiesced to enforcing Chinese red lines. Deference to Chinese demands can have disastrous consequences for civil society, as witnessed by Nepal's treatment of Tibetan refugees. A recent report by Human Rights Watch details how China has pressured Nepalese authorities to suppress the right of Tibetans to engage in peaceful protests and display national or cultural symbols, which is perceived to amount to "anti-Chinese activities." European democracies should be condemning such practices in weak states, which are much more vulnerable to Chinese pressure due to geopolitical circumstances, rather than mimicking them at home.
The willingness of liberal democracies to deprive their own citizens of the exercise of fundamental freedoms, such as the right to peaceful protest, does not bode well for the ability of democracies to push for freedom for the downtrodden abroad. Indeed, it signals that democracies will insist on upholding fundamental freedoms only until emerging powers with economic clout push back. Led by China, repressive regimes have now called their bluff and are determined to take the upper hand while European democracies contribute to their own humiliation in this high-stakes game of international-relations strip poker.
Jacob Mchangama is a lawyer and a co-founder of the Freedom Rights Project. He has commented and published on human-rights issues in international media, including BBC World News, Foreign Affairs, Foreign Policy, The Economist, The Huffington Post, The Daily Beast, The Times of London, The Wall Street Journal Europe, and France 24.
Aaron Rhodes is also a co-founder of the Freedom Rights Project and President of the Forum for Religious Freedom Europe. He was Executive Director of the International Helsinki Federation for Human Rights from 1993 to 2007.
Calling all HuffPost superfans!
Sign up for membership to become a founding member and help shape HuffPost's next chapter