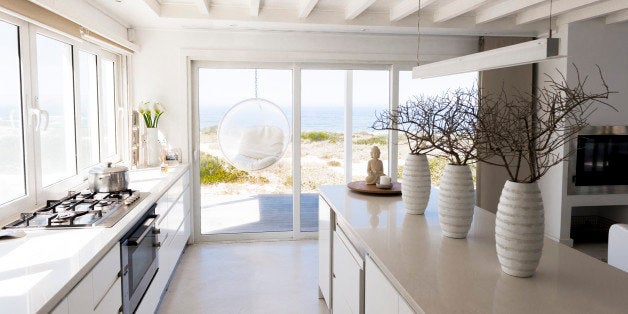 Interior design is a form of art, and a practical one at that.
The earliest evidence of interior design can be found in the prehistoric era. Although the thought of cave men hanging up pictures, and arranging their 'rocks' for aesthetic purposes seems a little odd, evidence confirms that cave men did in fact decorate their dwellings with drawings on the wall, and furnished their homes using materials such as wood, animal skins and mud. This seems to imply some sort of innate 'need' or perhaps 'tendency' to have interior design in our lives, and as our trends continue to evolve and adapt, it appears more and more to be the case.
Modern interior design trends are wonderful examples of historical by-products. Whether this has occurred consciously or unconsciously, designs particularly coming from the Nordic and European regions have paved the way for many modern American styles.
Nordic designs have provided modern America with one of the interior design worlds most essential partnerships: stability and aesthetics.
Survival in the Nordic regions, particularly in the early 20th century, prompted the evolution of practical designs. It was, however, equally important for the Nordic people to possess beauty in their creations, and so they built sturdy frameworks and added the sparkles to finish.
The Minimalist style we see today in America has evolved from a need to create bright, practical and comfortable environments. The winters in the Nordic regions of the globe are long and dark, providing few hours of sunlight. It was and still is essential that the Nordic people have light and open, yet comfortable spaces to live in. It has now become highly desirable for Americans to have the same.
Arne Jacobsen is a historical figure of particular significance in the world of interior design. Originating from Denmark, this architect and designer is primarily remembered for his contribution to furniture design, and the modernist classics such as the Swan, Egg, and Ant chairs. In 1934 he collaborated with manufacturer Fritz Hansen, this played a major part in Jacobsen's creation of the famous ant chair; the first in the line of many lightweight chairs to be molded from a single piece of wood.
The egg chair, amongst his other designs, is still extremely popular today. While the expectation may be that older styles are more difficult to come across, sites such as EmFurn provide a good range of modern and classic styles to the American market, proving that even the most classic of designs can be captured and placed in your homes today.
Concerning European influences on modern American designs, there are a number that should be noted.
Modern style interior design is considerably popular in modern America. Its origins lie with a group of European designers that started the Bauhaus school of design in Germany in 1919. The Bauhaus philosophy focus's first and foremost on functionality and disregards the need for over accessorizing, I suppose much like the simplistic nature of the Nordic influenced Minimalist style.
Modern style, although often perceived as 'harsh' or perhaps the opposite of 'homely', can often help to promote a sense of calmness and serenity, providing of course that it is well planned out.
It was also the ideals of the Greek and Roman empires that have greatly influenced the birth of the Classical interior design style. In this design, a room would be organized around a focal point, such as a fireplace or ornament, and the floor would be made of a natural substance such as marble, or stone. Elegance is also a key focus and fabrics such as velvet or cotton are often preferred. It is very much centered on creating order, balance, and symmetry.
Speaking of trends, and referring to color, right now, everything seems to go; even pink is predicted to be popular as we enter 2016. Texture is set to make a big appearance, which is great if you fancy a bit of faux fur on your carpet or sofa.
Now, while it is clear that a lot of the trending American styles have in some part derived from the Nordic and European regions of the globe, the future of interior design cannot necessarily be predicted, or rolled into a 'what's next' trend package. We can however, always exercise our right to conjecture as to what the next trends might be.
That doesn't stop the possibility that we might just take a turn in an unexpected direction, and if you don't like what's on offer, then go get creative and set your own trends.
Related