There's a "grande" opportunity for Facebook and retailers - the Facebook Card.
And, there's a way for marketers to hit their targets like never before: mobile offers attached to the Facebook Card.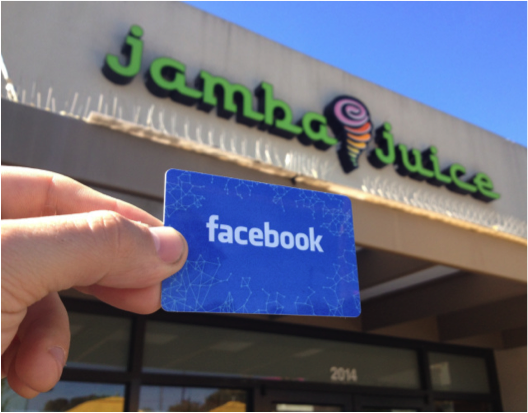 Facebook unveiled its "Gifts" program last December, just in time for the holiday shopping craze. Then in January this year, they launched the "Facebook Card", for use at physical stores. The reusable gift card launched with four retailers connected to it: Jamba Juice, Olive Garden, Sephora, and Target.
Facebook quickly learned the power of the gift card; since Gifts launched in December, about 80 percent of gift purchases have been gift cards - and just 20 percent were physical items like mugs, pens, etc. In response to this clear preference for gift cards, Facebook just announced that they are "now adding more digital codes and making the Facebook Card redeemable at more merchants," and "phasing out physical gifts."
But if Facebook wants to truly embrace this new revenue stream, they they must crack the code on mobile, and bring the many moving pieces together in a seamless user experience: mobile offers, payments, gifting, and thoughtful communication with its huge user base.
Luckily, there are some models for companies doing mobile well...
Starbucks: Go Grande or Go Home
Starbucks is currently the real rockstar of successful mobile commerce, with more than 10 percent of the company's in-store transactions being made via mobile phone, and 4 million Twitter followers. Its quarterly profits were up 25 percent despite a sluggish national economy.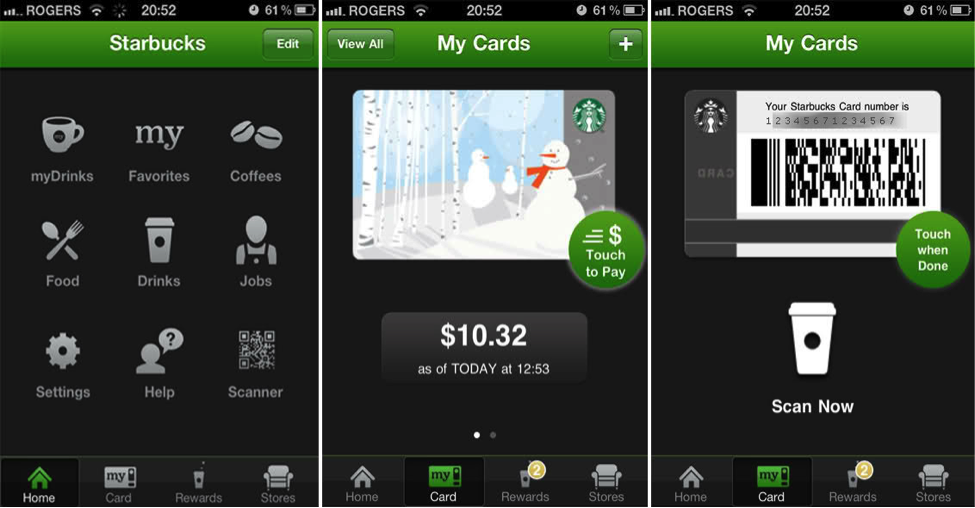 The direction that Starbucks chose to go with mobile is significant: instead of relying on all-new NFC tap-and-buy systems that would be expensive to install nationally, as Google Wallet and Isis did, Starbucks opted to adopt technology that was already in common use.
The Starbucks Card system relies on three quite ordinary parts: 2D bar codes, POS scanners and mobile phone apps. Moreover, it reduces some of the interchange fees associated with the major card networks, resulting in savings that drop straight to the bottom line.
Today nearly a quarter of Starbuck's revenue comes from purchases that use prepaid gift and loyalty cards or apps. This model points to a great opportunity for other companies, such as social networking sites like Facebook that have a huge built-in audience.
Facebook - which recently reported that mobile advertising now accounts for 41 percent of its ad revenue - could borrow a page from Starbucks to grow its mobile revenues by building its own easy-to-use experience that combines offers, rewards, payments, and store locators.
But all of the best technology in the world will not help Facebook if they don't learn an important lesson: keep the user experience consistent. Facebook is notorious for changing both its web and mobile experiences, and users tend to react negatively to new formats, especially if they cannot see the real difference or greater value between the old and new. Starbucks does a great job of keeping its app simple and only occasionally adding new features.
Do a Cartwheel, Hit the Target
As one of the first brands to launch on the Facebook Card platform, Target already has a good relationship with Facebook. Once you download the Cartwheel app, you can get deals and browse the store - and thanks to Facebook integration, you can see which of your friends are using the app, and get bonuses for every friend who is Cartwheeling also.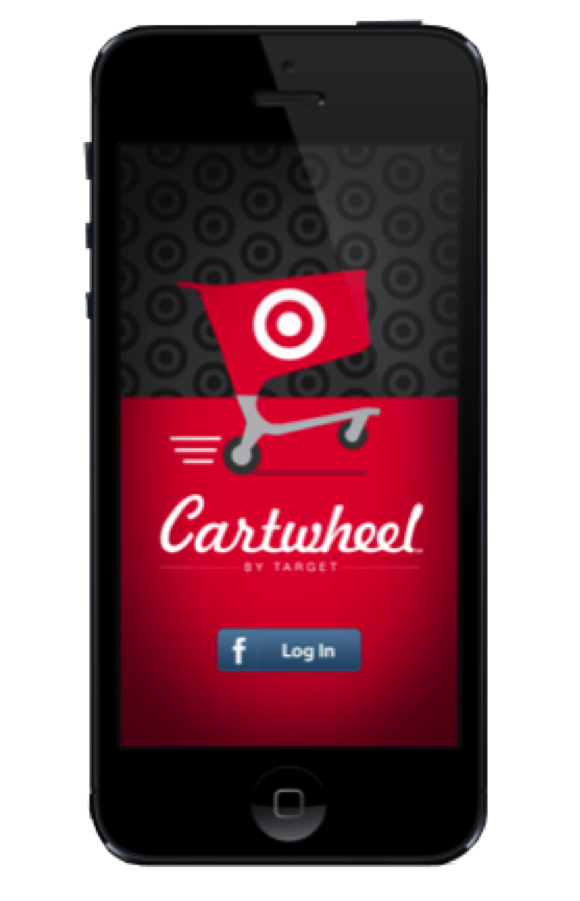 Facebook needs to find a way to bring their own card to mobile - to the Facebook app, and/or via other apps like Cartwheel. Imagine any Facebook consumer being able to use their Facebook card at any national participating retailer, and getting really special offers from those retailers delivered to his or her phone. You could even get pinged with an offer from your favorite stores as you walk by - provided you gave permission for your phone's location to be used, of course. Facebook users would need to be in complete control: they could set the brands or products they like, the frequency that they get alerts - even a wish list that they could share with friends.
Next, extend a Cartwheel-type shopping concept beyond Target, and major brands will jump on board. Since both of these programs are collecting store visit data, repeat customers could be rewarded from a retailer with special offers that become available each time they add value to the card.
Key to this new offering is activating the service with geolocation. This will make it possible to send push notifications whenever customers come physically close to a store location, e.g.: "Drop by Target during the next hr, get $5 off any purchase made using your Facebook Card."
Facebook could even enable brands to set a budget, and bid on consumers who have value stored on their cards when they're near a merchant location. Here's what the bidding process would look like: a marketer like Jamba Juice would tell Facebook that they are willing to offer $1 off to any nearby customers if they use their Facebook gift card. Then, Facebook would only send a message to people near the storefront - which means that Jamba Juice is not paying for ads to people who are not even near their store, but rather, reaching people nearby who are likely in the mindset to make a purchase. To provide a great consumer experience, Facebook could allow consumers to opt-in, and tightly control the frequency and quality of push offers.
If Facebook succeeds in delivering mobile ads and push notifications compatible with a brand's existing ad campaign, they could discover a healthy new revenue stream. Additionally, brands would be able to measure the ROI of their mobile campaigns because Facebook could show actual store-level transaction behavior - as measured by transactions on the Facebook card.
Apparently some consumers already think it would be a good idea - check the Ideas Under Consideration on the Target Cartwheel site.
A Facebook Card loaded with offers and tied to many brands is a win for both Facebook users and brands. Consumers get valuable offers and save money from the brands they love, and retailers could increase store traffic while saving money on interchange fees, which should be lower on the Facebook card than traditional networks. Facebook could even enable a "cost-per-real-world-transaction" model for retailers who could pay for advertising only when a consumer enters the store and transacts.
Facebook as the Holy Grail for Mobile Marketing?
Facebook's mobile ads are already working well, because they are visually interesting and embedded in the newsfeed. Many of us scroll through our newsfeed daily, or perhaps several times a day. This is the kind of user engagement that brands want.
But Facebook could do even better, and leverage its unique position as the leader in social networking in the United States. Facebook must learn how to capitalize on the fact that the majority of users are now accessing it with mobile devices. And although we are a mobilized society, we still love to shop and relax at physical retail locations. In fact, over 90 percent of all transactions are still being made in brick-and-mortar establishments, according to Forrester Research. They predict that online retail will rise to reach $231 billion this year - but that's still just 8 percent of the total retail pie!
Certainly, online sales may increase over time, but there will always be a place for...well, places. There will always be a need for consumers to try clothes on, see colors up close, smell the perfume, and taste the chocolate before sending it to Aunt Betty for her birthday. There will always be the thrill of instant gratification, of holding a new shirt or phone in your hand and walking out the door with it right away.
With a Facebook Card that has relevant offers baked right into it, marketers could get handed a veritable holy grail of advertising. Imagine the thrill of saving money combined with telling your friends about it on Facebook - all in one place, on your mobile phone.
By taking Facebook's existing payment systems and building upon them, making them broader in their reach and more useful, and including both self-purchases and gift purchases, the company could make some dazzling advances in mobile, and unlock the Holy Grail of marketing for retailers.
What do you think Facebook could do to push forward in mobile offers, gifting, and payments?
REAL LIFE. REAL NEWS. REAL VOICES.
Help us tell more of the stories that matter from voices that too often remain unheard.