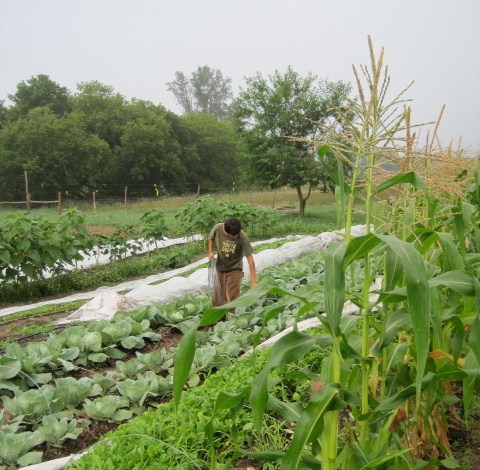 SEEDS farm, Traverse City, Michigan
An average week for a corpsmember at Conservation Corps North Bay in Marin County, California usually involves attending college classes. It also might involve planting rows of crops, tending bee hives, harvesting fruits and vegetables, and grafting apple trees.
Conservation Corps North Bay (CCNB) is one of the many Youth Service and Conservation Corps across the country that operates an agricultural program. The primary mission of Corps is to prepare teens and young adults for the workforce by engaging them in a diversity of service projects that enhance communities and protect the environment. Completing the tasks necessary to build and maintain a small farm or community garden teaches corpsmembers basic landscaping skills and the value of hard work, but Corps-managed farms are much more than just outdoor classrooms.
For CCNB corpsmembers, growing vegetables is part of a work-study program. While enrolled at College of Marin's Indian Valley campus, corpsmembers can earn money by tending the plants on the Corps' 5.8 acre organic farm, located on the school's grounds. This modest income goes a long way for young corpsmembers who are juggling school and childcare responsibilities. The certified organic produce from the Indian Valley farm, distributed mainly through restaurants and markets, also represents how Corps farms and gardens can touch entire communities.
In New England, the products of Vermont Youth Conservation's Corps' six acre farm help supplement the diets of hundreds of low-income Vermonters. According to Paul Feenan, VYCC's Food and Farm Coordinator, about 60 to 70 percent of the farm's products go to charity. The main mechanism through which the Corps distributes the farm's fruits, vegetables and poultry is a CSA program that serves nearly 200 food insecure families.
In 2012, VYCC partnered with the Central Vermont Medical Center to run a pilot program, called Health Care Shares, through which they identified potential CSA members among patients and Medical Center employees. Many of the remaining CSA shares went to the families of VYCC corpsmembers who helped raise and harvest the food.
"All of our youth crew members come through the Vermont Department of Labor's Workforce Investment Act program. They were identified as economically disadvantaged and also had other at-risk factors that made them eligible for the program," said Feenan. "So they got job readiness skills and other transferable skills out of the program, but their families also qualified for a CSA share. They grew food for people who were food insecure and their families also received a share all summer."
Founded in the mid-1980s, VYCC only got involved in agriculture after relocating their headquarters to the site of a historic barn in Richmond, Vermont. The Corps' farm started operation in 2008 as a small garden, but this past year it yielded 40,000 pounds of fruits and vegetables and about 5,000 pounds of poultry - all of which was produced with significant help from teen and young adult corpsmembers. The youth crew helps tend and harvest crops, and they are involved in raising and butchering the chickens.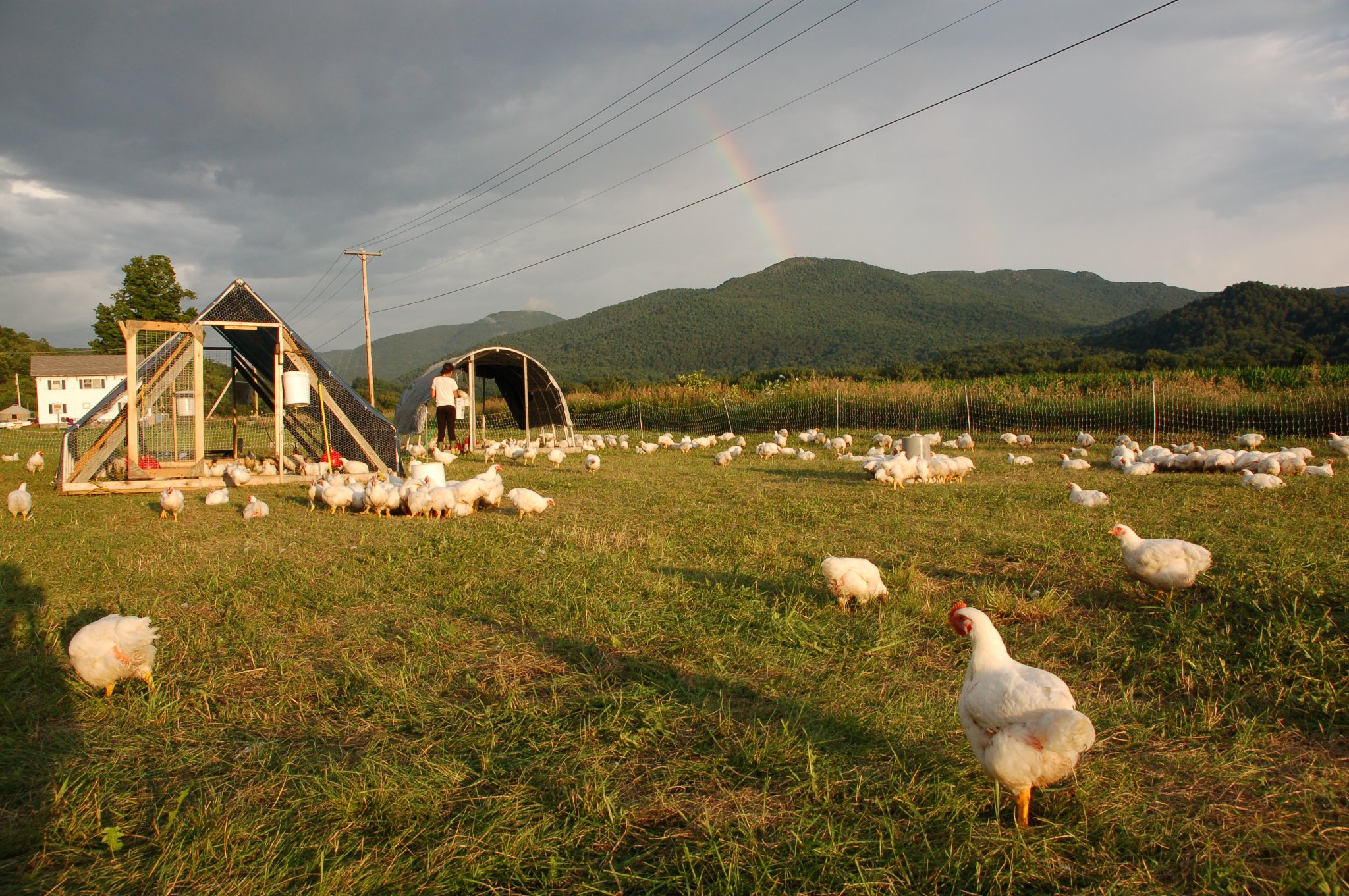 Chickens at the VYCC farm
"It's amazing how much development you see in the kids after a summer," said Feenan. "We can have young men and women that haven't had a lot of success in their lives. The farm project inspires them to really achieve at high levels."
To make the farm economically viable and to give their farm interns a better overview of the food system, VYCC sells some of its produce through a farmers market, a farm stand and wholesale contracts. The farm's pasture-raised chickens are a particularly popular product, but Feenan says that they want to move more towards philanthropic farming. He said they would donate all of their food to charity if they had the funding to do so.
In Baltimore, MD, the Civic Works corps also works to improve food security for low-income families. Like the Vermont Youth Conservation Corps, Civic Works is also new to farming. They broke ground on their Real Food urban farm in 2009 after they were recognized by Baltimore's Urban Agricultural Task Force as an ideal organization to run a demonstration farm.
"One of the reasons why we were approached was because of Civic Works' track record hosting AmeriCorps members and our experience with youth development, and also because of how close we are to two schools -- Heritage High School and REACH! Partnership School," said Zach Chissell, the farm's Project Manager.
A large portion of the Real Food Farm rests on what was once the schools' baseball field. With about two acres under cultivation, the farm produced nearly 16,000 pounds of produce last year. According to Chissell, the vast majority of work on the farm is done by AmeriCorps members and paid high school interns.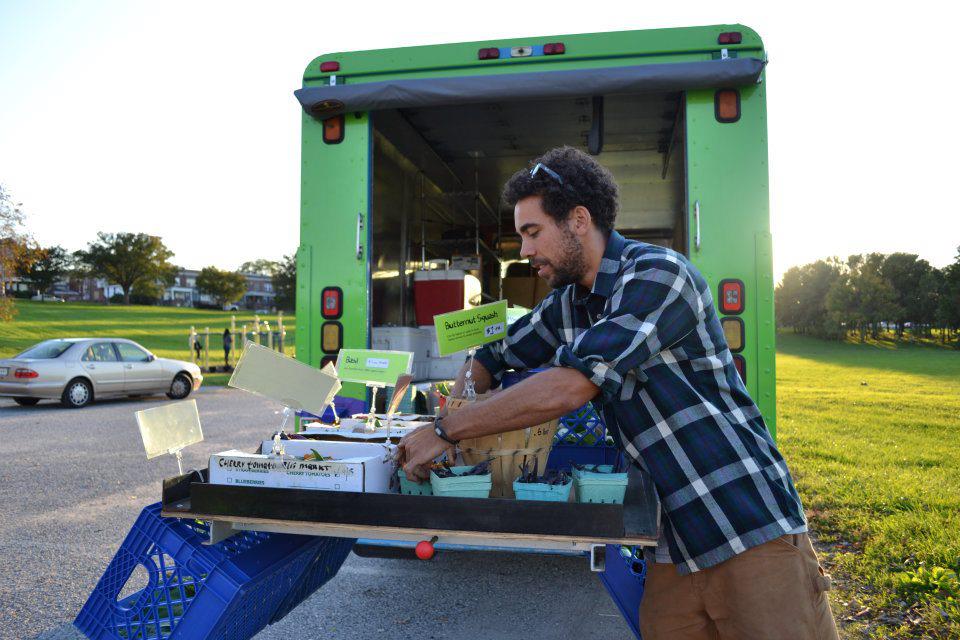 Zach Chissell with the Mobile Market
The Real Food Farm has a four point mission: improve access to fresh food; promote urban agriculture in Baltimore; provide experience-based education; and promote responsible environmental practices. Chissell says that, while all of the farm's mission points are important, improving food security is what Civic Works is most passionate about. They currently use three different methods to help make their fresh produce accessible to low-income families. First, their Mobile Market -- a modified Washington Post delivery truck -- transports food directly to food insecure homes and can set up shop at busy intersections, parking lots, or wherever people congregate. Second, about 20 percent of the Real Food Farm's CSA shares go to food insecure households. And third, the farm contributes to a shared stand at Baltimore's Waverly Farmers' Market, which now accepts Electronic Benefit Transfer (EBT) payments from shoppers that receive food aid through the government's Supplemental Nutrition Assistance Program (SNAP). Though selling produce at the market and to local restaurants does not directly improve food security in Baltimore, these distribution methods raise money to help underwrite Real Food Farm's philanthropic activities.
Educational programming is another important element of Real Food Farm's mission to give back to the community. The farm hosts field trips and volunteer activities for just about any school or organization that can get there. Civic Works has helped develop farm-based curricula for math teachers, to art teachers, to English teachers. The farm also runs an afterschool club for middle school students, and hosts six high school interns. Chissell says that the young people who visit the farm all seem to have a positive experience.
"Everybody is excited. You can see that they're definitely learning things that they did not know before about where food comes from -- the fact that this stuff gets pulled out of the dirt. It's definitely a new experience for a lot of them."
Jennie Pardie, Environmental Service and Farm Program Manager with Conservation Corps North Bay, sees similar responses from the young people who work on the Indian Valley Farm.
"Many of the youth within our organization have had little to no experience with farming or nature. The exposure to how things grow, and our relationship with the natural world and its provisions is an important step for any human being. Many are shocked and amazed by what they can see, touch, smell, taste, and do at the Indian Valley Organic Farm & Garden."
Like Civic Works and Conservation Corps North Bay, the Youth Conservation Corps operated by SEEDS in Traverse City, Michigan also focuses on educating youth about the food production system.
"The farm's been a great project for our Youth Conservation Corps," said Mike Powers, Project Manager at SEEDS. "We come from an agricultural area, but many of the Youth Corps members are not from farming families or have never worked on farms. So it's a great opportunity for them to come in and see how a farm works. They're doing everything from tilling, to planting the seeds, doing the weeding, harvesting, pest management. They helped build the garden shed... We work to involve them every step of the way."
Powers watches Youth Corps members go through a transformation as they work on the farm. He once supervised a crew that included three teen mothers. One of the young women paused while harvesting vegetables to eat a piece of fresh spinach -- something she had never tasted before.
"Just introducing them to tasting and trying some of these foods is huge," said Powers.
Powers also likes to tell the story of one Youth Corps member who came to SEEDS through the court system. This particular young man hated getting dirty and was very protective of his white baseball cap, which he bleached several times a week. Through his time in the Corps, however, he developed a strong relationship with the farm's employees and he started to have fun.
"It was neat because later in the year a middle school group came out and they all started asking questions and he just stepped in and helped describe things. We hadn't even thought to set it up so that he would be the one to do that, but you could just tell that his confidence had grown. He had some understanding and ownership of the farm operation, so I think it's definitely a confidence-booster," said Powers. "They get to understand what it takes to grow food, how difficult it is... It's very real and transformative for them to have that opportunity."
In addition to the Youth Conservation Corps program, SEEDS operates a Farmer Residency program to provide hands-on agricultural experience to aspiring young farmers. According to Powers, the average age of a Michigan farmer is around 65; the Residency program seeks to lower that age. All of the young men and women in the program studied agriculture in college or graduate school. To Youth Corps members, they are an example of how farming can be a realistic career option.
Green Spaces Make Good Neighbors
Eugene Oregon's Northwest Youth Corps also focuses on youth engagement and education. Though most of the food from their 1.5 acre Laurel Hill Valley Farm stays within the organization to help support the Corps' school trips and OutDoorHighSchool program, farm operations are the focal point of extensive educational programming for corpsmembers and the community.
"Working on the farm demonstrates the importance of fresh, healthy food. Whether our students choose to follow that lifestyle or not, there's at least a larger conversation about nutrition and health and food preparation that's important," said Steve Moore, Dean of Students at Northwest Youth Corps's OutDoorHighSchool; a school that offers standard academic programming, but with an emphasis on applied science and mentoring. "Gardens also create a lot of opportunities for tactile, sensory activities. Gardens are a very rich sensory place, so students who may not like traditional classrooms or learning from books might find that they're getting out more often and they're touching, they're feeling, they're seeing."
Moore said the farm is also becoming a popular neighborhood gathering spot as the Corps works to foster a sense of community pride in the project. In New York City, one of the main purposes of the 52 community gardens owned by New York Restoration Project is to provide accessible green spaces for people living in low-income neighborhoods. Some of the NYRP gardens are so small and shaded by trees that they could go unnoticed by someone unfamiliar with the neighborhood, but to those who live in the community, the gardens serve as safe, welcoming places to enjoy some fresh air and meet with friends and family.
While individual New Yorkers rent plots to grow food and flowers in many of NYRP's gardens, AmeriCorps members are in charge of basic maintenance chores, like pruning, raking, watering and litter cleanup. AmeriCorps crews have also built garden structures like rain collection systems and shelters. The Los Amigos Garden, located in the heart of Spanish Harlem, was recognized by the New York State Council on the Arts for its importance to the local Latino population. Though it was constructed in the early 1980s, NYRP staff and AmeriCorps members worked with nearby residents to rebuild the space to better suit their needs. The garden reopened in 2010 with a newly constructed casita where people from the neighborhood come to play cards, relax, and host traditional meals.
REAL LIFE. REAL NEWS. REAL VOICES.
Help us tell more of the stories that matter from voices that too often remain unheard.